Securitize Launches Tokenized KKR Fund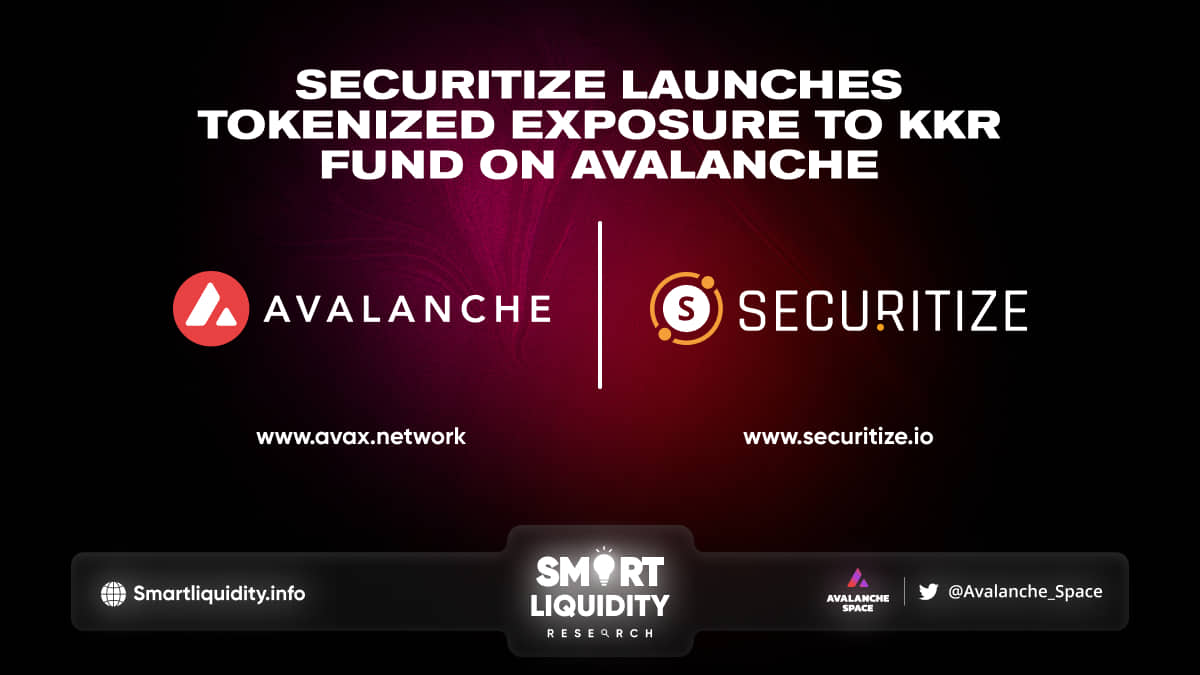 Securitize Launches Tokenized KKR Fund in the U.S. Securitize, a digital asset securities provider, launched a fund tokenizing KKR's Health Care Strategic Growth Fund II ("HCSG II") on the Avalanche public blockchain.
This will make institutional private market methods more accessible to ordinary investors. Securitize Launches Tokenized KKR Fund (the "Fund") is KKR's first digital offering of an alternative investing strategy in the U.S. Securitize Capital manages the Fund, which invests in KKR's health care growth equity strategy.
Historically, investments in private market funds have been primarily available to large institutional investors and ultra-high-net-worth individuals. Unlocking broader access to private market investing has been a long-standing challenge for the industry.
Tokenization helps solve for this by enabling technology to deliver lower investment minimums, improved digital investor onboarding and compliance protocols, and increased potential for liquidity through a regulated alternative trading system.
This new fund democratizes access to private equity by offering institutional-quality goods more efficiently.
Securitize tokenizes the Fund on the Avalanche public blockchain under SEC Reg D 506(c). The Fund invests in KKR's HCSG II Fund, which invests in innovative health care firms in North America and Europe looking to commercialize and expand.
Avalanche is a worldwide finance-scale smart contract platform. Near-instant transaction finality and a revolutionary scaling mechanism allow organizations and individuals to establish bespoke blockchains-as-a-service. Ava Labs helps develop Avalanche and related projects.
Wilfred Daye, head of Securitize Capital, said the company is a premier tokenization and distribution platform. "their tokenized fund unlocks investor access to private equity"
As a leading digital asset securities firm, Securitize is a leader in firsts: it operates the first and only end-to-end platform leveraging blockchain to raise capital, onboard investors, issue tokenized assets, and provide secondary trading; it launched the first credit-rated tokenized fund in Japan; and is the first blockchain-based firm to be a top 10 stock transfer agent.
About Securitize and Securitize Capital
Securitize is a digital asset securities firm with a mission to provide shareholders access to invest in and trade alternative investments, and for companies to raise capital, manage shareholders, and offer shareholders potential liquidity.
About KKR
KKR is a leading global investment firm that offers alternative asset management as well as capital markets and insurance solutions. KKR aims to generate attractive investment returns by following a patient and disciplined investment approach, employing world-class people, and supporting growth in its portfolio companies and communities.
About Avalanche
Avalanche is the fastest smart contracts platform in the blockchain industry, as measured by time-to-finality. Avalanche is blazingly fast, low cost, and eco-friendly. Any smart contract-enabled application can outperform its competition by deploying on Avalanche
SOURCE
https://securitize.io/press-releases/securitize-kkr-tokenized-fund