Galaxy Arena Partnership with BrightyPad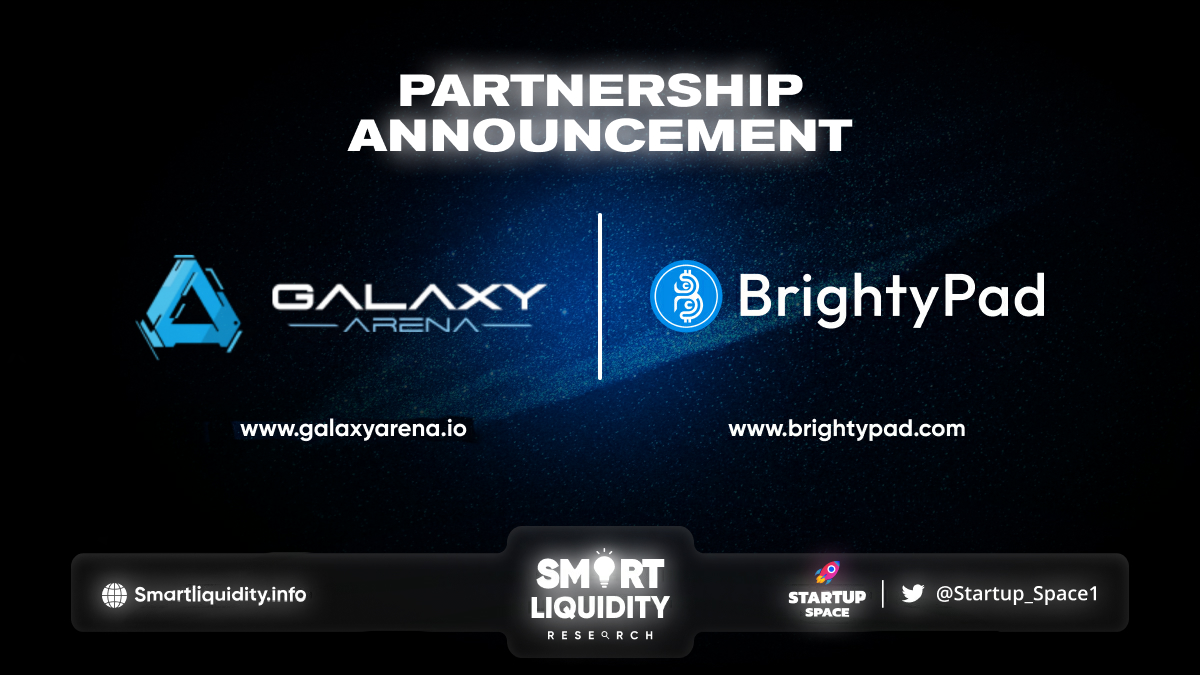 Galaxy Arena is thrilled to announce partnership with BrightyPad, a brand-new design that goes far beyond just being a launchpad platform.
Project Introduction
Brighty Pad is planning to build the most advanced IDO launchpad with the fairest distribution and built-in price discovery mechanisms to search for the best matching yields and the best returns for the IDO buyers and the IDO project managers.
Their Launchpad will be a 100% truly decentralized, multi-chain, and fully interoperable environment based on multi blockchain architecture with the most powerful and fairest market distribution algorithms.
BrightyPad will the first ever IDO launchpad platform to have some of the most powerful combinations of decentralized fundraising, optimized price discovery and fair final settlement in preparation for distribution.
BrightyPad Main Priorities
BrightyPad will focus on main issues like BrightyPad (platform) functionality and user experience.
Advanced Launchpad features to assist user for a wide variety of task.
BrightyPad (platform) will make the sale and purchase of tokens in a seamless manner.
Next generation DEX user interface can trigger transactions at the best possible times based on limit orders.
Customer support system across multiple platforms to gather feedback and to help troubleshoot users' problems with their BrightyPad (platform) in the group.
Overview of Galaxy Arena
Galaxy Arena Metaverse is an entertainment venue that puts on events, live fights and acts as a hub for all other "to earn" platforms.
They have pioneered the "Train to Earn" concept and their vision is to keep users healthy and fit in the metaverse. Their product is actually ready and explorable. Users are able to explore everything as of now.
The other major part of their project is to host celebrity events & live fights. This will be done using volumetric capture technology to give an immersive experience. GA comprises of 3 sectors :
The Galaxy Arena (for fighting events, shows and exhibitions)
The Galaxy Gym (offering opportunities to train with top tier fitness coaches and athletes, TRAIN TO EARN and participate in group or private sessions)
The Galaxy Tower (where you can enter the celestial casino, own VIP facilities and have meeting at restricted access lounges)
The Galaxy Arena Ecosystem
The Galaxy Arena ecosystem is large and requires an efficient economic system to bootstrap the play-to-earn business model. However, they do not rely on fiat to do this. Instead, like most blockchain ecosystems, Galaxy Arena adopts a token for incentivization and other important activities.
The Essence token (ESNC) drives several activities within the Arena, such as purchases, wagers, and exchanges. Given this, each user kickstarts their journey in the Galaxy, purchasing a ticket with a single Essence token. Other use-cases for the token include gambling, purchasing additional passport tickets, acquiring avatar upgrades, skins, in-game items, real estate.
About BrightyPad
BrightyPad is a brand-new integrated cross-chain ecosystem that introduces an all-in-one solution to launch and manage all your decentralized assets. BrightyPad will be supporting all the existing major blockchains while seamlessly functioning parallel to its custom software.
About Galaxy Arena
Galaxy Arena is a virtual reality play-to-earn metaverse that uses groundbreaking volumetric motioncapture technology to give users an experience unlike any other. With the Arena as the focal point, players can watch live stream professional fighters duke it out from their favourite leagues with the help of cutting-edge technology. Spectators can watch pay-per-view broadcasts from every conceivable angle — more detailed than if they were ringside.
SOURCE: https://twitter.com/galaxyarena_io/status/1571506254027329537