AVA DEX IDO Partnership with DAOStarter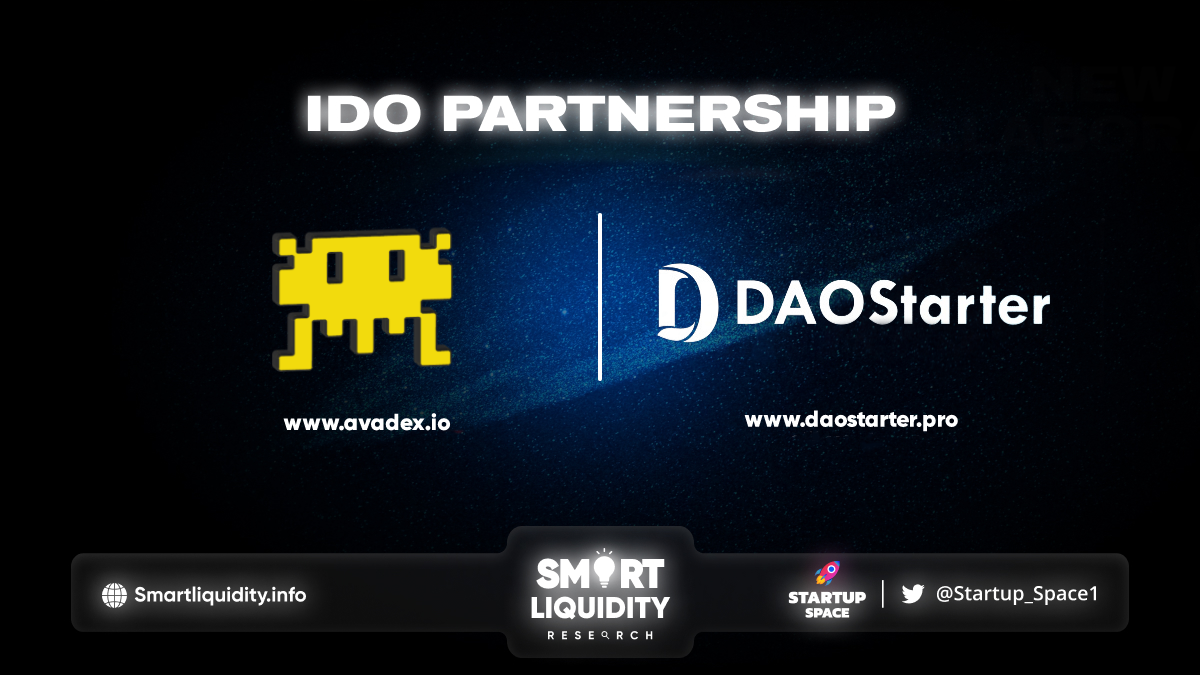 AVA DEX, The First DEX on Avalanche with Mini-Games, Liquidity mining and Trading, has announced IDO partnership with DAOStarter.
Overview of AVA DEX
AVA DEX is a decentralized exchange (DEX) on Avalanche focused on offering a premier trading experience. Users are incentivized to put liquidity on AVA DEX through yield farming to earn the native currency, $AVEX.
Additionally, users can use their earned $AVEX to stake and earn other tokens and unlock exclusive features. Built by DeFi devs, for DeFi users, they have a dedicated team with years of experience who are committed to the DeFi community and growing the Avadex Project.
Low fees
Why pay more? AVA DEX runs on Avalanche, a blockchain with much lower transaction costs than Ethereum.
Trading fees are lower than other top decentralized exchanges too, so that's a double win for you!
Decentralized
Trade directly from your wallet app.
Unlike centralized exchanges like Binance or Coinbase, AVA DEX doesn't hold your funds when you trade: you have 100% ownership of your own crypto.
General FAQ for AVA DEX
Is AVA DEX safe? Has AVA DEX been Audited?
See for yourself:
Transparent:
They're built on open-source software: their site and all their Smart Contracts are publicly visible for maximum transparency.
Their contracts are verified on SNOWTARCE.IO so you know that what you see is what you get.
Security best practices:
The chefs use multisig for all contracts.
They remove migrator function to gives you peace of mind.
How can I stake AVA DEX?
You can stake your AVEX in​ Pools.
What is the difference between staking and farming?
Staking in Pools and farming are both ways to earn more AVEX by supporting AVA DEX.
Staking only needs some AVEX to be added to a Farms to earn AVEX or other tokens.
Farming is more complicated and needs LP Tokens to earn AVEX.
RoadMap
They are in this together #BUDIL
Coming Up ! 
Private & IDO Rounds.
UI/UX, Performance Upgrades & Bug Fixes.
AVA DEX Mainnet Launch.
Play to earn, reward system integrate into Mini-Game (Alien Jumps).
Team Battle 1 & 2.
Analytics: Info site.
Core Yield Farm & Community Farm pool Partnerships & AVA DEX Ambassador Events around the global.
Auto-compounding AVEX – AVEX Pool.
More Mini-Games (to earn in different ways on AVA DEX ).
Next In Q1- Q2 2023 ! 
Limit Orders.
Voting Governance by AVEX Holders.
Zap – Provide liquidity in one click.
Perpetual Trading.
Fixed-Term Staking.
Web3 email signup system.
NFT Market.
Knowledgeable Facts About DAOStarter
DAOStarter is a public token launchpad serving crypto investors & projects. DAOStarter is deployed on BSC, Ethereum, and HECO, and the cross-chain bridge will be developed to swap assets between different chains. As the final bridge between early-stage projects and the crypto community, DAOStarter will pay more attention to project research & value evaluation to reduce the risk to investors.
DAOStarter Advantages
Cross-chain Swaps
Anti-scam Features
Governance Model
Fixed and Dynamic Swaps
Full KYC Integration
Permissionless Listing
ABOUT DAOStarter
DAOStarter is a crypto incubator serving for Web3.0, building on Binance Smart Chain.
About AVA DEX
The first decentralized exchange (DEX) on Avalanche with Mini-Games, Liquidity Mining and Trading! Enjoy playing games, yield farming and trading with the lowest fees on Avalanche.
SOURCE: https://twitter.com/AvaDex_io/status/1572198291487748097