Vulcan Forged and CosmicDrift Collaboration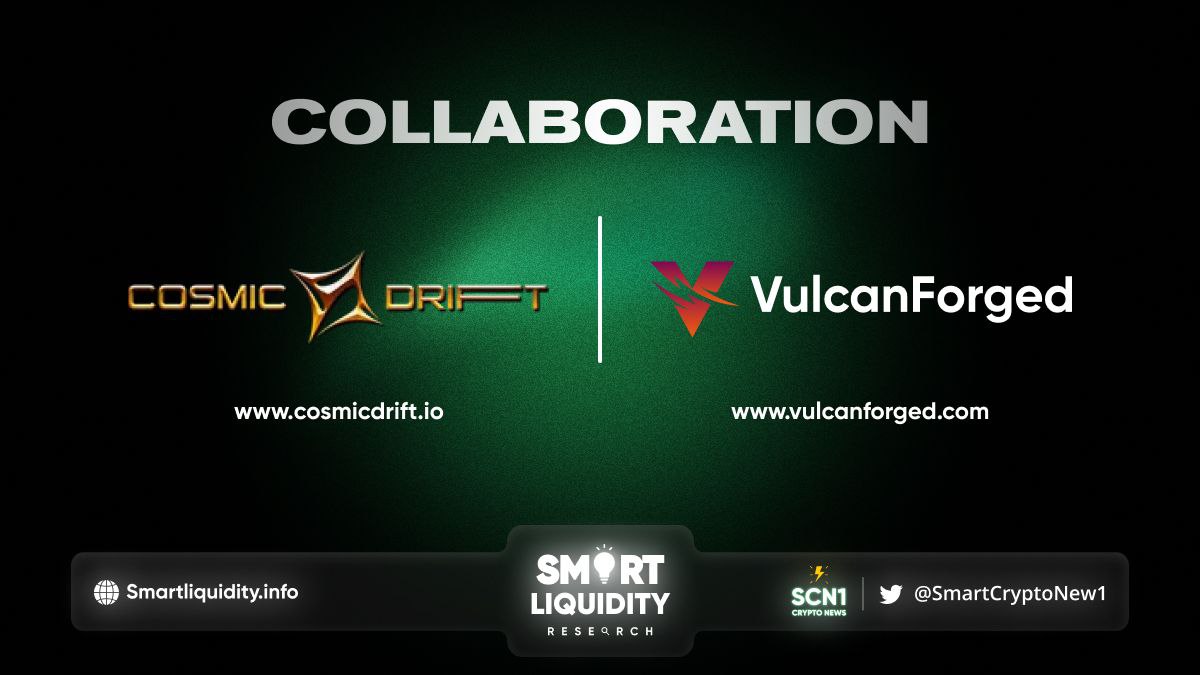 Vulcan Forged and CosmicDrift collaboration has been announced. CosmicDrift is thrilled to announce that its 200 unique NFTs will be hosted by Vulcan Forged minted on Ethereum.
CosmicDrift is a decentralized NFT Play to Earn RPG that takes place in an open-world setting where you can use NFT character assets in-game to interact with the world. Its major focus has been on creating art, lore, and gameplay elements that keep players wanting more from the world that they are creating. Getting them to consistently engage with the stories and lore of the world while adding value through upgradable and tradable character assets.
ENTERS THE VULCAN FORGED
Vulcan Forged, designed as an easy-to-build and P2E ecosystem, includes a game studio dedicated to NFT games built on Ethereum, Polygon, and BNB Chain, as well as an NFT marketplace, launchpad, a decentralized exchange (DEX) called the VulcanDex for its native Vulcan Forged ecosystem.
In addition to it, Vulcan Forged recently disclosed their new initiative: Elysium, a high-performance blockchain built on the Substrate framework and the underlying engine.
Designed and developed specifically for projects like CosmicDrift, Elysium was brought to the world for projects in need of a rock-solid blockchain solution. Elysium will be fully carbon-neutral using actual blockchain solutions that will guarantee true carbon neutrality (alongside planting forests!).
CosmicDrift gameplay will be built on and provide NFT utility using Elysium Chain.
CosmicDrift and Vulcan Forged NFT Sale
Furthermore, CosmicDrift has joined hands with Vulcan Forged for this NFT sale, which will take place in two stages.
The presale starts on 28th September 2022 UTC +12:00 pm and will end on 28th September 2022 UTC at +2:00 pm while the Public sale will start on 28th September 2022 UTC +2:00 pm.
GET WHITELISTED 
The whitelisting event takes place before the open market sales begin. This means that players can get their hands on those NFTs before they rise in value. It is like having access to premium game assets before anyone else could even see them.
At the whitelisting event, players can get NFTs as per their objectives and use cases. For traders, there is scope for gradual gain when the demand rises. Moreover, whitelisted players can claim the right to possess the most exclusive and valuable NFTs.
ABOUT Vulcan Forged
Vulcan Forged is an established non-fungible token (NFT) game studio, marketplace, and dApp incubator with 10+ games, a 20000+ community, and top 5 NFT marketplace volume.
ABOUT CosmicDrift
CosmicDrift is an MMORPG-based NFT game based on the core principles of blockchain technology. These True Ownership NFTs are used in the game to the maximum possible extent. This means you can buy NFTs for a price and upgrade them as you play.
RESOURCES