Kamino Finance Launches UXD Stablecoin Strategy Vault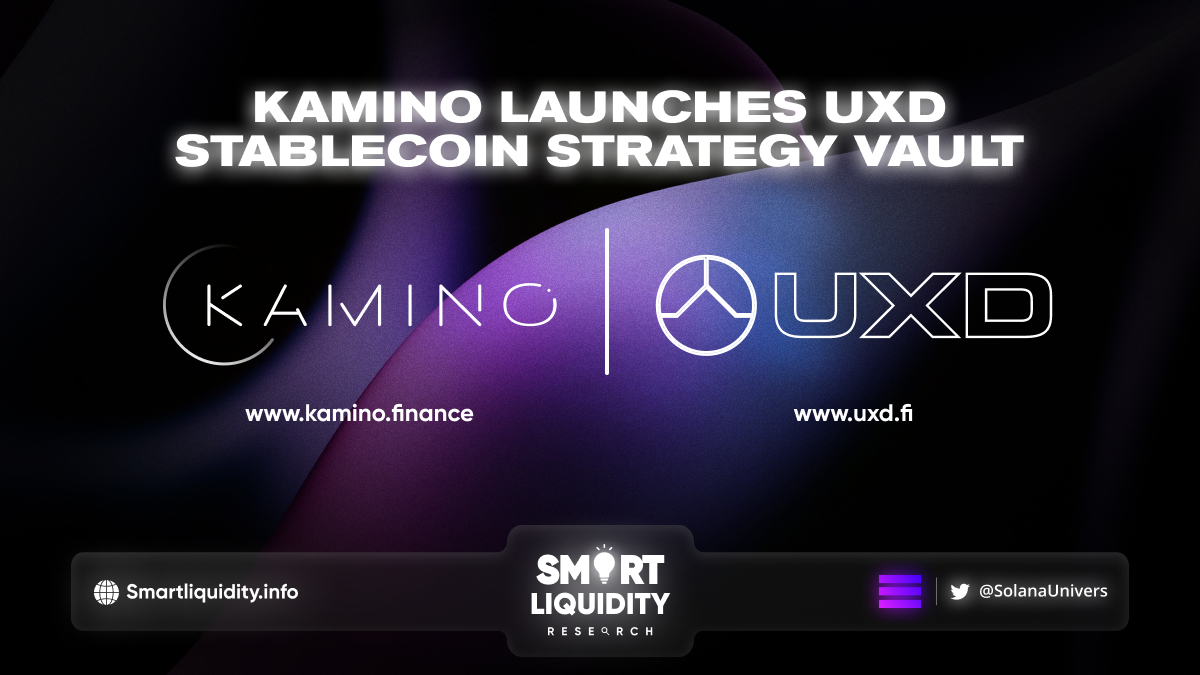 Kamino Finance is Solana's ultimate liquidity destination, launches the UXD Stablecoin Strategy Vault.
Kamino Finance launches UXD stablecoin strategy vault. With the UXD vault included, Kamino will now be an automated concentrated liquidity solution or liquid assets. Supporting all significant Solana-native DeFi stablecoins, such as USDH, USDr, and USH.
Plans by Kamino
All coins offered on Solana will have automatic concentrated liquidity management provided by Kamino. As obtaining deep liquidity is one of the most crucial components of preserving the health of dollar-pegged stable asset/stablecoins assets on decentralized exchanges, this service will become especially crucial for the ecosystem's stablecoins (DEXs).
The fiat-backed stablecoin USDC will be linked with the token in the UXD vault because of its stability and liquidity when combined with other stablecoins in Decentralized Finance (DeFi) applications. Users that deposit either UXD or USDC into the UXD vault. Can benefit from Kamino's automated rebalancing and auto-compounding, which maximizes actual profit from trading fees.
About UXD and Recent Protocol Innovations
With almost $15 million in circulation, UXD is one of the biggest circulating Solana-native stablecoins. To optimize capital efficiency, the project has placed a high priority on developing innovative stablecoin designs. To that end, UXD introduces the first stablecoin on the market, supported by delta neutral positions on Mango Markets.
The Asset Liability Management Module has emerged as the project's new direction. For preserving UXD's backing and scalability, this new architecture adds lending, overcollateralized loans, real-world assets (RWAs), and other techniques on top of delta-neutral positions.
Additionally, UXD intends to turn its governance token, UXP, into a cash-flow token that generates income from these different other businesses. UXD will be made accessible on Optimism, the Ethereum Layer 2 solution, along with these updates, transforming the platform into a cross-chain stablecoin provider.
UXD reduced its maximum issuance ceiling from an all-time high (ATH) of $40 million to its current level of $15 million as a result of the market slowing down and declining open interest on Mango. As UXD tries to reclaim its prior ATH and beyond through a variety of tactics across several networks, Kamino intends to assist UXD in developing steady and deep liquidity.
Kamino is Spearheading Stablecoin Growth on Solana
For generating deep liquidity for tokens on Solana's focused liquidity DEXs, Kamino is a potent tool. Stablecoins may further stabilize their pegs with deep liquidity by utilizing Kamino's capabilities. And they can also lessen any price effect on their tokens during trade, particularly during times of turbulence.
Kamino contributes to the improvement of the Solana stablecoin environment by introducing a new stablecoin to its automated vault solutions. Additionally, with the opening of the UXD vault, Multicoin Capital and Kamino will work together to promote the development of two types of stablecoin projects—Hubble Protocol and UXD—in order to strengthen the DeFi ecosystem on the network.
Nine automated vaults have gone online with over $5M in TVL placed by Solana's DeFi customers since Hubble Protocol assisted in the incubation of the debut of Kamino Finance. Kamino intends to keep constructing more vaults to support Solana initiatives and native programs and create deep liquidity options for everyone.
About Kamino
Kamino automatically manages your concentrated liquidity positions. When depositing your tokens, Kamino opens a liquidity pool position on a DEX and does everything for you. Rebalancing, auto-compounding, and finding the optimum range for capturing the most trading fees while avoiding impermanent loss (IL).
About UXD Protocol
Algorithmic stablecoin backed 100% by a delta neutral position using derivatives.
SOURCE
https://blog.kamino.finance/kamino-launches-uxd-vault/?utm_source=twitter&utm_medium=social&utm_campaign=blog_internal