Zebec Worked Together with Eclipse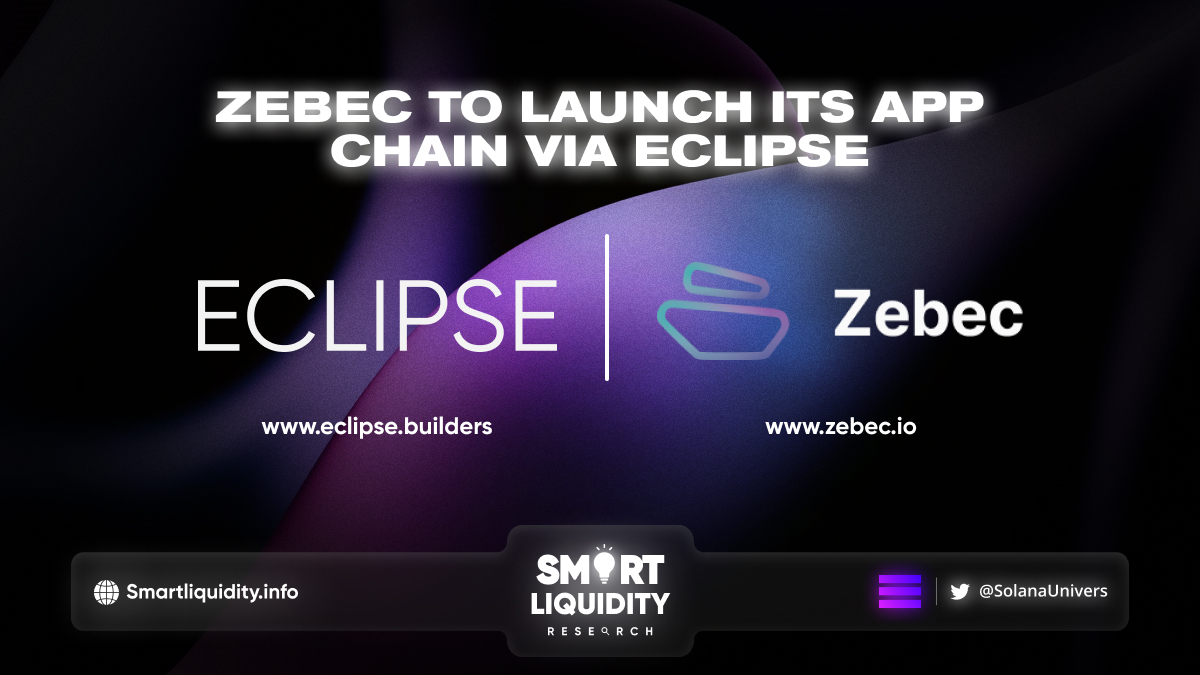 A Multisig Treasury Management and Streaming Payments built on Solana, Zebec, has worked together with Eclipse, to launch its App Chain and to bring frictionless global payment standards.
Zebec has officially worked together with Eclipse, its first ever high-powered modular roll-up chain.
Zebec is expanding its domain from Solana to meet the demand for more efficiency and fewer outages. The community's desire to address Solana's continual run-ins with bots and annoying outrages prompted the multi-chain extension. As a result, Zebec is introducing its own roll-up chain based on Eclipse technology.
Zebec and Eclipse Graphics
Eclipse fills a huge need in the Web3 development environment. Applications must still share the same throughput as other applications developed on the same blockchain. As a result, Eclipse allows DApps on Cosmos with capabilities like Stream Payments, Trading real-world assets (RWAs) with large amounts of Oracle data, Notifications, and communications.
Zebec and Eclipse program is set to be live on the public testnet in 2023. Zebec will be one of the first Eclipse use cases to be deploy in the Celestia ecosystem.
Introduction to Zebec
Zebec is a continuous settlement protocol on Solana. Zebec is enabling the composable transfer of value starting with Zebec Payroll. The platform is a revolutionary DeFi technology that empowers real-time, frictionless, and continuous streams of payments.
The automatic money streams made possible through their initial project. Zebec Pay empowers businesses, employees, and consumers. Their newest addition, Zebec Safe, is a fully customizable multisig on Solana.
Zebec is extremely grateful to the Eclipse team for considering them for an amazing integration. Eclipse chose Zebec due to some of the features that help them stand out. Using the Zebec Protocol for streaming payment and programmable money ascertains the following benefits.
Enables liquidity for both sender and receiver
Eliminates the problem of payment disputes in the gig economy
Increases token productivity
Creates trustless future of Payroll
Encourages investments, yield farming and automated Dollar Cost Averaging
Zebec Operation Horizon
With the aid of their company and the community's supporters, Zebec will also launch Operation Horizon, with early donors being eligible for prizes and income sharing. Operation Horizon's specifics will soon be made public.
About Eclipse
Eclipse offers customizable modular rollups, increasing throughput while giving developers the freedom to adjust the proportions of speed, decentralization, and cost as they see fit. Applications can create their own Solana virtual machine powered trust-minimized app chains using Eclipse.
About Zebec
Zebec, a revolutionary DeFi technology that empowers real-time, frictionless, and continuous streams of payments.
SOURCE
https://medium.com/zebec-protocol/zebec-x-eclipse-the-ultimate-gateway-to-frictionless-payment-standards-e86bd1ef0265