Companion IDO Accessible on Cropper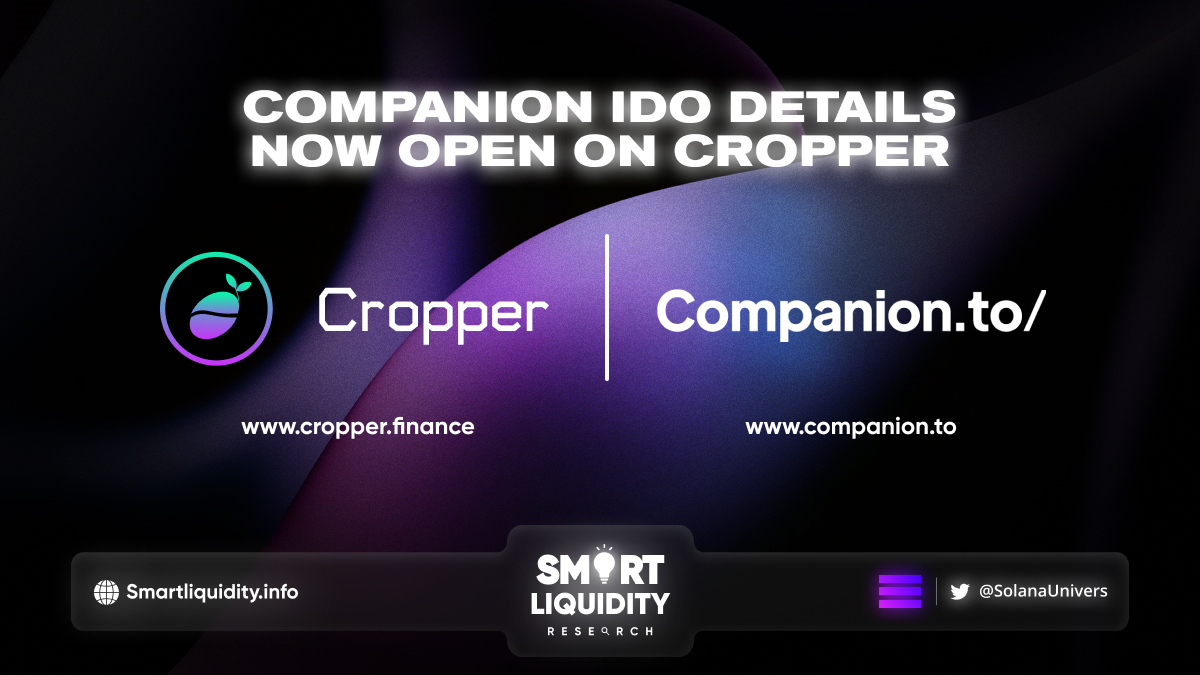 Cropper Finance, a decentralized platform on the Solana blockchain, has announced that the IDO Companion Guidelines are now accessible on its platform.
An all-in-one investment and trading application, Companion IDO is now accessible on Cropper.
The World's First AI NFT Investment Companion
Companion.to/ is an all-in-one investment and trading program developed to assist regular people in making money securely when trading and investing.
However, their own in-house algorithms and investing methods. Provide users with practical instructions on what to purchase, when to buy it, and when to take gains.
As time passes, the user and their companion continue to engage, building a friendship – their objective is for each companion to comfort their user when confronted with difficult investing conditions and market pullbacks.
Companion Key Features
AI NFT Companion
Onboarding
Deposits
Security
Roadmap
Phase One MVP/beta app release — MVP app with investing, extended charting, analytics, and trading functionality. While, community expansion and ambassador recruiting.
Phase Two Core features — Dialogflow, RASA Stack and GPT-3 AI model implementation. Earn, Stake & NFT minting functionality.
Phase Three  Feature expansion — addition of core features & functionality including lending, earn, AI improvements & fiat on/off ramps AML & KYC. To have an impact on a global scale & ensure we can serve as many people as possible we will pursue relevant licensing in various jurisdictions.
Phase Four Governance voting — once core functionality is deployed in stage 2, CMPN holders will dictate feature expansions via governance voting & proposals.
Phase Five Decentralization — The project is about moving Companion.to/ into an entirely decentralized organization owned & governed by the token holders. This can only eventuate as more CMPN tokens are owned by the wider community than the core team.
Companion — IDO Details
Token Price: 0.04 USDC for 1 CMPN
Hard Cap: 200,000 USDC
Pool Size: 5,000,000 CMPN
Sale Type: Unlocked
Companion — IDO Timeline (WL → TGE)
Starts: Oct 3, 2022–2:00 PM UTC
Ends: Oct 6, 2022–2:00 PM UTC
Whitelist Lottery Results: Oct 6, 2022–4:00 PM UTC
KYC VERIFICATION — As the verification process can take up to 48 hours, we highly recommend submitting your KYC Verification ASAP once KYC opens to ensure that you will have time to submit again if there are any issues before the sale has ended. Once your wallet is KYC verified on Cropper, you will never need to submit for KYC verification again after.
Sale Starts: Oct 6, 2022–4:00 PM UTC
Sale Ends: Oct 9, 2022–2:00 PM UTC
TGE: Oct 10, 2022–2:00 PM UTC
How to Enter the Companion IDO Whitelist Lottery
A total of 5 free lottery tickets are available through completing social tasks. You can also earn lottery tickets from social referrals. However, you can secure a lot more lottery tickets through Staking in Tiers 1 or 2, which is covered in detail in the Staking Tiers section below.
Here are the 5 [optional] social tasks + a referral link you can use to gain additional lottery tickets to for Companion's IDO:
1 | (1 ticket) → Follow the Telegram Announcement channel of Companion
2 | (1 ticket) → Follow the Telegram Announcement channel of Cropper
3 | (1 ticket) → Follow the Twitter of Companion
4 | (1 ticket) → Follow the Twitter of Cropper
5 | (1 ticket) → Retweet & Like the main Whitelist Tweet
Referrals | (1 ticket each) → Share referral link to earn additional ticket for every friend that signs up
Cropper's 6 Staking Tiers are directly connected to Whitelist advantages. Those who stake in Tiers 1 or 2 will receive 20–300 additional lottery tickets, while those in Tiers 3, 4, 5 and 6 will receive guaranteed allocations and regardless of if they have a winning lottery ticket.
Learn more about Cropper's 5 Staking Tiers: https://cropperfinance.medium.com/introducing-croppers-ido-launchpad-fertilizer-4200351edd03
Stake on Cropper here: https://cropper.finance/staking/
About Companion Protocol
Companion is an all-in-one investment & trading application designed to help ordinary people safely make money when trading and investing. Owned by the user, each AI NFT companion will bond & help guide its user to grow and protect their money.
About Cropper Finance
Cropper is an automated market maker (AMM) built on the Solana blockchain which leverages the central order book of the Serum decentralized exchange (DEX) to enable lightning-fast trades, shared liquidity, and new features for earning yield.
SOURCE
https://cropperfinance.medium.com/companion-ido-guidelines-1c094b0fa539