STYLE Protocol x Ultiverse Partnership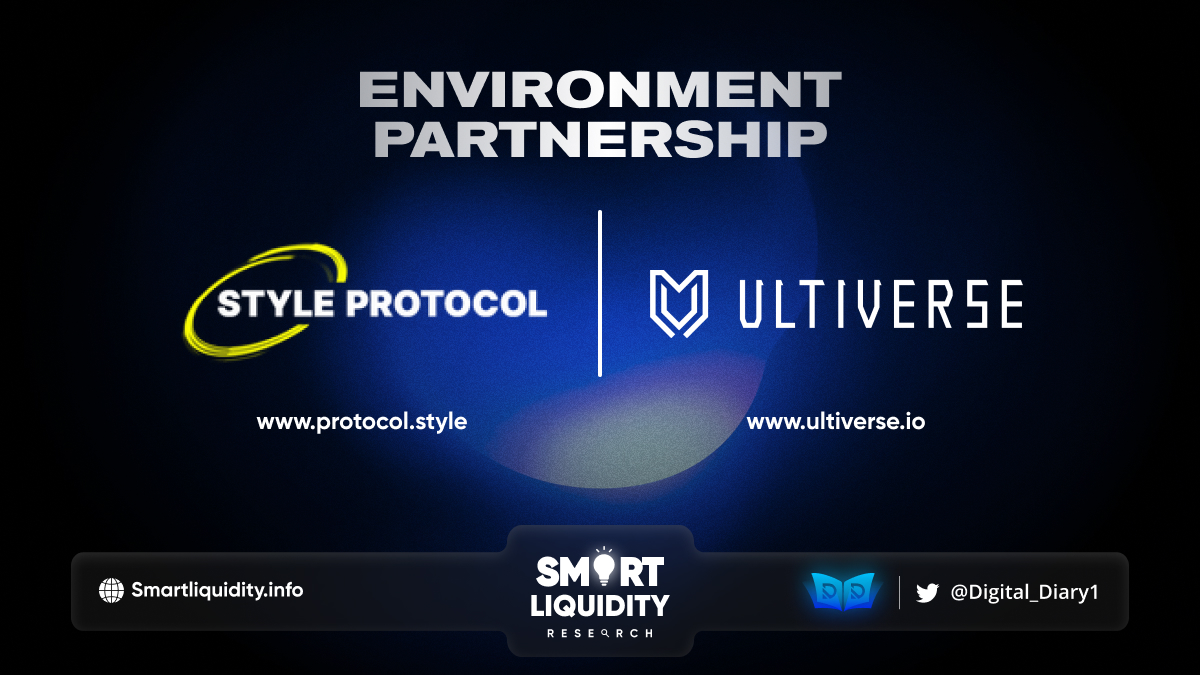 STYLE Protocol has announced its environment partnership with Ultiverse, an integrated platform that brings together social experiences, AAA gaming, access to DeFi and DEXs, a DAO, a sub-DAO, and so much more.
They continuously look to find new, dynamic ways to empower itsr ecosystem and the Web3 community.
Along with having their own virtual world, in Ultiverse, players can import their own NFTs from other chains and utilize personal art galleries to display them and even sell their NFTs. Ultiverse's ecosystem combined with STYLE Protocol and their ability to bridge assets from world to world, will lead to increased utility, customisation and freedom.
This is why a collaboration between Ultiverse and STYLE Protocol makes so much sense, because they are both focusing on similar ideas and values. Ultiverse encourages users to build commercial facilities in order to proactively make their land or their property appreciate in value. That means investing in a range of different properties that serve the community and creating an ecology of the land.
The Ultiverse team is building a game metaverse and Terminus will serve as the gamehub. By endogenous and epigenetic mechanisms, more GameFi will be brought into the Ultiverse's Terminus.
They are both trying to create a dynamic environment where avatars and digital assets from different worlds can interact with each other. And also trying to bring increased fun, utility and interoperability to games and metaverses.
Ultiverse has some awesome features that make them standout such as their Endless Loop MMORPG and their ElectricSheep NFT collection:
Endless Loop is a triple AAA MMORPG which gameplay allow users to farm resources, craft bases, explore planets, and battle other players.
Specific resources, equipment, or other in-game items will be displayed in the form of NFTs and will be fully controlled by their owners.
Endless Loop takes place in a future where the world's resources have been exploited and exhausted. Human beings are forced to embark on a journey of space exploration to seek new resources and living spaces.
In the process of space exploration, human beings discover a variety of new space resources and "The Blueprint", a technological relic left by an alien civilization. In the meantime, humans also encounter attacks by alien creatures. Which act as guardians to the blueprint and other various resources.
The Electricsheep NFTs are a cyberpunk NFT PFP Collection:
Electricsheep is set in a dystopian, cyberpunk-themed world where people seek out Sisyphus and his legendary chip.
Augmented humans seek the chip in a bid for immortality, while humanoids seek the chip to become "awakened".
The entire Electricsheep collection reflects a cyberpunk aesthetic through its use of clashing colors, human augmentations. And through a spirit of individuality and rebellion found in each character design.
There are different characteristics and distinctions for each Electricsheep NFT such as equipment, renowned designers, utilities. They will also have access to Terminus City closed Alpha, there's 3D model included that can be used in Terminus. Owners will be rewarded with bonus airdrops in the future such as an avatar, token. And even a piece of land!
The Electricsheep NFTs has the stake function which distributes the Soul point. And other surprise rewards to holders who have staked their NFTs.
Partnership Hightlights:
Yet again, this highlights why a partnership between Ultiverse and STYLE Protocol makes sense as they can additionally bridge these characteristics and guilds into other worlds and metaverses as well.
The growing creative revolution has made technology and creativity co-dependent. They live in an era now where a lot of creativity is defined by technology.
Entertainment is also defined by technology and therefore by enabling creativity and customisation in an interactive, gaming, ecosystem. They are empowering a younger generation of creators.
The environments are platforms, metaverses and games offering the 3D version of the NFTs for sale within their environments. The customers and players within these ecosystems will be able to utilize the assets from the STYLE Protocol supply chain.
Secondly, there are tailors who are a network of 3D designers who turn the NFT into a 3D file and make it ready for each world.
Finally, there are the owners who are the ones who own and want to bridge their assets into the chosen environment.
About Style Protocol
Style Protocol is an open protocol to license NFTs and virtual assets to players in any metaverse.
About Ultiverse 
Ultiverse, Building $STYLE Protocol, a tokenized ecosystem to automatically bridge any NFT into any metaverse of the owner's choice.
SOURCE: MEDIUM