Zebec Introduces Operation Horizon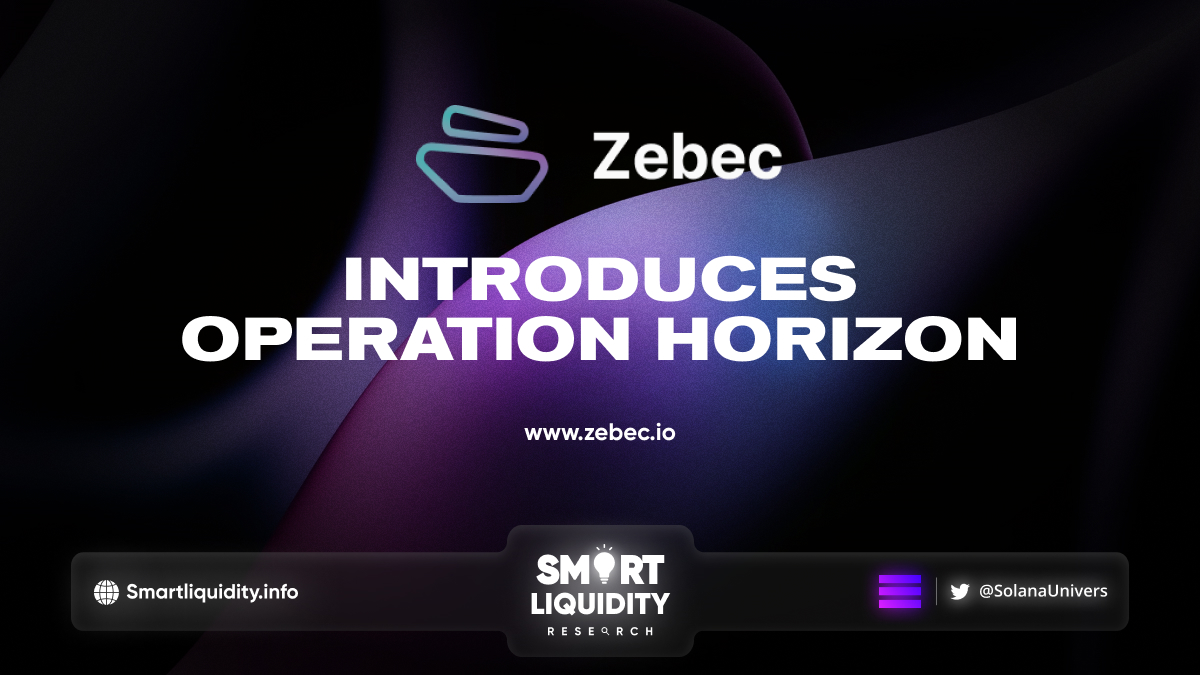 A Multisig Treasury Management and Streaming Payments built on Solana, Zebec, introduces Operation Horizon.
The Continuous Settlement Protocol has introduces Operation Horizon – Co-build an ecosystem with Zebec.
Zebec Overview
Zebec has attained a TVL of $300 million and onboarded over 500,000 community members since its start in March 2022. It is now the most important Business Facing project in the Solana Ecosystem, with over 200 Solana projects leveraging the Zebec stream payment mechanism on a regular basis.
Due to the high demand for payment applications, Zebec's evolution toward multi-chain has become essential. With the world in upheaval, payment apps must be very durable and adaptive to deal with ever-increasing payment hurdles. As a result, Zebec has announced Operation Horizon, a plan to deploy its roll-up chain with transaction speeds of up to 700,000 TPS and establish a multi-chain architecture, bringing many partners and users to Zebec.
About Operation Horizon
Operation Horizon brings a payment-focused layer 1 built by the community and sustained by the community, building an independent, highly efficient, and safe network. Apart from the high transaction speed of 700,000 TPS and enabling a multi-chain infrastructure for Solana dApps to go multichain since day 1. Zebec's recent announcement on cross-chain expansion to BNB is only the first step of Operation Horizon.
Operation Horizon consists of 2 key components: Zepoch Nodes and Themis Gavel.
The Zepoch Node will let developers to take part in Zebec's layer 2PoS validator staking. Becoming a member of certified validator sets while earning incentives and special ecosystem advantages.
Builders that purchase a Zepoch Node will receive a Themis Gavel SBT. Allowing them to participate in Zebec DAO Organizational and Ecosystem Governance.
Zebec will issue the announcement in two distinct segments, with Binance Smart Chain (BNB Chain) serving as the principal gateway. There are 30,000 Zepoch NFT available for sale, with an additional 30,000 Themis Gavel synchronized with the sale.
The first 288 "Zepoch" nodes, which Zebec will use to incentivize early participants in the Zebec Ecosystem, will be available to users with more than 1,888,888 ZBC tokens. Users who've locked 1,888,888 ZBC tokens for one year will be eligible for an airdrop of the "Zepoch" node. In phase 2, the node price is priced at 2000 USDT/ BUSD, and the contract price automatically increases by 0.5% (5/1000) for every 50 additional node holders.
WL Details
**Do note that users will need to obtain the whitelist in advance, users may submit their info starting from the 3rd of October on Zebec Operation Horizon's official site.
Whitelist Registration:3rd-11th of October, 1 pm UTC
Phase 1:13th of October, 1 pm UTC
Phase 2:TBD
Be the pioneer and join Zebec's Operation Horizon by filling in the necessary information to join the whitelist and learn more about Operation Horizon on the official website.
About Zebec
Zebec, a revolutionary DeFi technology that empowers real-time, frictionless, and continuous streams of payments.
SOURCE
https://medium.com/zebec-protocol/announcing-operation-horizon-co-build-an-ecosystem-with-zebec-c58b89431fb