Zebec and Ratio Finance Insta-Swap Integration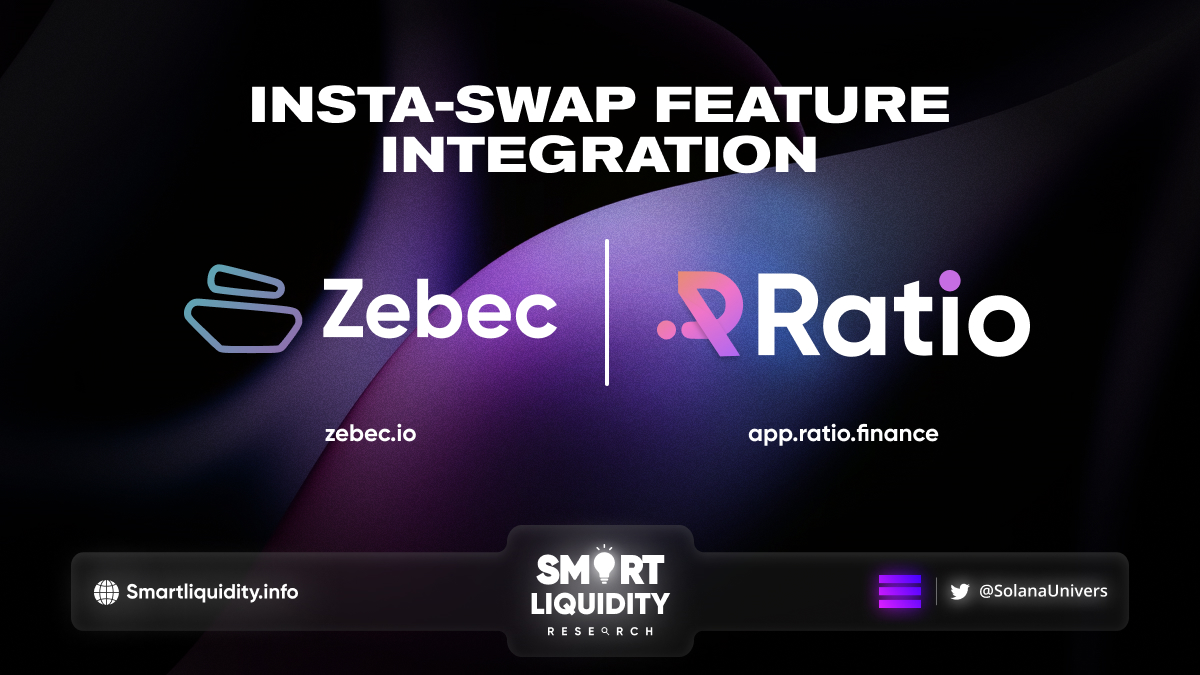 Multi-Chain continuous settlement protocol, Zebec, has announced its Insta-Swap integration with Ratio Finance.
Zebec announced the integration of the Insta-Swap feature, an exclusive feature from Ratio Finance.
Collaboration Highlights
Zebec has cooperated with Ratio Finance once more, with the addition of the successful collaboration back in June 2022.
Ratio Finance is a technique for Collateralized Debt Positions that focuses on risk assessment and mitigation. Ratio Finance lends against LPs and enables customers can deposit USDr into their Solana wallet.
With the addition of Insta-Swap, users can simply swap tokens into appropriate LP holdings, which can then be placed on the Ratio Finance platform for further leverage.
Insta-Swap also offers a variety of alternate yield-bearing postures via its future SDK. The ability of Ratio to instantly deposit into LP tokens and other yield-generating goods has been determined to be seamlessly incorporated into Zebec.
With Insta-Swap, Zebec users are able to:
Automatically swap any token into yield-bearing LP using Jupiter Swap
See wallet balance of token to be swap
See estimated LP from the swap
See wallet balance of LP tokens before and after swap
Set slippage tolerance for trades
What this means for Solana
Ratio Finance's Insta-Swap is made open source via their developer's SDK. Multisigs and Wallets will be able to leverage their Insta-Swap to easily swap into a variety of yield bearing positions, and will soon be able to mint USDr against them automatically.
They plans to launch additional vaults and positions for users to trade into. All integration partners will benefit from the Ratio Risk Ratings, which allow users to evaluate the risks associated with specific holdings.
Learn more about Ratio Finance's Insta-Swap tool here https://medium.com/ratio-finance/introducing-insta-swap-f92ffed87dc9
About Zebec
Zebec, a revolutionary DeFi technology that empowers real-time, frictionless, and continuous streams of payments.
About Ratio Finance
Ratio Finance is a Collateralized Debt Position protocol on Solana. The platform allows users to leverage their LP and other assets by minting risk-adjusted "USDr" against their collateral. Ratio Finance uniquely calculates the volatility of collateral in order to keep users' assets safe.
SOURCE
https://medium.com/zebec-protocol/zebec-announces-the-integration-of-insta-swap-426337598892