Get Set Play Partners with War Legends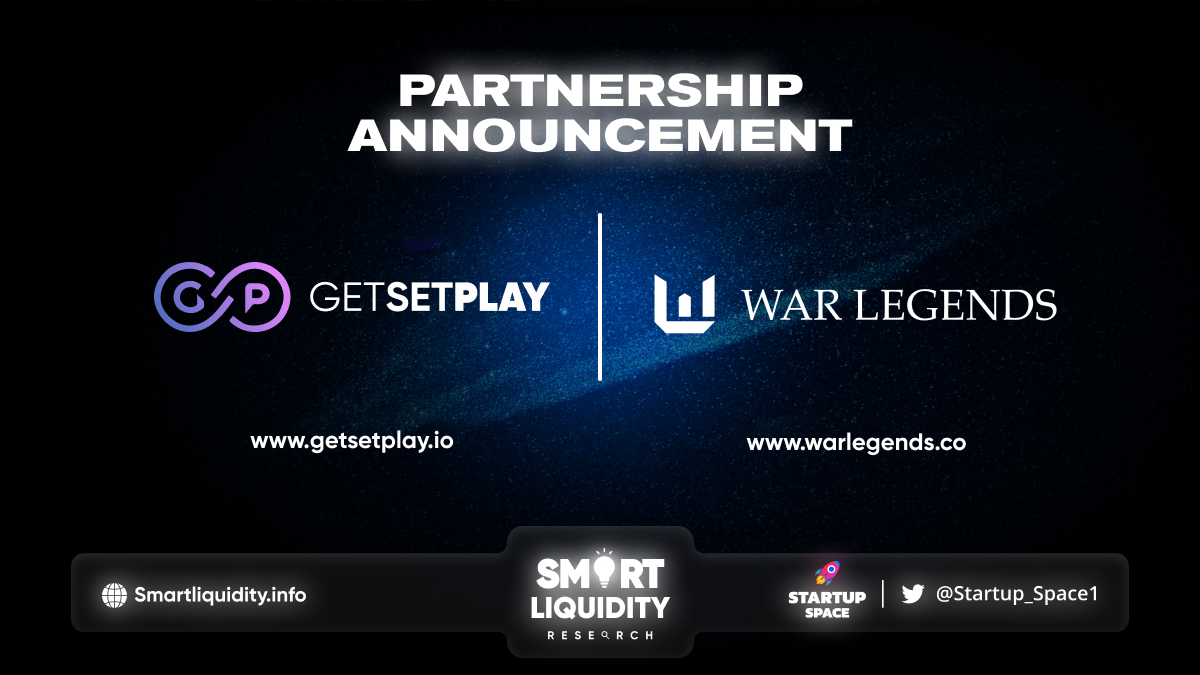 Get Set Play is proud to announce our latest partnership with War Legends as part of its drive to expand its network of strategic partners.
About the Partnership
War Legends streamers will be able to host tournaments in the GSP Arena and stream their gameplay live on GSP Stream.
The War Legends live streams and tournaments will have strategically targeted promotion towards a blockchain gaming audience.
War Legends streamers will receive full access to the GSP Stream platform, giving them the chance to connect with the passionate viewers and gamers who make up the Get Set Play community.
This comes with access to all the great features of GSP Stream like protection for all streamers and fairer compensation for the time spent live streaming. GSP will also help protect War Legends streamers from hate attacks or similar attacks thanks to their community validators that ensure the safety of all streamers on the GSP Stream platform.
Partnership Highlights
War Legends, along with content creators who stream War Legends, stand to benefit greatly from this partnership. War Legends will receive substantial exposure and targeted promotion to the blockchain gaming focused audience found on Get Set Play. GSP Stream is home to a large community of dedicated blockchain gamers, an audience significantly more likely to try the War Legends for themselves. Both War Legends and their streamers will be able to rapidly grow their following and viewership whilst also rewarding those new viewers thanks to Get Set Plays watch-to-earn protocol. Streaming on GSP Stream also helps streamers earn a much fairer return for their time spent broadcasting, all thanks to the staking pools offered on Get Set Play.
Likewise, Get Set Play will be able to benefit from an increase in live streamers, viewers and gamers when existing viewers and gamers of War Legends move over to the Get Set Play ecosystem. The ability to host War Legends tournaments within GSP Arena increases the live stream content offered to viewers whilst also increasing the available tournaments for gamers to participate in. Gamers and viewers that join Get Set Play as a result of this collaboration will be able to explore the entire Get Set Play ecosystem and engage in one of the many activities that make up the Get Set Play ecosystem, from competing in tournaments to watching live streams, all whilst being rewarded for doing so.
About War Legends
War Legends is a military-themed Multiplayer Online Battle Arena (MOBA) game and metaverse that is built on top of blockchain technology that implements Play-to-Earn (P2E) mechanics, has its own native cryptocurrency in the form of the $WAR token, and utilizes non-fungible tokens (NFTs). The game aims to become a unified war zone world that features additional functionalities through LAND ownership.
About Get Set Play
Get Set Play is a groundbreaking decentralized, DAO-governed esports gaming and streaming platform that leverages blockchain technology to revolutionize the way they play, stream and spectate video games and esports.
SOURCE
https://getsetplay-io.medium.com/get-set-play-partners-with-war-legends-7c440820bd