Get Set Play Partnership with Dragon War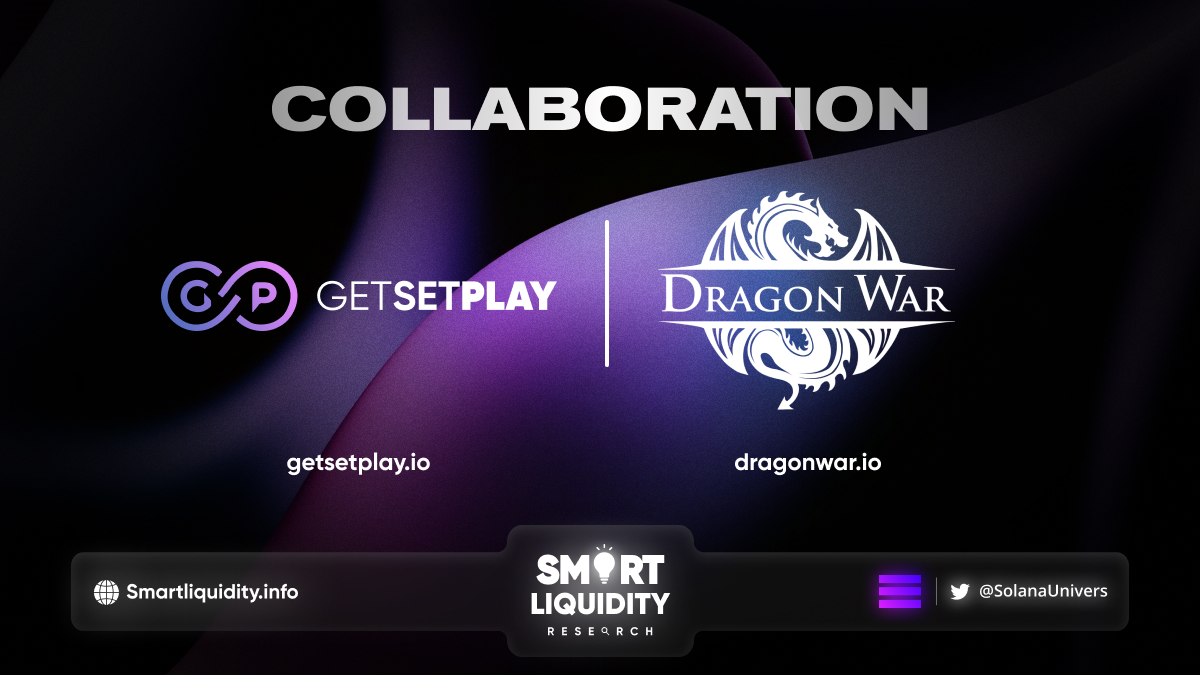 Get Set Play, a groundbreaking, DAO-governed esports gaming and streaming platform that leverages blockchain technology, announced its partnership with Dragon War.
Get Set Play has formed the newest partnership with Dragon War as they attempt to extend their network of proven partners in the blockchain gaming and esports sector.
About the Collaboration
Dragon War content providers will be able to stream their games on GSP Stream. All of their live streams on GSP Stream will be geared at the massive blockchain gaming audience. Get Set Play will promote Dragon War to the committed viewers and gamers that make the Get Set Play community what it is, in addition to providing Dragon War broadcasters with full access to the GSP Stream platform.
This will provide Dragon War broadcasters access to all of the amazing features of GSP Stream, such as streamer security and more equal payout for live streaming time. Get Set Play's community validators, which assure the safety of all broadcasters on the GSP Stream platform, will also assist safeguard Dragon War streamers from hate assaults or similar attacks.
Collaboration Highlights
This agreement will help Dragon War as well as content developers that stream Dragon War greatly. Dragon War will now receive significant exposure and targeted promotion on Get Set Play to the blockchain gaming community. GSP Stream is home to a sizable community of passionate gamers, particularly blockchain gamers. The ability to broadcast, together with priority advertising. Will help put Dragon War in front of an audience that is very inclined to test the game.
Using Get Set Play's watch-to-earn methodology, streamers will be able to swiftly build their following and viewership while also paying those new viewers. Streaming on GSP Stream also allows broadcasters to receive a far more equitable return for their time spent streaming, owing to the Get Set Play staking pools.
When current Dragon War viewers and players migrate to the Get Set Play environment. Get Set Play will profit from an increase in live streams, viewers, and gamers. As a consequence of this collaboration, gamers and viewers who join up for Get Set Play. Will be able to explore the whole Get Set Play ecosystem, including tournaments and live broadcasts. To make the most of our play-to-earn and watch-to-earn models. The ability to run Dragon War tournaments within GSP Arena enhances tournament choices for gamers as well as live stream content for viewers.
About Dragon War
Dragon War, the best Play to Earn strategy, combining the best gameplay and features from Axie Infinity, Heroes of Might and Magic. Players can buy heroes, summon dragons and build a kingdo. To take into battle with NPC's in a Player vs Environment mode or large scale Online Battlefields.
There are three main game modes in Dragon War – Arena, Campaign and Building & Farming. Arena Mode is a 5v5 round-based game mode where teams focus on winning quick engagements. Aside from battle modes, players can take part in the building and farming mechanism.
About Get Set Play
Get Set Play, a groundbreaking, DAO-governed esports gaming and streaming platform. They have tailored Their platform for avid gamers and streamers alike to compete in tournaments. Their use of blockchain technology, as well as their own native token, is utilize to reward gamers for participating in tournaments or streaming their gameplay.
Get Set Play, creates an immersive metaverse experience. To let gamers all over the globe feel like they are competing under one roof. Their one-of-a-kind metaverse is design for users ranging from gamers and creators to business owners and game sponsors. The metaverse will allow users to interact with one another like never before.
SOURCE
https://getsetplay-io.medium.com/get-set-play-partners-with-dragon-war-8e9a54311b6a