Guildpad Upcoming IDO on DAOStarter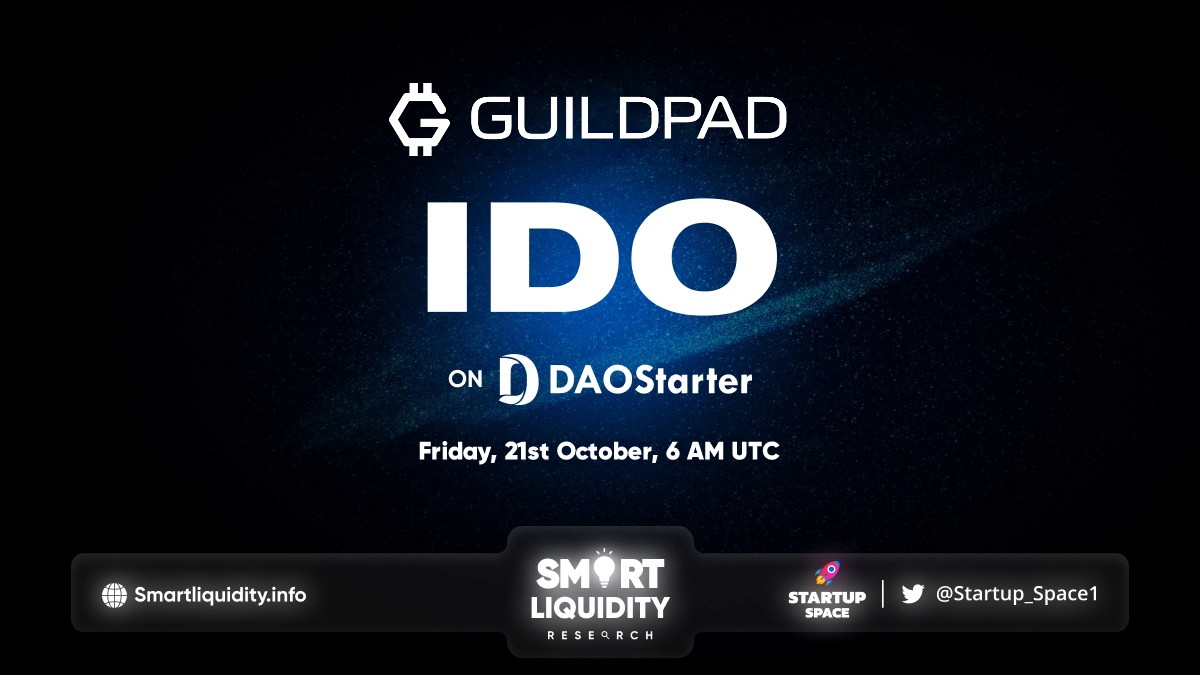 Guildpad will launch its upcoming IDO on DAOStarter. The whitelisting process for DAOStarter Public Sale is now live!
Public Sale Details
The key Guildpad Public Sale details are as follows:
Whitelist date: 6:00 am 17th of October 2022 UTC
Whitelist closed: 4:00 am 21st of October 2022 UTC
Sale date: 6:00 am 21st of October 2022 UTC
Sale closed: 6:00 am 23rd of October 2022 UTC
USD$60,000 of $GPAD will be available through the Public Sale, totalling 750,000 tokens
The pool is adjusted as follows: Any user is allowed to subscribe ten mins after the pool opens. 6:00 am UTC 21st — 6:10 am UTC 21st (whitelist winners subscribe) 6:10 am UTC 21st— 6:00 am UTC 23rd (For all users)
Min investment: $100
Max investment: $3000
IDO Price: $0.08
Currencies: USDT
IDO Type: FCFS
Sale Network: BSC
Token Network: Solana
Selected addresses for whitelist : 50
Vesting Period: 10% TGE then linear vesting the next 10 months
Whitelist details
In order to qualify for the DAOStarter IDO and to get whitelisted, you need to fill out the Whitelisting form (link below) :
https://docs.google.com/forms/d/e/1FAIpQLSePGJO2CoRdXg4j2DxIb1OR3fiwNXJNCPZvaAClGYfqZYhKQA/viewform?usp=sf_link
Within the form, you will need to:
1. Confirm your email address
2. Twitter handle(Username)
3. Telegram handle(Username)
4. BSC wallet address
5. Set your NFT avatar on DAOStarter
6. Join the Guildpad Telegram
7. Follow Guildpad on Twitter
8. Join the DAOStarter Telegram Group
9. Join the DAOStarter Community on NFT
10. Follow DAOStarter on Twitter
11. Follow Promotional Hub on Twitter
12. Follow DAOStarter Telegram Channel
13. Follow DAOStarter Discord
14. Tag 3 friends in comments, and retweet the following tweet
Once you have completed all fields, submit the form.
Please Note:
Whitelist entries will be screened, with the following to be disqualified from participating in the Public Sale:
Invalid wallet addresses, Twitter and Telegram accounts
Entries made by bots
Duplicate entries
Incomplete entries missing any of the form criteria
After the whitelisting form closes, a randomized draw will generate a list of users approved for participation in the Private Sale. Approved users will receive an email from sale.
Important
The Guildpad team will NEVER message you first on any social media platform
Users do not need DSTs to participate in whitelist activities
About Guildpad
GuildPad is a metaverse focused decentralized venture capital and launchpad platform. Our main goal is to accrue value for our members by making it easy to invest in blockchain projects and also simplify how metaverse startups can raise funds for their projects. So to make it simple, we are a bridge between new raised projects needs and investor protection.
About DaoStarter
DAOStarter is a public token launchpad, serving for crypto investors & projects.
SOURCE
https://medium.com/@DAOStarter/guildpad-whitelist-for-daostarter-public-sale-is-now-open-85bdd1e32930