PStake Partnership with Midas Capital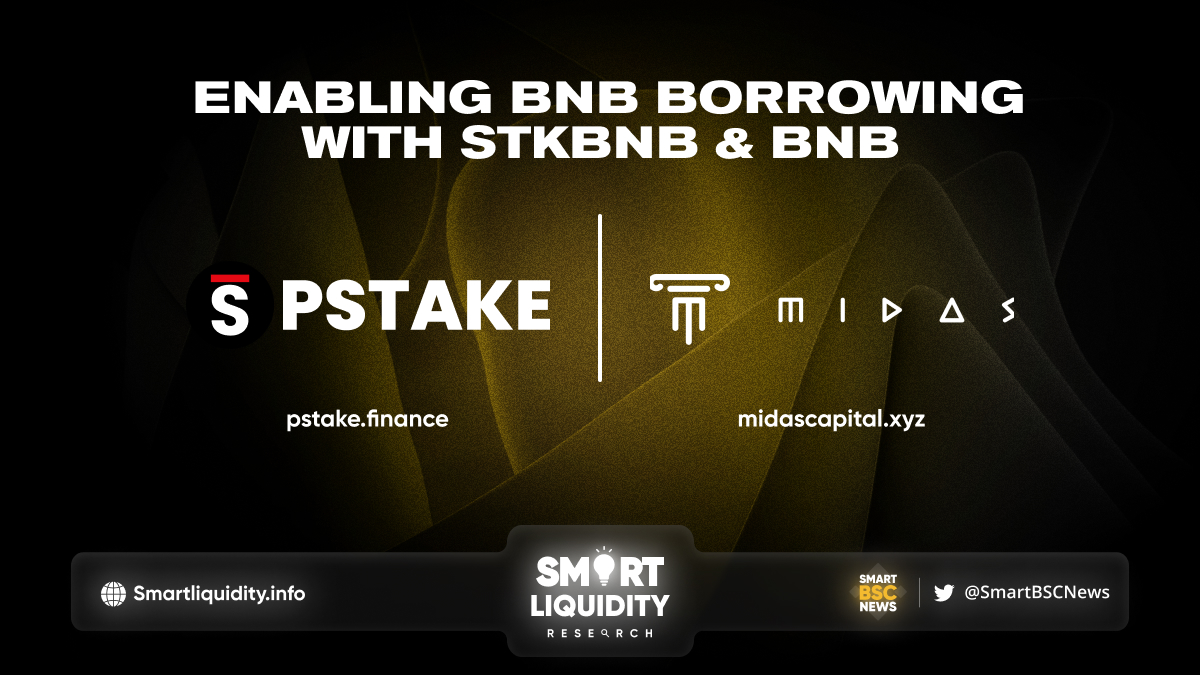 PStake Partnership with Midas Capital, a money market platform that allows anyone to create customized and isolated pools for lending and borrowing of any asset.
Users can provide liquidity to the Midas pool with $stkBNB, $BNB, or their stkBNB/BNB LP tokens from PancakeSwap to borrow $BNB. They can be used as collateral as such: stkBNB (75% LTV) BNB (75% LTV)stkBNB/BNB $CAKE LP (75% LTV). All LP tokens used as collateral on Midas will continue to earn yield farming rewards while in the pool. As PStake announced its Partnership with Midas Capital.
What is Midas Capital?
There are 3 parts to "Midas Capital," and it is important to recognize the differences between each party involved.
The Midas Capital Protocol:

A DeFi protocol that is built using Smart Contracts and run autonomously on EVM compatible blockchains in order to put crypto assets to use.

The Midas Capital UI:

A web app that provides easy to use tooling in order to interact with the decentralized protocol. This interface is one of the many ways of interacting with the Smart Contracts.

The core Midas team that will lead the protocol to full decentralization.
Midas Pools
The protocol allows users (individuals, protocols, DAOs, institutions) to choose all of their custom parameters and isolate risk, rather than using a large lending and borrowing pool on other platforms.
Fees:

By default, 10% of all interest paid by borrowers or earned by lenders is distributed to the treasury.

Permissionless Lending and Borrowing Purpose
­
About pSTAKE
pSTAKE is a liquid staking protocol that unlocks liquidity for your staked assets. With pSTAKE, you can securely stake your Proof-of-Stake (PoS) assets. Participate in protocol improvements and security to earn staking rewards.
At present, pSTAKE supports Binance Chain (BNB), Cosmos (ATOM), Persistence (XPRT), and Ethereum (ETH) networks' native tokens, with a view to support more chains and assets in the future (SOL, and AVAX).
­
About Midas Capital
Midas Capital is a cross-chain money market solution that unlocks and maximizes the usage of all digital assets and makes them work for you.
­