1inch Partnership with Revolut App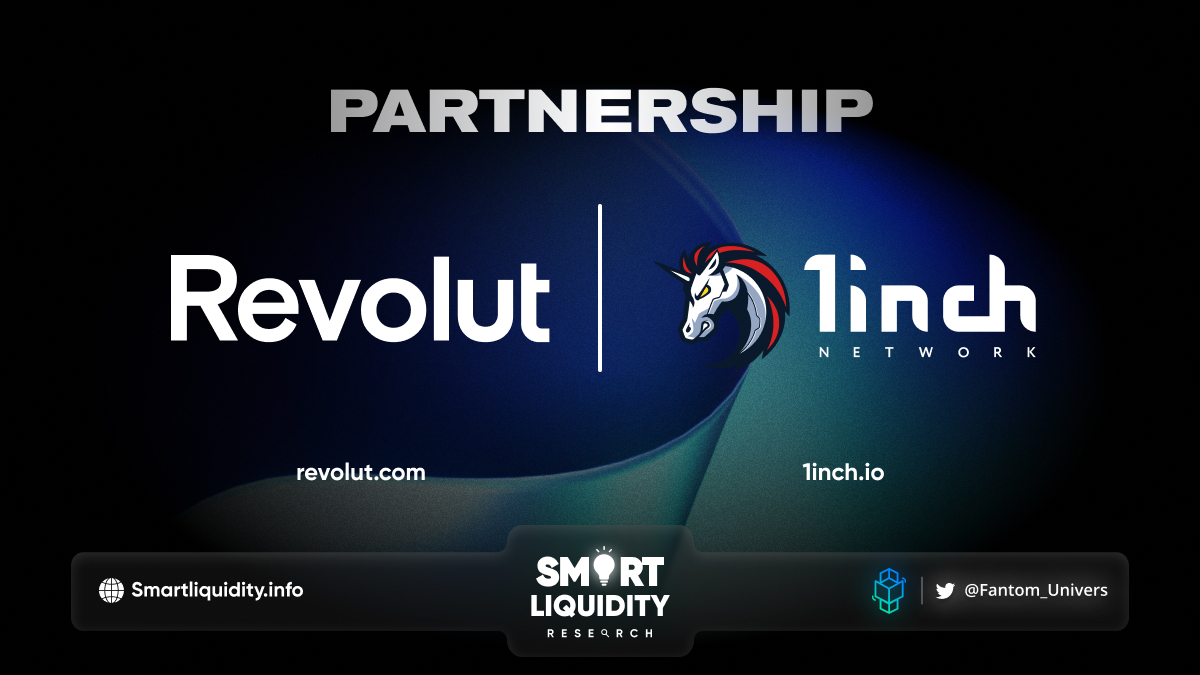 1inch Partnership with Revolut App, a platform building a borderless, customer-centric platform which feels personal to everyone and will serve as their trusted companion to manage and grow their money.
Aiming to empower more people with DeFi knowledge, the 1inch Network is happy to announce the launch of the crypto 'Learn & Earn' course as part of Revolut's education program run with various partners. This is the first step of the partnership with the leading customer-centric platform. Which offers all the necessary tools for money management. As 1inch announced its Partnership with Revolut App.
Revolut, the global financial superapp with more than 20 million customers worldwide, expands its list of cryptocurrencies offered to customers and diversifies its educational resource 'Learn & Earn', which has been completed by approximately 2.6 million crypto enthusiasts since its launch in March 2022.
The Partnership
Services provided by Revolut appear to be a kind of alternative to traditional banks. As they enable users to transfer money instantly, invest or create savings accounts through its app, as well as to spend and manage funds both via card online and in-store. The crypto feature is incredibly popular, as evidenced by the recent growth of users' crypto portfolios.
Since any investment, including crypto, can be associated with risks, the customer-centric approach. Involves increasing users' knowledge of the DeFi space and its related concepts. As a universal entry point into DeFi, the 1inch Network has partnered with Revolut to create a clearly structured three-lesson course which reveals the basics essential to start with decentralized finance.
"When we introduced the 'Learn & Earn' courses, we aimed to make the world of crypto more accessible. The results exceeded our expectations, demonstrating that there is a true customer need for this form of education," says Emil Urmanshin, Crypto General Manager at Revolut.

"Today we are thrilled to launch a new series of lessons, developed with the highly reputable 1inch Network, which will bring customers even more insight into different crypto concepts," he adds.

"DeFi education is vital as it drives further mass adoption," believes Sergej Kunz, 1inch Network co-founder. "We are super excited about the course we are launching with Revolut, and we also hope it'll pave the way for our in-depth collaboration."
­
About Revolut App
Their mission is to unlock the power of a borderless economy, for everyone
Financial services are the backbone of their society, and their goal is to make them work for as many individuals and businesses as possible. They want to grow the global economy by providing everyone with frictionless, accessible financial products.
They're building a borderless, customer-centric platform which feels personal to everyone. And will serve as their trusted companion to manage and grow their money.
­
About 1inch Network
The 1inch API v4, Pathfinder, is a cutting-edge discovery and routing algorithm. Which offers asset exchanges at the best rates on the market. Pathfinder finds the most efficient paths for a token swap. Able to split between different protocols and even different market depths in within one protocol in the shortest possible time.
­