PARSIQ Strategic Partnership with Hypersea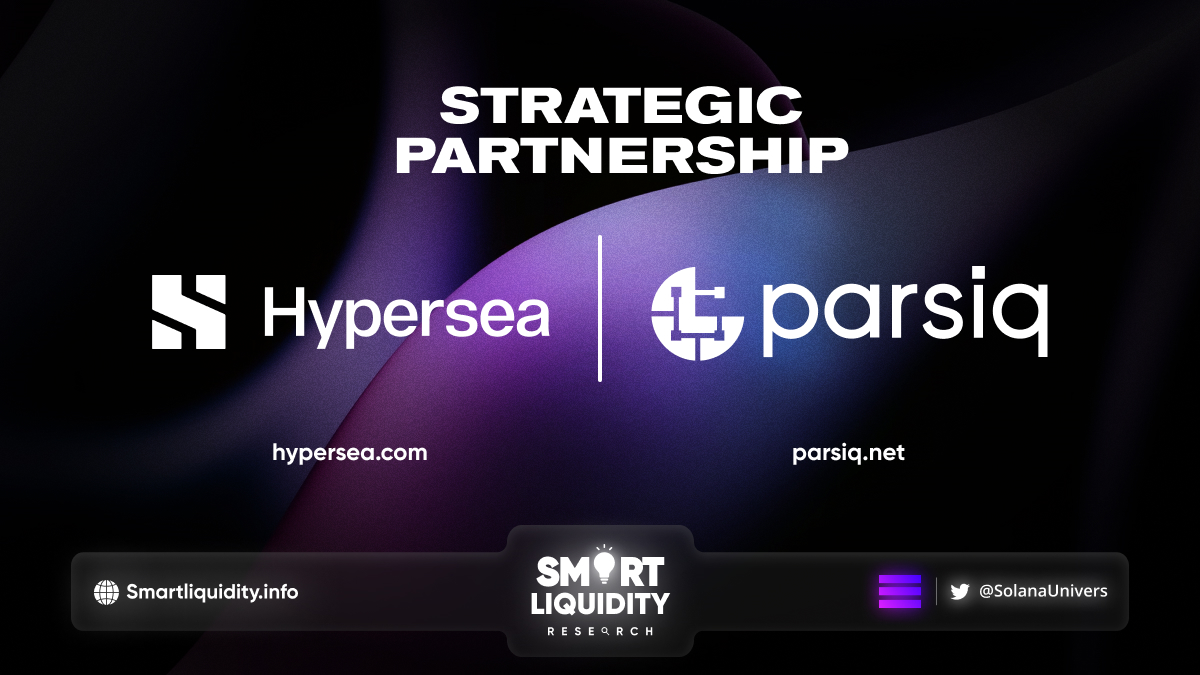 Full-suite data network used to build the backend for all

web3

dApps and protocols, PARSIQ announced its strategic partnership with Hypersea, a decentralized exchange built on Solana.
PARSIQ is pleased to announce its strategic partnership with Hypersea, to provide data crucial to the development of the mathematical models used to establish the DEX.
Introduction to Hypersea
Hypersea is a next-generation DEX that has intelligent liquidity management. Their purpose is to make it easier for liquidity providers and traders to trade optimally. Hypersea Adaptive Automated Market Maker establishes a new standard for rationally absorbing external data from oracles and carefully merging it with internally measured trading behavior in order to determine the appropriate liquidity provisioning approach.
Hypersea is the brain-child of prolific blockchain engineer Anatoly Ressin  — the co-founder of PARSIQ and IQ Labs.
The Hypersea team has big expectations for a successful app launch in Q4. Take a look at their roadmap below to see what's coming up.
Partnership Highlights
PARSIQ provided vital blockchain data that was critical to the construction of the precise mathematical models that served as the foundation for the Hypersea DEX.
Users who meet all three requirements will receive an airdrop of the Hypsersea token $HYPS at TGE.
Stake your $PRQ! Those who have been, currently are, or begin staking between now and the $HYPS TGE will qualify. (For each stake $PRQ during 1 block users get 1 point, points will be calculated starting from the creation of the PRQ renting pool until the date of airdrop for every user. We see every single movement in a blockchain. We are PARSIQ after all!)
At the moment of Airdrop have a non-zero stake $PRQ in IQ Protocol
Users should register in the Hypersea Airdrop program.
Airdropped tokens will locked  for a month to prevent an immediate sell-off.
How exactly will the airdrop work?
It is important to apply to the program. You just go to the address [URL will be announced later in Hypersea media channels], and connect your wallet with the address that was used for $PRQ staking
Users will submit their Solana Address (e.g. from Phantom wallet)
Once per day we will calculate how many token-blocks you've staked so far. This makes 100 PRQ staked for a year more valuable than 10,000 PRQ staked for one day (Actually, 100 PRQ staked during a year is equal to 36,525 PRQ staked during a day)
At the date of TGE [To Be Announced in Hypersea media channels], the total amount of $HYPS (60 000 USD in value) will be distributed automatically between all applicable participants proportionally to their token-blocks metrics.
About Hypersea
Hypersea — the new generation DEX with smart liquidity management. The goal is to facilitate optimal trading between liquidity providers and traders, by maximizing LPs yields, minimizing slippage for traders, and protecting the liquidity by applying automatic adaptive risk management procedures.
About PARSIQ
PARSIQ is a full-suite data network for building the backend of all Web3 dApps & protocols. The Tsunami API provides blockchain protocols and their clients (e.g. protocol-oriented dApps) with real-time data and historical data querying abilities.
SOURCE
https://medium.com/parsiq/parsiq-x-hypersea-strategic-partnership-bdd17a5a0eaa