What Is a Crypto Airdrop?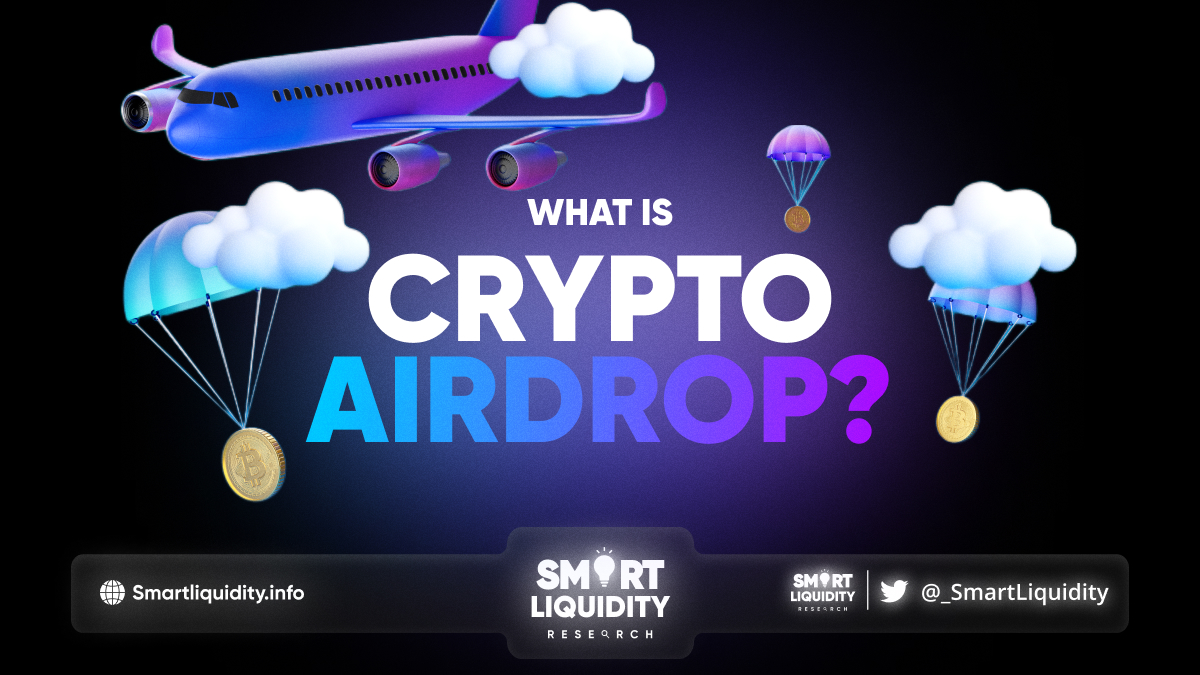 Users of cryptocurrencies that often utilize emerging or established platforms might anticipate receiving airdrops at some point. As part of a bigger marketing campaign, blockchain-based companies and developers may also do "airdrops," where free tokens are given to people in the community. The objective is to get as many people as possible interested in the associated project by giving them free tokens and as much information as possible on exchanging them for something else.
What Is Crypto Airdrop?
Free cryptocurrency from a crypto project is distributed via an airdrop. Free or in exchange for a bit of service, such as retweeting any message provided by the firm creating the new currency. New virtual money is distributed in microtransactions to wallets of mainly the participating members of a blockchain ecosystem. The goal of a cryptocurrency airdrop is to attract people using a new cryptocurrency by increasing their exposure to it.
These tokens may be obtained in a few different ways. Although free crypto is often assumed whenever the word "airdrop" is spoken, this is not always the case. Investment time and energy is required, or you risk incurring transaction costs. It is, nevertheless, possible to partake in an airdrop without spending a dime!
You may be thinking, "How exactly do airdrops function?" In the crypto space, a finite supply of tokens may be distributed to participants who match the project's conditions. You may earn these tokens by doing specific actions. To partake in crypto airdrops, you have to do one of the numerous things. In most cases, you'll need to register for an airdrop and complete other several activities to get the crypto airdrop's rewards. Tokens can then be claimed once a job is completed or won, or they can be automatically added to a wallet.
How Crypto Airdrops Work
The success of crypto airdrops requires completing many crucial steps. First, crypto initiatives often airdrop free tokens to many users to boost interest in participation in their projects.
Users get airdrops after achieving particular goals, which are then rewarded with the airdrops. Cryptocurrency airdrops are usually likely to be distributed to the early participants in a cryptocurrency or blockchain initiative. Other actions, such as subscribing to a specified social media account, may be required as part of innovative airdrop-based marketing methods.
Similarly, making a transaction through the relevant crypto platform may result in an airdrop being awarded. Sharing social media postings announcing a new venture or solution is another way to obtain bitcoin airdrops.
Tokens for brand new crypto projects may be distributed mechanically at a predetermined moment upon meeting predefined requirements. Taking a screenshot of a blockchain at a particular time and distributing airdrops by utilizing smart contracts is yet another conceivable use case for cryptocurrencies.
Are Crypto Airdrops Safe?
The majority of cryptocurrency airdrops can be termed entirely secure and inoffensive. However, some are not. Scammers have even figured out how to utilize airdrops to defraud unsuspecting victims. In addition, they've figured out several means to hurt crypto users by stealing their coins or private keys.
Airdrops may be seen as a great way to acquire cryptocurrency, but you should always be wary of those that promise large sums. Also, never share your private keys or link your cryptocurrency wallet with someone you don't know and trust.
Even fake airdrop acts, when fraudsters deposit cryptocurrency, have occurred. Due to their counterfeit nature, these tokens could not be sold. Before investing in a cryptocurrency, it's a good idea to learn more about the people behind the project and get opinions from others to ensure you're not falling for fraud.
How To Make Money From Crypto Airdrops
🔸Referral System: Joining a referral system is a simple way to earn through airdrops. If there is an incentive for doing so, people are happy to advertise a coin they like Trading.
🔸Play Games: Playing games is a great way to start earning bitcoin. Games are increasingly offering free cash to new players because of the growing popularity of dApps and blockchain apps. Unfortunately, only some platforms give out their token for free. However, you can make Bitcoins (BTC) using some of them!
The Swissborg app is a good illustration; it allows users to wager on the future price of Bitcoin.
🔸Learn And Earn: Many ongoing blockchain initiatives seek to educate and prepare the global community for widespread adoption. It's growing in popularity due to the failure of many early attempts at community fundraising to attract people with higher levels of education. Coinbase and Stellar have recently collaborated to provide instruction on XLM in exchange for payment.
Examples of Crypto Airdrops
Many people were caught off guard by the recent sudden appearance of crypto airdrops in the cryptocurrency market.
OpenDao airdropped a huge amount SOS tokens to several NFT producers, collectors, and fanatics who had previously transacted on the OpenSea NFT exchange. The only thing token the recipient had to do was manually log on to the website and claim the tokens. OpenDao's Twitter following increased by over 60,000 thanks to the airdrop, while over 150,000 addresses claimed tokens.
Gas DAO was another group that made such an effort, and its token, GAS, was released on the Ethereum network. Tokens were airdropped to everyone who spent $1,556 or above in Ethereum gas charges, and they may be claimed through the website. There were around 57,000 addresses registered for the airdrop.
As a third instance, we have LooksRare's LOOKS airdrop. When an NFT was listed for purchase on the LooksRare system between June and December 2021. High-volume users of more than three ether on OpenSea got rewarded with a good amount of LOOKS tokens. Owners of LOOKS tokens domiciled on the LooksRare network are rewarded with a proportional amount of all transaction fees. Moreover, token holders may stake LOOKS for additional token rewards.
Final Thoughts
Crypto airdrops are leveraged by corporations and initiatives to spread the word. In addition, giving their security out to millions of wallets globally is a technique to improve its liquidity. While there is certainly benefit in airdrops, because they may be seen as free money, there exist hazards involved in participating in crypto airdrops.