Top 10 Crypto Wallets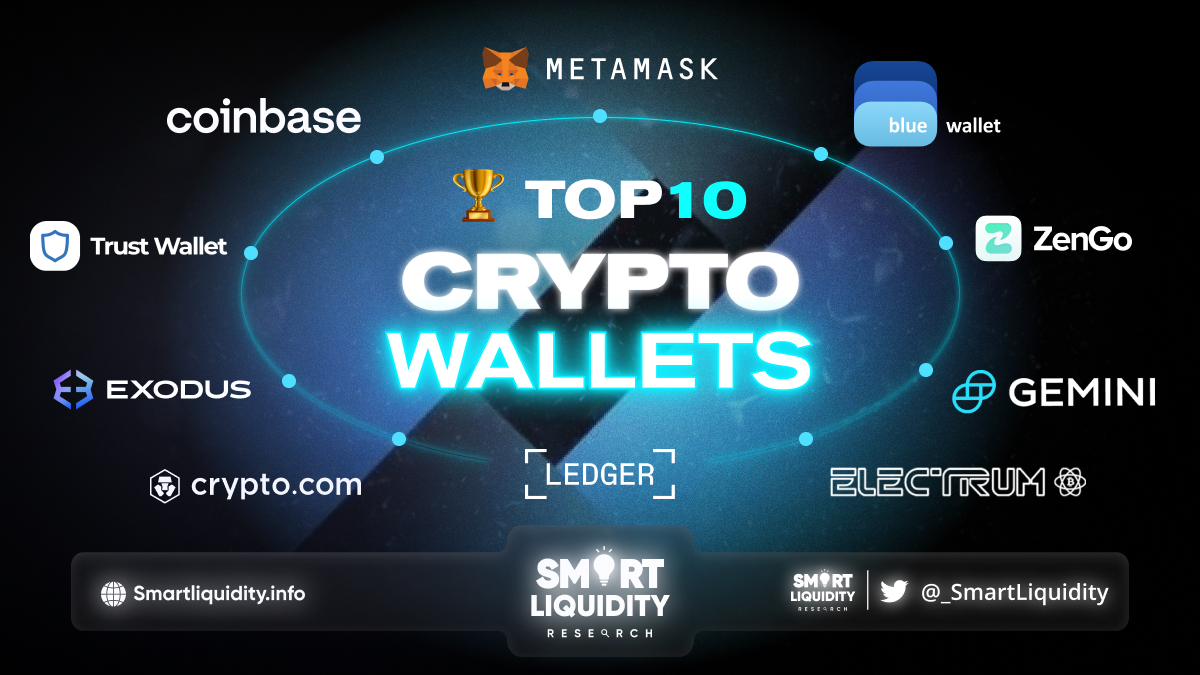 When transacting in the cryptocurrency market, a cryptocurrency wallet is essential. Traders depend on them to safeguard their crypto holdings and verify the accuracy of their financial transactions. In addition, hardware and software crypto wallets, often known as cold and hot storage, provide traders with more specialized alternatives than cryptocurrency exchanges.
What Are Crypto Wallets?
Cryptocurrency wallets are not like the wallet you keep in your handbag or back pocket full of money and credit cards; this is the first thing you need to know. Instead, only you can access cryptocurrency in a digital wallet.
A cryptocurrency wallet is a computer program or device used to store digital money safely. Cryptocurrencies, however, are not tangible things. Coin wallets are the only approved places to store cryptocurrency. The program's user-friendliness, speed, and security make it a top choice.
Types Of Cryptocurrency Wallets
Generally speaking, crypto wallets may be split into two groups: always online (hot wallets) and offline (cold wallets). So let's take a closer look at them, shall we?
🔹Paper Wallets
Paper wallets are the most intuitive and easy to use among cold storage wallets. It is a sheet of paper having your keys printed on it. Since it's simply paper, it's a cold wallet, making it impenetrable by hackers. But paper may be misplaced, stolen, shredded, or rendered unreadable by becoming wet.
🔹Hardware Wallets
For additional safety, consider using a hardware wallet, a unique cold storage wallet. Hardware wallets, similar to USB drives, protect your private keys by making it so that hackers would have to take the wallet to access it physically.
Furthermore, unlike paper wallets, hardware wallets need a PIN to be entered before the user may access the device's contents. Since these PINs include an additional degree of security, they also prevent access to coins if the user forgets their PIN. Because of this, using such a wallet requires some familiarity with technology.
🔹Online Wallets
Your "online" wallets are your digital wallets stored on a server. These wallets, whether mobile, desktop, or web-based, all need access to the internet, which as a result, is more convenient but more prone to hacking.
Top 10 Crypto Wallets
When it comes to Cryptocurrency Wallets, "Quality of Support" and "Ease of Use" are still the two most essential elements in determining whether or not a customer will be satisfied. An algorithm picks the characteristics most likely to predict user happiness in this area. Therefore these are the ones that matter.
Coinbase
Coinbase Wallet is the most user-friendly and safe option for those just getting started with cryptocurrency since a reputable exchange supports it.
If you are just getting started with cryptocurrency, Coinbase is where you want to start. The wallet has a straightforward design and is simple to use. In addition, users can store Bitcoin and other standard cryptocurrencies, decentralized applications like ZRX and Aave, tokens, and even NFTs.
The Coinbase Wallet can store a wide variety of cryptocurrencies, including Bitcoin, Dogecoin, Litecoin and Ripple, in addition to every ERC-20 tokens & tokens on blockchains that are compatible with EVM. This brings the total number of supported digital assets to more than 5,600, which is one of the highest numbers on our list.
ZenGo
The wallet functions as non-custodially yet without private keys, thanks to several security measures, such as biometric encryption, three-factor authentication, and multi-party computation cryptography. This makes Zengo one of the top picks for crypto traders. In addition, ZenGo aims to improve software wallet security by eliminating the possibility of a single failure point. The upshot is that even if someone breaks into your heated wallet, he will be unable to access your money. If you're searching for a simple, all-in-one method for keeping track of all your cryptocurrencies, the digital wallet is a great choice. 
The program not only provides safekeeping for digital currencies but also facilitates their purchase, sale, transmission, reception, and secure connection to Web3 dApps.
When it comes to the user interface, ZenGo is a breeze to get the hang of; in fact, creating an account and learning your way around the app takes less than a minute total. It's a great choice for both novice and seasoned traders because to its high level of safety, user-friendliness, and flexibility.
Since ZenGo Wallet is indeed a smartphone app, setting it up couldn't be simpler. Either visit an online app store or scan a QR code to quickly and easily get the app on your mobile device.
Gemini
Gemini provides a user-friendly trading platform for novice investors, a powerful platform for experienced traders, and a peer-to-peer trading site. You may buy over 75 different cryptocurrencies for as little as $5. Most assets are kept in the Gemini Wallet's air-gapped cold cloud platform, designed to withstand institutional use. Two-factor verification, wallet address permissioning, and the ability to inspect and authorize login devices are just a few of the usual security measures available on Gemini. KYC verification requires users to provide a government-issued picture ID for verification before they may utilize the platform's full trading functionality. 
The goal of this procedure is to lower the number of fraudulent transactions on Gemini.
Recent SOC 2 certification for Gemini demonstrates the platform's dedication to compliance and security beyond its built-in safeguards. Both fiat currency deposits (up to $260,000) and digital asset holdings (up to $1 million) in this exchange's hot wallet are protected by the Federal Deposit Insurance Corporation.
In the case of a hack or other security breach, users' cash will be protected thanks to this insurance.
MetaMask
Tokens and Ethereum-based decentralized applications may be accessed quickly and easily with MetaMask's intuitive UI, which is why we recommend it as the best Ethereum cryptocurrency wallet.
Over 30 million people use MetaMask each month, making it among the most popular Ethereum wallets. 
One of MetaMask's most appealing features is its interoperability with many blockchain implementations. Any blockchain network may be included into the app at the discretion of the user. Binance Smart Chain, Polygon and Avalanche are just a few of the many Web3 networks that are fully supported by the wallet. Additionally, the wallet may be linked to common NFT exchanges like OpenSea, where users can buy, sell, and trade a wide range of collectibles.
Trust Wallet
Trust Wallet was our top pick for the best mobile crypto wallet with its vast number of accepted assets, easy-to-navigate design, and support for decentralized applications and NFTs. It is a Binance official mobile app, one of the world's top cryptocurrency exchanges, and a widely used mobile online crypto wallet.
If you're interested in NFTs or decentralized apps, Trust Wallet is another fantastic mobile choice. The wallet incorporates a Web3 browser, so users may play blockchain-based games and access decentralized applications without leaving the app. This function streamlines the process of acquiring NFTs by allowing users to search for, acquire, and store tokens without ever having to leave the app and utilize a third-party decentralized exchange.
Electrum
Electrum's robust security features and flexible configuration options led us to conclude that it is the finest Bitcoin wallet. Two-factor authentication, payment proof checking, and multi-signature wallet support are just a few of the advanced security feature the wallet supports. Two-factor authentication (2FA), transactional proof checking, plus multi-signature wallet compatibility are just some of the security features offered by the wallet. 
Users may also set their own fees according to how long they are prepared to wait for one transaction to go through: If you're willing to shell out a little more cash, you can speed up the processing of your transaction. The wallet's lightweight client is one of its best features. Light clients are easier to install and use less storage space than their heavier wallet client counterparts. The wallet simply downloads a fraction of the blockchain using simple payment validation (SPV), which accelerates transactions without sacrificing security.
Exodus
Because of its quick transactions, user-friendliness, and flexible client features, we recommend Exodus as just the best desktop crypto wallet. Exodus was originally only available on the desktop, but it now includes mobile applications for both Android and iOS and is compatible with Trezor wallets.
More than 280 cryptocurrencies and NFTs are supported by Exodus, making it a more versatile option than several other hot wallets. This ranges from well-known alternatives like Ether and Litecoin to the likes of  Shiba Inu and Dogecoin which have gained popularity in recent years. An increasing variety of applications, such as those for live charting, cryptocurrency staking, and cryptocurrency deposits, are also available for the wallet, expanding its capabilities.
Crypto.com
Due to its extensive feature set, easy-to-use onboarding wizard, and rock-solid security architecture, our team unanimously agreed that Crypto.com was the finest DeFi crypto wallet. If you are starting with decentralized finances, Crypto.com DeFi Wallets is an excellent option. Users using Defi wallets are responsible for the security of their own crypto assets and private key. 
One-to-one cryptocurrency swaps and a broad variety of methods for users to make passive income on their existing crypto holdings are two features exclusive to this wallet type that aren't accessible in traditional custodial wallets. When dealing with an exchange that offers both custodial and non-custodial wallets, it is essential to know the difference between the two. If you don't want to sign up for Crypto.com's exchange platform but still want to utilize the cryptocurrency it supports, then Crypto.com DeFi Wallet is a perfect choice.
BlueWallet
Because of its advanced mobile software, clean UI, and Lightning Network support, we recommend BlueWallet as the top smartphone bitcoin wallet. If you are a Bitcoin trader who wants to learn more complicated desktop software, BlueWallet is an excellent option. Although the wallet's UI is friendly and intuitive for newcomers, the program also has a lot of complex capabilities that may appeal to more experienced users. 
While it may be used to transmit, receive, and store Bitcoins, BlueWallet also provides the option to send batches of transactions at once, set user-defined transaction fees, and connect to the Tor network for increased anonymity.
The Lightning Infrastructure, a layer two technology that allows peer-to-peer payments significantly quicker than it does on bitcoin's layer 1 system, is supported by BlueWallet, which is a major benefit. One useful metaphor for the Lightning Network is an expressway on top of the original Bitcoin network.
Ledger Nano S Plus 
Because of its wide range of supported assets, robust security infrastructure, and trading possibilities through the built-in Ledger Live software, the Ledger Nano S Plus is the finest crypto hardware wallet. Ledger is a household name in the crypto world, and crypto enthusiasts widely use its hardware wallets. Its products are distinguished by the incorporation of a Secure Element component, a kind of chip often used in credit cards,  passports, and payment systems.
In April 2022, it released an updated version of its original wallet, the Nano S Plus, featuring a larger screen, more internal storage space, and the ability to charge via a USB Type-C connection. Compared to its more advanced sibling, the Ledger Nano X, this revision of the Ledger Nano S makes an already compelling entry-level device much more so.
Conclusion
Choosing the finest Bitcoin wallet is an arbitrary process that should be tailored to each individual's requirements and financial situation. For example, the best cryptocurrency wallet for a day trader might be significantly different from that for a long-term investor or someone who often makes purchases using Bitcoin, Litecoin, Ethereum, or Bitcoin Cash.