Zebec Foundation Launch $10M ZBC Ecosystem Fund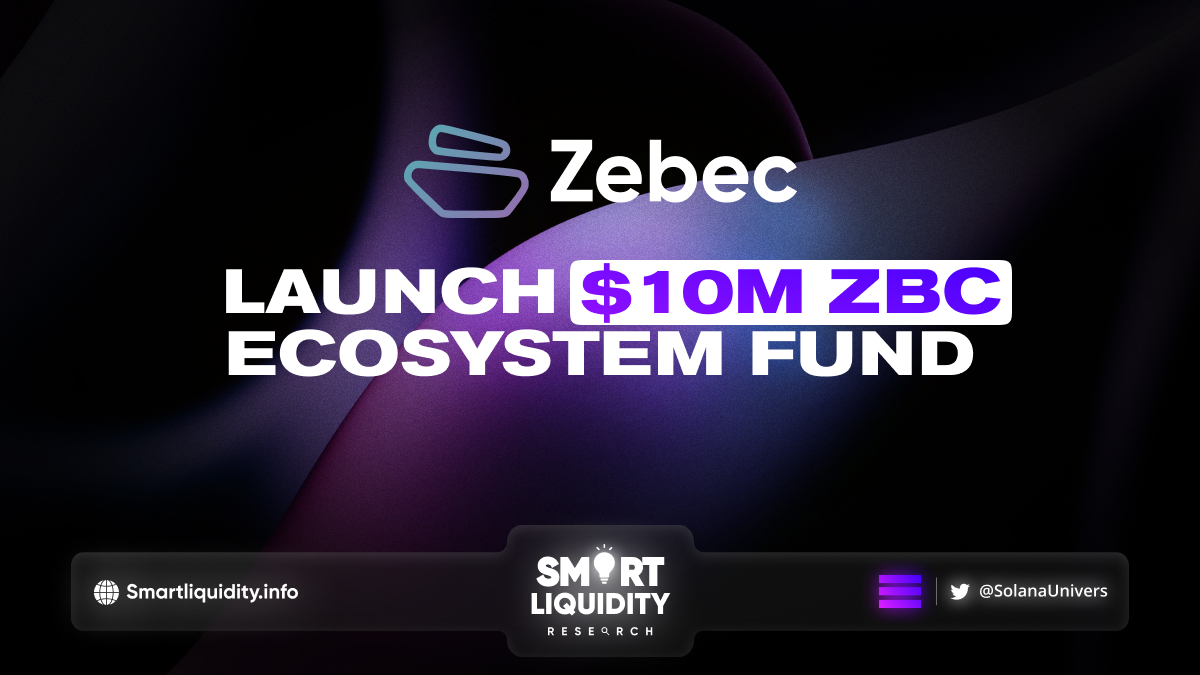 A Multisig Treasury Management and Streaming Payments built on Solana, Zebec Foundation has announced the launch of a $10M ZBC Ecosystem Fund to further support their communities and stakers.
The Zebec Foundation launch the $10M ZBC Ecosystem Fund, for the further development of the Zebec Chain and to incentivize the development of its ecosystem.
As the world adopts blockchain and web 3.0, there is a massive momentum shift from web 2.0 to web 3.0. Payment is undoubtedly the most important aspect of blockchain adoption. This year, Zebec announced a collaboration with key strategic projects such as VISA to become the first project on Solana to be approved for the VISA program.
The Zebec Foundation
To meet the increased demand from its users and assets, the Zebec Foundation urgently needs to launch a new infrastructure platform that allows for a more fluid user interface and interaction.
Zebec Chain's ZK-roll up (provided by Eclipse) allows privacy-enabled transactions and advanced business adoption use cases. Hence, operation horizon is born to incentivize communities and early supporters the adoption of this new technology.
As a result, the Foundation announced the establishment of an ecosystem reserve fund to support the continued development of the Zebec Chain and to encourage the development of its ecosystem. This fund will be drawn from the treasure reserves and distributed in ZBC tokens and stablecoins as the ecosystem is built.
The first portion of the funds will used to advance their validator consensus system. The foundation will launch a layer 1 rollup chain as the underlying Web3-based financial infrastructure for global payments.
Core Objectives of the Zebec Chain Ecosystem Fund
Validator Development: Building a decentralized ecosystem with the maximum number of validators will help secure the network and defend against attacks.
Developer Grants: Parts of the fund will be allocated to developers who can build a strong ecosystem of dApps once the Zebec chain goes live.
Community & Marketing Development: Promoting the Zebec ecosystem, including community contributions, and validator operations across the region.
Business Development: Bringing high-quality projects from other chains into the Zebec Ecosystem that focus on DeFi, Gaming, browser extensions, NFTs, and the Metaverse.
Technology Development: Native Zebec products that will leverage Zebec's payment-focused chain and bounties to help resolve any technical flaws there are in the products we build.
Horizon Ecosystem Fund Distribution Timeline
Horizon Fund I ($10 million): Aims to foster early-stage consensus and community development.
Horzion Fund II ($10-$15 million): Will activate during the Testnet Stage to support Zebec chain builders and developers.
Horizon Fund III ($50-$100 million): This fund will activate prior to the Mainnet launch to support further ecosystem development.
The Zebec Foundation will reward early validators and supporters through the first $10 million ZBC ecosystem fund. The Foundation hopes that this funding will help to accelerate the ecosystem's development and attract talented builders and enthusiastic community members to help us build Zebec together. The Foundation would like to take this opportunity to express gratitude to their community for their ongoing support of their users, validators, and communities in general.
About Zebec Protocol
Zebec is a tax-compliant payment protocol with over 250 business clients and more than $300 million in TVL. It is a continuous settlement protocol, founded by Sam Thapaliya that makes payments more efficient, fair, and decentralized.
SOURCE
https://medium.com/zebec-protocol/zebec-foundation-launching-the-10-million-zbc-ecosystem-fund-67bd0d5b0846