Helio Integration with Squads Protocol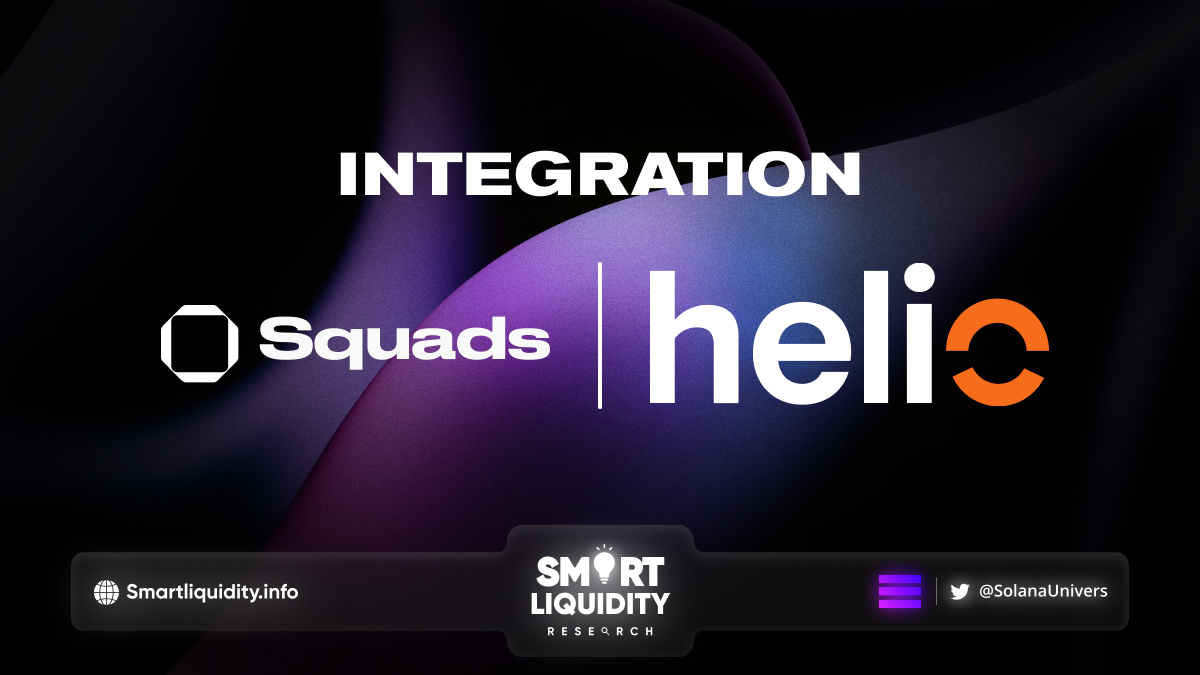 Powering payments for the Web3 economy, Helio, announced its integration with Squads Protocol, the multisig standard built on Solana.
Helio has announced the successful integration of Squads Protocol into its web3 payments platform, which allows merchants to receive payments directly into their multisig wallets.
Introduction to Helio
Helio is a full Web3 payment platform, beginning with Solana. They make accepting cryptocurrency payments simple for merchants, creators, and businesses.
Helio mission is to accelerate the adoption of Web3 payments & drive the cost of online payments toward zero.
Helio Solutions
E-commerce: replace or substitute online card payments with Web3 payments. Create an Helio checkout page in seconds or embed Helio payments into your own website
Pay Links: enable any payment workflow (e.g. NFT sales, tips, Discord payments, invoicing, x-border payments, etc.)
Pay Streams: flexible subscription payments and time-metered billing workflows such as media consumption or utilities
Web3 payments API: automate transaction data, create paywalls & build custom apps powered by Helio payments
They are an experienced team of builders. The founders have previously built, scaled, and exited two B2B SaaS companies worth $600 million. We've put together a team of top Web3 and Fintech engineering, product, and marketing minds.
They support Phantom, Solflare, Slope, Brave, Coinbase, Glow, and other Solana-compatible wallets. They are developing cross-chain and plan to support ETH wallets such as MetaMask by the end of 2022.
Squads Protocol: the multisig standard you were looking for on Solana!
Securely manage your treasury, program upgrades and tokens with your Squad. 
Multi-signature

A multisig requires multiple digital signatures in order to approve transactions. This is opposed to individual web3 wallets, which only require one signature.

Security

Multisigs spread the attack vector necessary for your assets to be compromised. By requiring confirmations from multiple private keys, a single point of failure is eliminated.

Collective Ownership

Multisigs allow teams to own and manage their on-chain assets together. You get to choose who is on your multisig.

Self-Custody

Your on-chain assets are always under your team's control. By securing them in a multisig, you forego the risk of centralized entities losing your funds.
About Squads Protocol
Squads Protocol is an open-source, secure, and modular architecture built on Solana that provides a full suite of tools for web3 teams to manage their on-chain assets and programs.
About Helio
Helio is a full Web3 payments platform, starting with Solana, that makes it simple for merchants, creators, and businesses to accept cryptocurrency payments.
SOURCE
1/ @helio_pay has successfully integrated Squads into their web3 payments platform, allowing merchants to receive payments directly into their multisig wallets. pic.twitter.com/tnTU56OkSg

— Squads (@SquadsProtocol) November 11, 2022