Eclipse Pad's Integrates Squid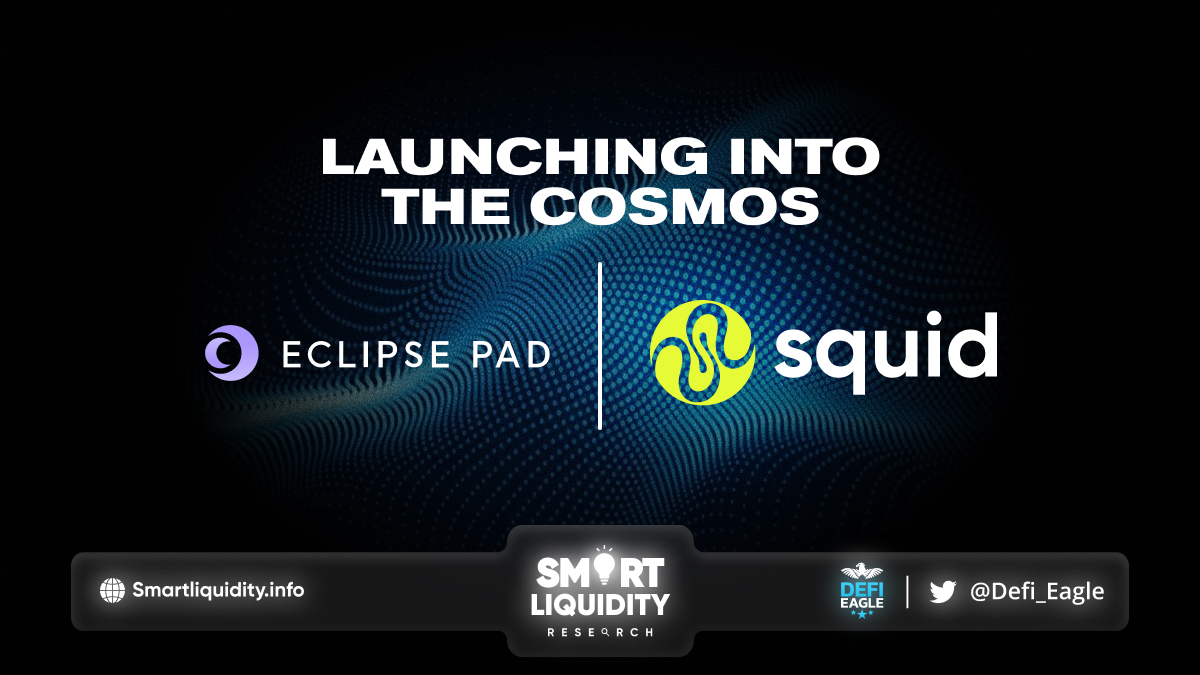 Eclipse Pad announced Eclipse pad's partnership and integration with cross-chain swap and liquidity routing module Squid.
Squid is a cross-chain swap and liquidity routing module built on Axelar. Squid allows users to swap assets between chains, and spend those assets in smart contracts. All in one click.
This integration will enable users from all across the crypto space to seamlessly participate in Cosmos IDOs from their chain using any major assets. This will accelerate Eclipse Pad's mission to onboard new users into the Cosmos Ecosystem from the wider crypto community.
Eclipse Pad's Integrates Squid
Eclipse Pad will integrate Squid's API for cross-chain swaps and transfers into the platform. This will enable the ability to offer users on multiple chains the ability to participate in exciting Cosmos IDOs using any major assets seamlessly.
This will look like a super simple UI where a user on Polygon would be able to connect their Polygon wallet and use MATIC or Polygon USDC to participate in an Eclipse Pad IDO, without having to jump through 50 hoops. It will all be compressed into one or two simple clicks.
Squid swaps and bridges the asset from Polygon to Cosmos through Axelar in the background, straight into the IDO.
Eclipse Pad will also integrate this flow for purchasing the $ECLIP token, making it super easy to get into a position.
The future cross-chain capabilities are boundless with Squids' ability to bridge NFTs and more. Eclipse Pad's Integrates Squid and Eclipse Pad already having developed the codebase for most of the major chains.
This will open the doors to a fruitful partnership and some incredible cross-chain interoperability and participation.
About Squid
Squid is the cross-chain swap and liquidity routing protocol on Axelar Network. Squid utilises DEXs like Uniswap and Osmosis to swap and send any native tokens between chains. This can be done via their SDK, widget, or smart contracts directly.
Swaps are composable with Axelar's generalised message passing, so Squid can enable one-click transactions between any application and any user, using any asset.
About Eclipse Pad
Eclipse Pad is the first IDO launchpad for the Cosmos IBC Ecosystem. It is a dApp platform for the nurturing, funding, marketing, and launching the best of Cosmos innovations, including top-tier decentralised applications and new Cosmos IBC chains.
Eclipse Pad acts as a megaphone for projects to expand their reach, build community, and bootstrap liquidity. It also acts as a catalogue where users across the crypto space can get early access to hot projects and participate in the future of Cosmos.
SOURCE:
https://medium.com/@Eclipse_pad/launching-into-the-cosmos-squid-x-eclipse-pad-78f907023dfd