Notifi Collaboration Accomplishments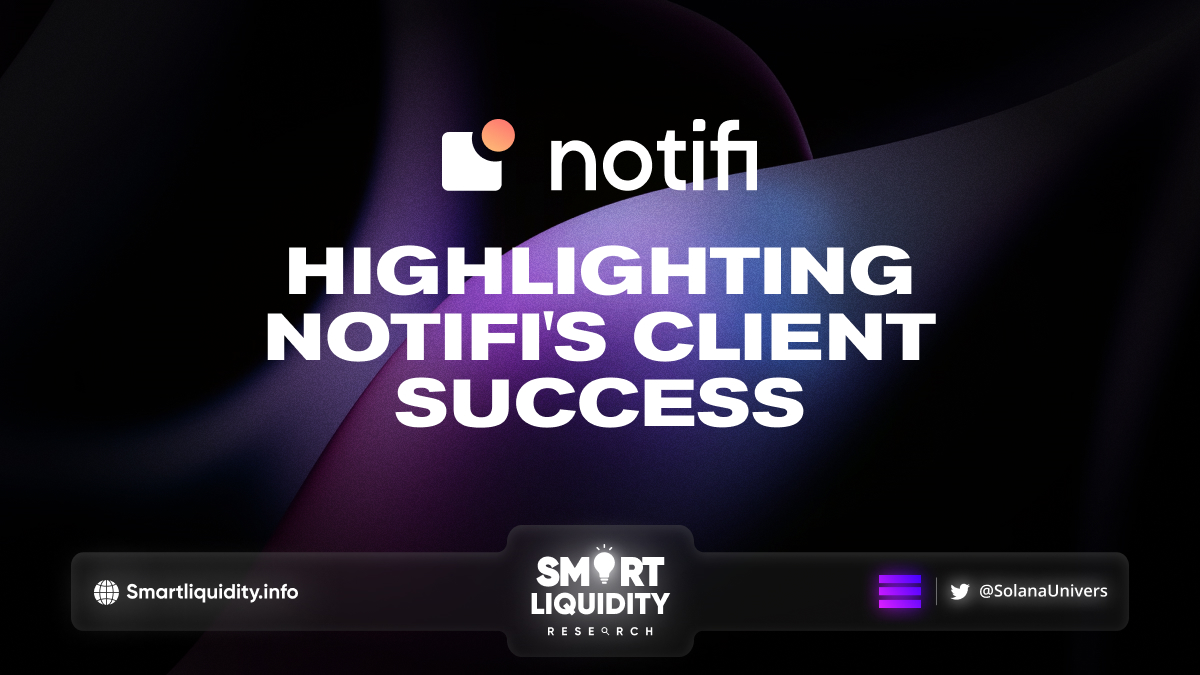 Notifi, a company that integrates notifications and messaging into decentralized applications, has announced a few collaboration accomplishments.
Notifi few collaboration accomplishments with its clients have resulted in the delivery of world-class communication infrastructure in order to welcome the next 100 million web3 users. The platform has integrated with decentralized exchanges, NFT marketplaces, and DAOs from multiple blockchains, including Solana, Ethereum, Polygon, Aptos, and NEAR.
Several success stories
By collaborating with Notifi, its clients can reduce friction when users interact with web3 apps. Here are a few use cases and products that have increased user engagement with notifications!
DeFi — Orca
DeFi is one of the biggest categories and our robust on-chain monitoring allows partners to deliver high utility notifications to their users, ranging from liquidation alerts, price changes, yield opportunities and more.
Orca, the leading decentralized exchange on Solana, recently integrated Notifi alerts as part of their concentrated liquidity product. The team wanted a way to help liquidity providers better manage their positions by keeping them informed of market conditions. When a user's position goes out of range, they are alerted in real-time via email, SMS and/or Telegram. This allows Orca users to better manage their market exposure in real-time!
This is a huge lift to the Orca user experience, enabling users to maximize DeFi yield without needing to constantly monitor positions. The alerts were also customize to seamlessly integrate with Orca's current interface, building on the human-centered focus of the Orca brand.
NFTs and Creators — Hyperspace
For those of us familiar with NFTs, we know how challenging it can be to stay up to date on all of the goings on. New collections come out everyday, and it is a struggle for project teams and community members alike to keep track of everything.
The current communication channels for NFT projects are cluttered and largely limited to public crypto Twitter and Discord. Users have to be glued to hectic social channels at risk of missing official communications from the projects they own or want to be a part of. For creators, engaging their communities and individuals that matter, like just speaking to their token holders, was previously impossible. That's where Notifi stepped in.
Earlier this year, we worked with Hyperspace, an NFT trading aggregator on Solana, to simplify communication between projects and users. Notifi allowed Hyperspace users to sign up for creator notifications for specific projects, giving creators the ability to send official messages via Hyperspace to subscribed community members and token holders. This is a secure and powerful way for collections to reach their community, one-on-one.
Marketplaces — Bonfida
A large part of the web3 space is marketplaces. Whether they are for collectibles, domain names or other digital items, a marketplace has a ton of different user actions that can benefit from alerts. That's why Notifi teamed up with Bonfida.
Bonfida is behind some of the top infrastructure in the Solana ecosystem, including its popular Naming Service. Bonfida's Solana Naming Service (or SNS) allows users to obtain a .sol domain name and map it to a SOL address/on-chain data. Which provides identity for users an instance of identity in the decentralized sphere. The native Bonfida marketplace lets people bid on domain names or list their own for sale.
By partnering with Notifi, Bonfida wanted to remove headaches from the transaction experience. For buyers, users can opt in to alerts when a bid they place on a domain is accepted or rejected. As well as the win or loss status when an auction ends. On the flipside, sellers can get notified when their domains receive bids, as well as when fixed prices or offers are accepted or rejected.
Though they only highlighted a few success stories above. They have a lot of happy customers who love their products — and so do their users!
Here are some more of its amazing clients:
In line with their mission
Notifi believes that partnership and collaboration are at the heart of web3. They strive to support these values in their work with clients. Focusing on user-centric principles is critical to all of our successes in bringing crypto, NFTs, DeFi, and DAOs to the rest of the world.
They want to make it as simple as possible to interact with web3 applications. Notifi believes that it all starts with communication. The easier it is to use, explain, and interact with cryptocurrency, the better, and Notifi's advanced tool suite helps products from various blockchains get there.
About Notifi
Notifi is Twilio for Web3. Notifi simplifies communication across all Web3 messaging channels. The Notifi platform is design with simple APIs for easy integration, customizable, and advanced features for dApps and Web3 applications. Notifi empowers developers to better engage with their users via multichannel communications.
SOURCE
https://medium.com/notifi/showcasing-notifis-client-success-d007e61b2da1