SolaDefy Partnership with Arena Games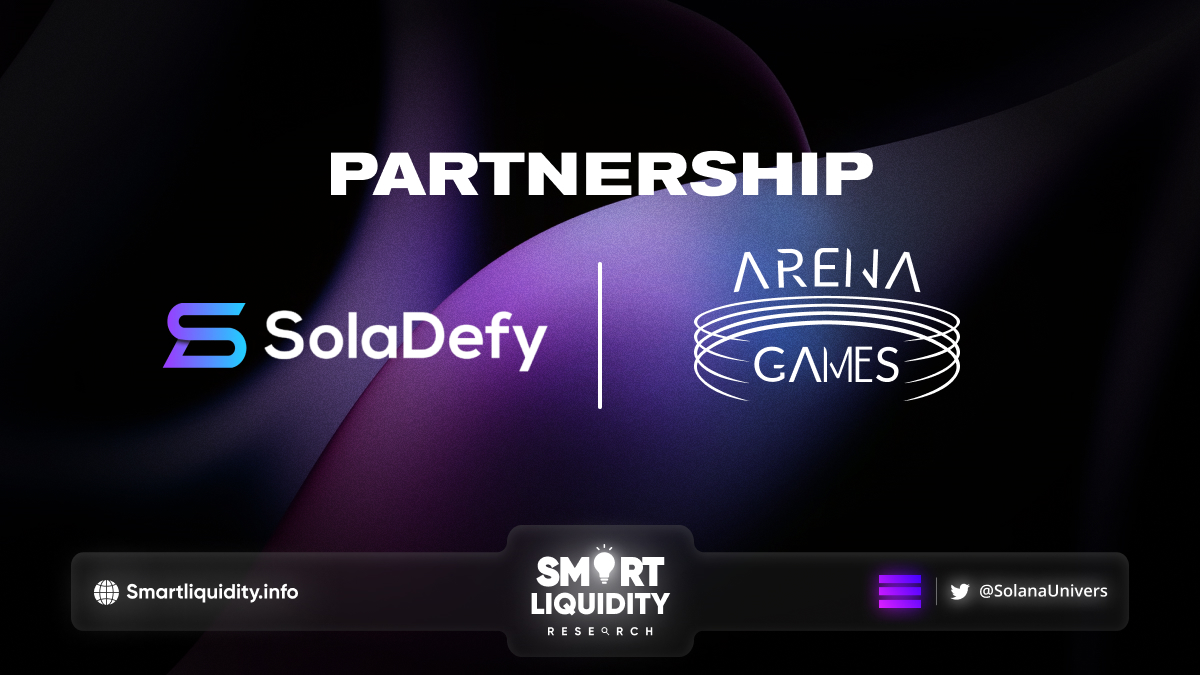 SolaDefy, the pioneer GameFi launchpad, announced its partnership with Arena Games, the pinnacle of blockchain gaming technology.
Soladefy, the first Gamefi Launchpad in the blockchain to introduce play-to-earn IDO, is proud to introduce its partnership with Arena Games to transform the GameFi world.
Partnership Highlights
Arena Games' innovative blockchain tools provide a complete solution for transforming traditional games into the GameFi world. Developers and players can combine their talents to make gaming more enjoyable, exciting, and seamless.
With their emphasis on connecting players with top-tier Gamefi projects, they must ensure a robust ecosystem for gaming to thrive. Traditional games get the full gamefi features they deserve thanks to the Arena Games token, user-friendly wallet, and Nft marketplace integration.
They will have access to Arena Games' suite of blockchain tools as they assist games in raising funds and increasing engagement. They also benefit from each other's backers and partners. Several extensive cross-marketing campaigns are planned to broaden its reach. SolaDefy will also provide detailed testing support for Arena Master Beta games.
About Arena Games
Arena Games is a Web 3.0 multiplayer mobile games platform built to connect developers and players in a simple and safe mode. Using the platform, game developers can integrate its SDKs and smart contracts for NFTs and Digital Assets into their games. Arena Games platforms also provide an NFT Marketplace for the GameFi projects. All the tools needed by developers to set up a sustainable circular economy for their games.
Arena Games' tools and solutions will help lower adoption barriers in an underserved blockchain-based "mobile gaming" industry by initially focusing on mobile-first PvP games. By capitalizing on Arena Games' innovation anyone can play, create, sell, and buy on the blockchain, even from low-end devices.
About SolaDefy
SolaDefy is a launchpad with an innovative Play2Earn IDO concept. It revolutionizes the GameFi launchpad by introducing a unique concept of PLAY, INVEST and EARN. Gaming community can play their way to earn IDO allocations on the launchpad and be an early-stage investor in the upcoming GameFi projects.
This enables SolaDefy playing a dual role of a gaming guild and a decentralized fundraising platform at the same time.
SOURCE
https://medium.com/@soladefy/soladefy-partners-with-arena-games-to-transform-the-gamefi-world-190075a5c411