Snowflake Selected Notifi for Multisig Safe Alerts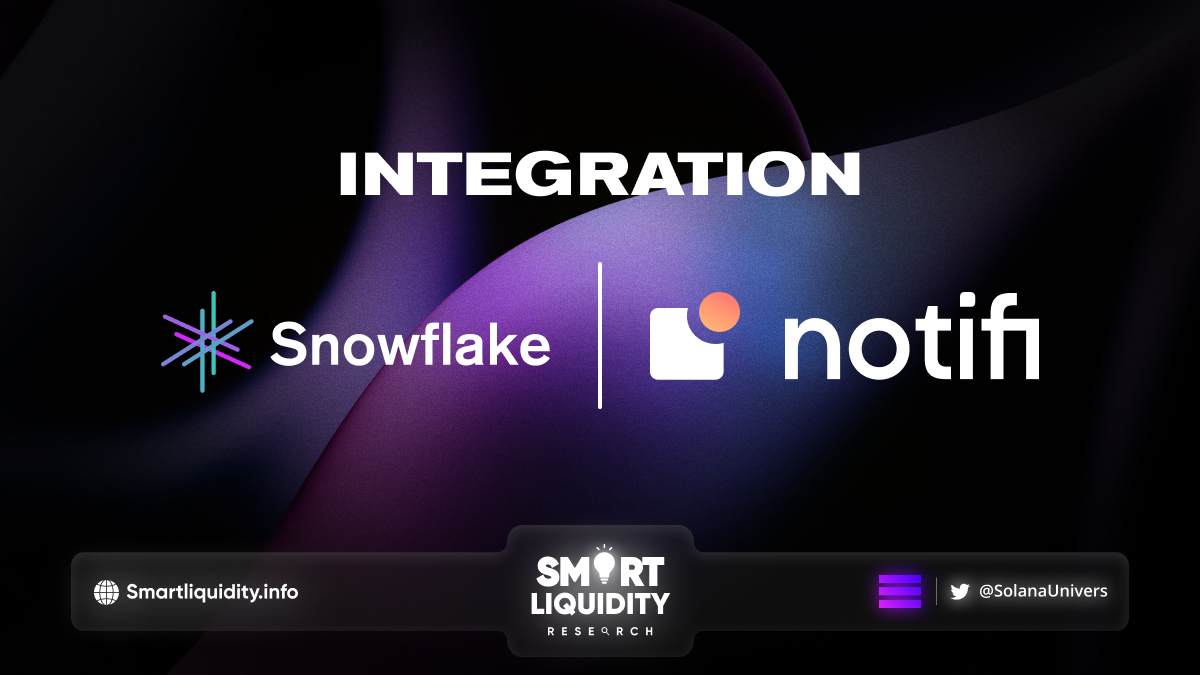 With the recent integration of Snowflake, Notifi expands its position as the leading notification and communication provider for treasury in web3.
The most trusted multisig platform on Solana, Snowflake has selected Notifi for multisig safe alerts. The platform is thrilled to bring Notifi's power to all Snowflake users.
Snowflake selected Notifi for multisig safe alerts so its users can now get real-time notifications for multisig proposal events, automation triggers and recurring payments.
With automated recurring payments used by DAOs and crypto organizations, Snowflake has set the standard for multisig platforms on the Solana Network. Snowflake users can now opt-in to receive email notifications about multisig proposals and transfers happening on their Snowflake Safe, with Telegram and SMS coming soon.
Notifi x Snowflake Overview
Snowflake Safe automates on-chain transactions for a multisig wallet, making them easy to schedule, view, and alter while providing unprecedented security. Snowflake recognizes the importance of automating team workflow, which is why they created a Recurring Payment feature. This enables crypto organizations to manage all of their standard payroll and treasury requirements, as well as to support automated recurring payments and NFT transfers. This is one of many features created by Snowflake to improve the user experience.
Snowflake also provides:
Asset Management– Keep all your investments, tokens and NFTs, in a central secure location
Automated Recurring Payments: Snowflake provides automation to schedule all crypto transactions and re-occurring payments
Address Book: Securely store your contacts on your own private server
Swap Tokens: Manage your assets from within your safe
Token Vesting: Manage Token vesting from your Snowflake Safe
Create and Track Proposal: Create proposals and add Notifi's alerts to track the process from creation to execution
"Snowflake Safe's clean UI and automation make it incredibly easy to schedule and securely execute on-chain transfers." — Paul Kim, Notifi CEO
Notification Alerts
Multisig wallets require multiple users to approve a transaction before it can be processed. Which increases security but can cause delays in the transaction's approval. Our real-time alerts follow the Snowflake multisig journey from proposal creation to execution. Users receive updates on which proposals need to be approved or declined, as well as a real-time view of all incoming and automated transfers. This gives safe owners complete visibility into their safe activity and allows them to act quickly if necessary.
Snowflake users can opt-in for the following key alerts:
A new Snowflake Safe created
New proposals initiated
A proposal voted upon
A proposal deleted or aborted
A proposal approved and executed
Notifi collaborates on the development of new custom alerts for the Snowflake community in 2023.
About Snowflake
Snowflake Safe — the most secure & feature-rich multisig platform on Solana. A multi-signature wallet allows a group of users to approve a transaction before executed. Many individuals and teams desire to have multiple parties sign off on a transaction, such as payments or withdrawals before its executed. This allows for more robust security, as it spreads the responsibility of your digital assets to multiple parties, and avoids a single point of failure in the case of a compromised individual or wallet.
About Notifi
Notifi allows for simplified communication across all web3 messaging channels (Discord, Telegram, SMS, Twitter). Designed with simple APIs for easy integration and customizable and advanced features for dApps and web3 applications, Notifi empowers developers and creators to better engage with their users and communities via multichannel communications.
SOURCE
https://medium.com/notifi/snowflake-chose-notifi-for-multisig-safe-alerts-ed690694b7c