Celer Expands Support of zkSync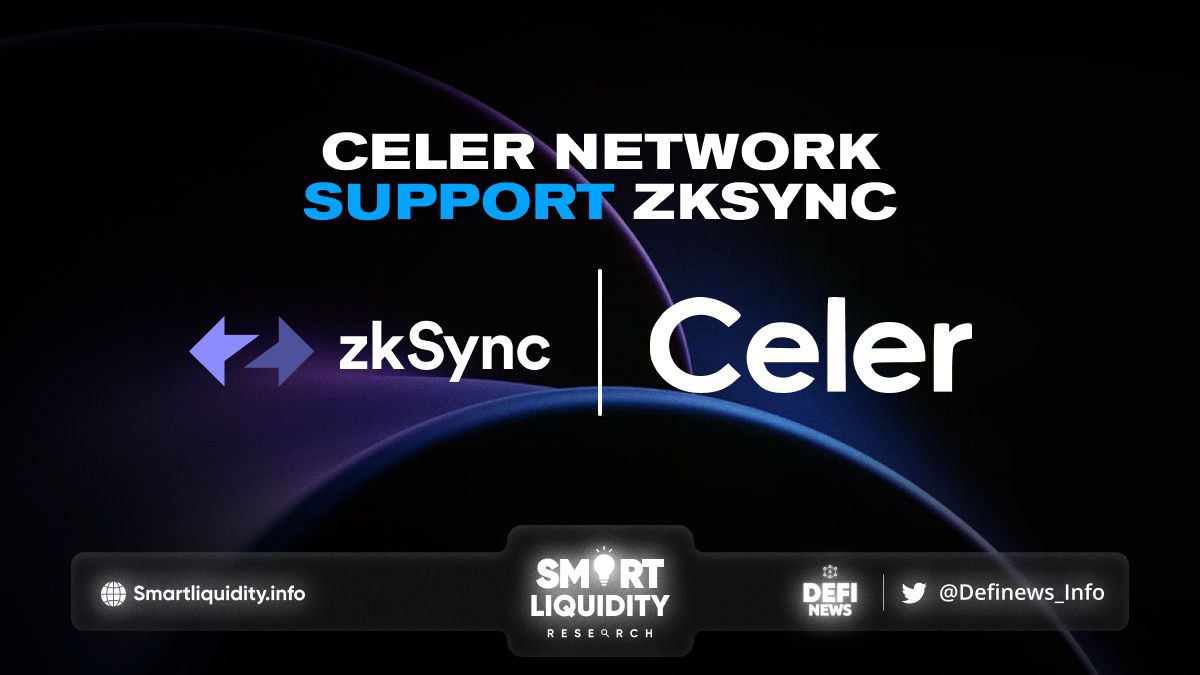 Celer expands support of zkSync to include asset bridging and message passing (Celer IM) for zkSync 2.0. Celer has successfully integrated with the zkSync 2.0 testnet and will launch on Day 1 of zkSync 2.0's fair launch alpha mainnet milestone.
After its initial integration in early 2022 for both asset bridging and generic message passing (Celer IM) support for zkSync.They are happy to be able to continue that support as they continue to grow. With this, Celer can continue to enable interoperability between zkSync and other ecosystems, as well as maintain the ability for developers and users to have access to fast, secure, and easy cross-chain user experiences.
zkSync is a ZK rollup, a trustless protocol that uses cryptographic validity proofs. Provide scalable and low-cost transactions on Ethereum. This is all while the computation and most of the data storage are done off-chain. All transactions are proven on Ethereum Mainnet.
This allows users to enjoy the lower costs of using a ZK rollup while maintaining the security of the Ethereum L1. Just like on Ethereum, smart contracts are written in Solidity/Vyper on zkSync. It can also be called using the same clients as the other EVM-compatible chains and will support existing Ethereum wallets out of the box on the Day 1 of its full mainnet launch.
Celer's Inter-chain Messaging Framework
Celer will continue to support asset bridging for token transfers between external chains and the zkSync 2.0 mainnet. Additionally, Celer will also be supporting Celer's Inter-chain Messaging Framework, a generic message-passing protocol, to seamlessly enable developers to build dApps with cross-chain application logic on zkSync 2.0.
This will enable dApps to not only create smooth cross-chain UXs between zkSync 2.0 and various external blockchains. Lays down the foundation to support NFT bridges. The ability to purchase and bid on NFTs across different chains, and cross-chain reward claiming. All of these and more are not only possible to accomplish with Celer IM. Offers users as a one-click, one-transaction UX.
Celer will continue to support the same solid interoperability foundation offered on zkSync 1.0 as they launch zkSync 2.0.
ABOUT Celer Network 
Celer is a blockchain interoperability protocol. It also enables a one-click user experience accessing tokens, DeFi, GameFi, NFTs, governance, privacy solutions, and more across multiple chains. Developers can build inter-chain-native dApps using the Celer Inter-chain Message SDK to gain access to efficient liquidity utilization, coherent application logic, and shared states. Users of Celer-enabled dApps will enjoy the benefits of a diverse multi-blockchain ecosystem with the simplicity of a single-transaction UX, all from a single chain.
ABOUT zkSync
zkSync is an open-source Layer-2 blockchain that eliminates Ethereum's costly gas fees, scaling constraints, and performance barriers using zero-knowledge proofs. The zkSync is designed to unlock the full potential of blockchain technology while scaling the core values of Ethereum.
RESOURCES