WALKEN Complete Staking Guide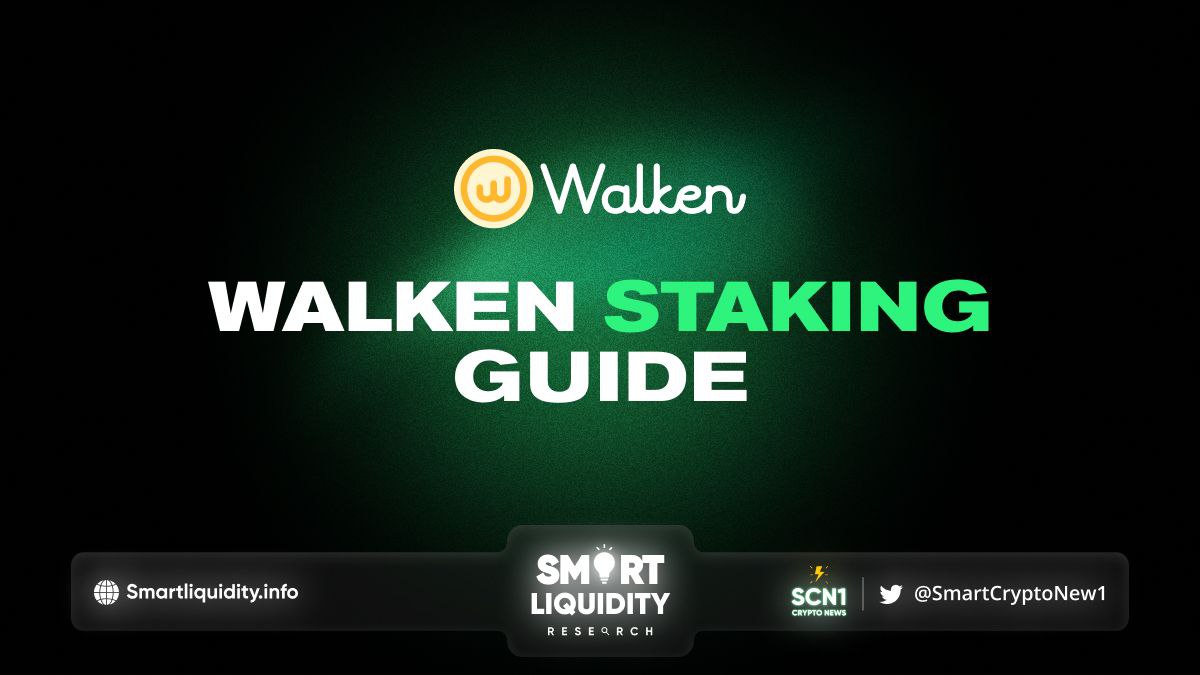 WALKEN complete staking guide helps users to start earning in a passive way. Staking refers to locking assets for a period of time and earning interest for contributing to the blockchain operation. It has proven to be a reliable and convenient source of passive income. For those who prefer holding their crypto assets to trading them.
Walken players have had an opportunity to stake their $WLKN on CEX (Gate and AscendEx in particular), and thousands of $WLKN holders have already taken advantage.
The Walken Earn
Walken Earn — $WLKN staking opportunity right in the Walken application that will take your Walken experience to a whole new level. Staking $WLKN holdings and earning a reward over time will add another level of depth to Walken, boost token utility, empower players to invest and earn in a new way, and incentivize them to hold $WLKN earning a reward. On a larger scale, staked tokens get temporarily removed from circulation, contributing to a healthier economy of the game and supporting the $WLKN token.
Walken players will be able to stake under flexible and fixed terms enjoying the variety of staking plans to pick from. Staking will be enabled right in the Walken application saving time and effort for its players.
On top of the staking reward, there will be extra benefits for players that stake their $WLKN holdings:
priority in Walken NFT Sales
in-game rewards and benefits (special airdrops among everyone staking; special tournaments, etc.) that will be added in future Walken updates.
Locked Staking
High rewards and a range of profitable staking plans will allow Walken players to choose a staking option that feels best for them at the moment and reflects their investment strategy allowing them to collect yields. In general, fixed staking offers higher APR (annualized percentage rate — annualized actual rate of return earned from staking) yet the locked periods are longer and there's no option to unstake assets whenever desired.
Staking for a fixed term in Walken — Locked Staking — means locking a certain amount of $WLKN tokens in for the selected duration for APR without an option to unlock the principal before the end of the term. Moreover, at the end of the locked period, only the principal can be withdrawn — that is the initial stake.
To receive your staking reward — the percentage earned on your stake — you will need to wait till the end of the reward unlock period.
Currently, there are 4 locked staking plans (also known as Walken Earn products):
4 months (40% APR)
9 months (100% APR)
12 months (150% APR)
18 months (250% APR
Each option differs in staking period duration and APR. The longer the term is, the more a player can earn. You'll be able to easily check and compare all the plans taking into account their details. APR, duration, pool liquidity, and status (percentage of it being filled indicates the staking reward limit progress. Once all the tokens from the pool are allocated for stakes within a particular product, it will be closed and not accept any more stakes).
Pool liquidity refers to the total amount of staking rewards allocated for a particular staking product. Staking rewards are credited from this pool to the accounts of the players who staked their tokens. Pool liquidity for a particular product may vary at different times to ensure Walken Earn's sustainability. Once the pool liquidity limits for a particular product are reached, no more stakings will be processed.
Flexible Staking
Flexible staking allows for more flexibility: the interest period is fairly shorter and there's an option to unstake anytime. The APR for the flexible staking plan in Walken is 6% with an interesting period of 6 weeks. This means that every 6 weeks of the staking period will earn you a reward.
The staking period for the flexible staking plan is unlimited unless the liquidity pool limit is reached. In this case, your stake will be switched to another liquidity pool.  You'll keep getting rewarded for each interest period of full 6 weeks yet mind a possible change in APR.
The reward for flexible staking is redeemed together with the initial stake. Please note that the initial stake and reward earned will be credited to your wallet in a single transaction. Please note that APR is subject to change for Flexible Products upon starting a consecutive interest period.
How to Stake in Walken
To start exploring Walken's staking potential, go to the Wallet screen → swipe to the yellow WLKN wallet. You'll arrive at the Walken Earn screen, and there you can check the available staking plans (flexible and locked), current stakings (if any), and at the bottom — your staking history (closed stakings) and general info on how staking works.

Once you have made up your mind as to what staking product to choose, enter the locked amount of tokens (your stake). Make sure it is within the limit. Double-check the information on your stake (type of staking, APR, estimated interest, stake date, locked period, and interest end date). Press the button to initiate staking.
At confirming the stake, the staked tokens are transferred from your wallet to the Walken staking wallet and will remain there until the locked period expires. Feel free to check the Solscan transaction via the link on the Wallet transactions screen.
Furthermore, you can find all your active staking products on the Walken Earn Screen (WLKN Wallet screen → section next to your pending balance), they will be displayed on top of the list. Tap on any of them to keep track of the total amount, staking reward, APR, locked period duration, and the date of redemption.
For a flexible staking product, the reward can be redeemed together with the initial stake at any time. For all locked staking products, the staking rewards are not credited at redeeming the principal amount once the staking period expires. You will have to wait until the reward unlock period is over and then claim your reward. Remember that redeeming your stake before the locked period ends is not possible.
ABOUT WALKEN
Walken is a play & exercise to earn mobile app built by a team with over 50 million
app store downloads and $10 million in annual revenue.
RESOURCES