Orbit Now Supports TON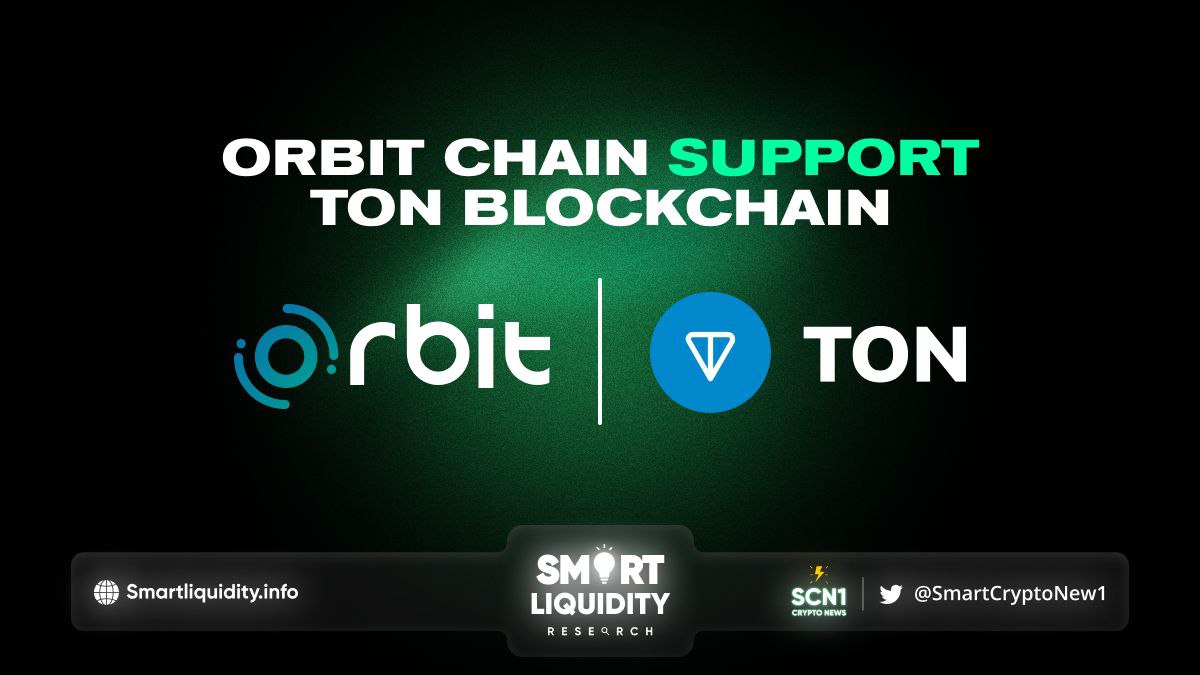 Orbit now supports TON (The Open Network). TON (The Open Network) is a decentralized layer 1 blockchain designed by Telegram to onboard billions of users.
It is a project promoted by Telegram, a global messenger with 700 million monthly active users (MAU), and is being developed by the developer community as it transitions to open source in the future. Moreover, with the recent update of the wallet function in Telegram, the use of Toncoin, a native token of the ton blockchain, is also increasing.
Block and finalization time
Furthermore, TON generates a new block on each shard chain and the master chain approximately every 5 seconds. New blocks on all shard chains are generated around the same time. In addition, a new block on the master chain is generated about one second later because it must contain the hashes of the latest blocks of all shard chains.
Performance
TON is a Turing-complete and high-performance blockchain that can accommodate any transaction complexity on a master chain and all of its work chains. Turing-complete means that a programming language or abstract machine has the same computational power as a Turing machine so that programming language or abstract machine can solve computational problems.
Scalability
Additionally, TON supports work chains and dynamic sharding. The system can potentially accommodate up to 232 workchains, each of which can be subdivided into up to 260 shard chains with near-instant cross-shard and cross-chain communication, resulting in millions of transactions per second.
The TON blockchain remains one of the few truly scalable blockchain projects as of 2022. As such, it is still the most advanced blockchain project. Capable of performing millions and, if it becomes necessary in the future, tens of millions of true Turing-complete smart contract transactions per second.
Orbit Bridge Support
Furthermore, the Orbit Chain team kept a close eye on the TON blockchain ecosystem, which has clear advantages and disadvantages.
Finally, Orbit confirmed the connection to the TON blockchain and entry into the TON ecosystem based on the eight reasons below.
TON has a clear goal of onboarding billions of users
Intends to achieve the popularization of blockchain by combining it with Telegram
Wants to enter a cross-chain ecosystem by connecting Bitcoin and EVM blockchains
Orbit Chain wants to transfer the DNA of success achieved in the Klaytn ecosystem to a global project (TON)
The TON Blockchain can create strong synergy with the Orbit Chain that connects everything
Orbit Chain can solve the problems of openness, scalability, and interoperability of TON
Orbit Bridge's massive cross-chain liquidity (USDT, USDC, DAI, as well as MATIC, etc.) can be the starting point for pulling TON into the multi-chain universe
Orbit Chain Team (Ozys) can provide total solutions (Bridge, DEX, DeFi, Explorer, Chatbot, as well as Wallet, etc.)
ABOUT Orbit Chain
Orbit Chain is a cross-chain project that challenges the limitations of scalability due to the lack
of connectivity and limited resources of existing public chains. It also is a multi-asset blockchain that stores, transfers, and verifies information and assets which exist on various public blockchains through decentralized Inter Blockchain Communication (IBC
ABOUT TON Blockchain
TON is a fully decentralized layer-1 blockchain designed by Telegram to onboard billions of users. It boasts ultra-fast transactions, tiny fees, easy-to-use apps, and is environmentally friendly.
RESOURCES