What is Ethereum and How Does It Work?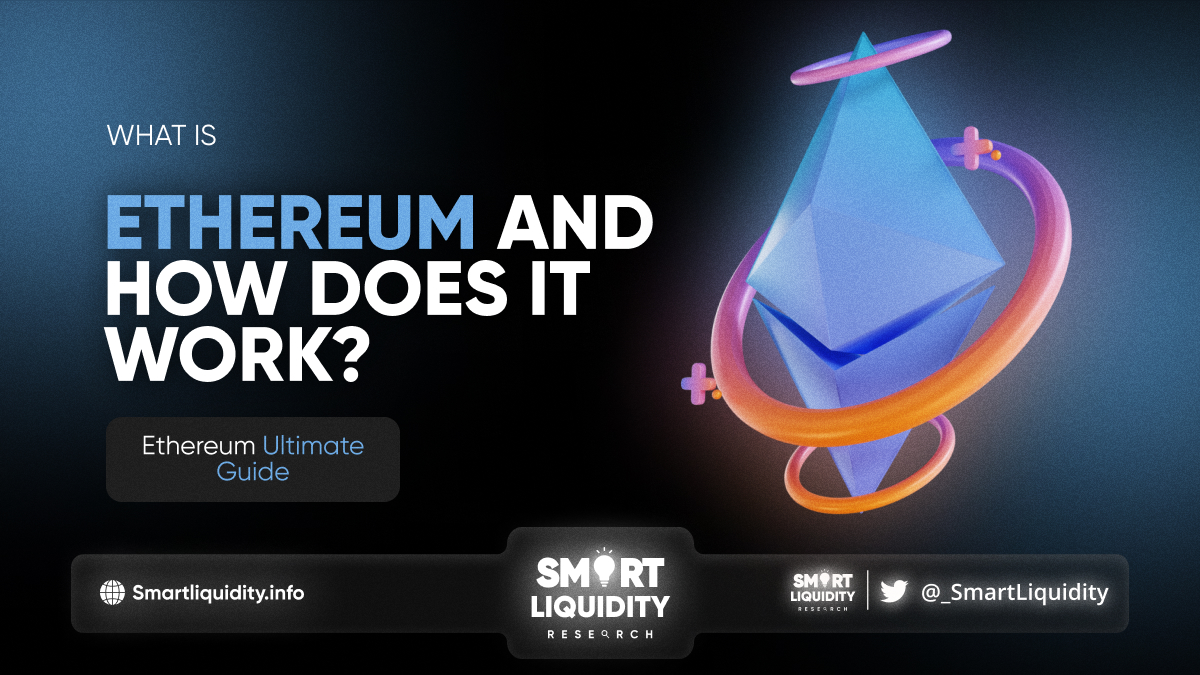 What is Ethereum (ETH) if not the purported future of money, Bitcoin (BTC)? That's a fair question for someone just getting into the cryptocurrency market, given how ubiquitous Ethereum and its native ETH cryptocurrency are suitable alongside Bitcoin on platforms and in the media. However, it needs to be more accurate to place Ethereum in the same category as Bitcoin. The objectives, components, and technology it employs are all unique.
What Is Ethereum?
Ethereum is a blockchain-based, worldwide, decentralized software platform. In particular, its native crypto, Ether, has attracted much attention (ETH). Anyone can use Ethereum to build whatever kind of secure digital system they like. In addition, a token is in place to compensate users for their efforts in maintaining the blockchain, and if it's widely adopted, it might also be used to purchase real-world goods and services.
Ethereum was developed to be a distributed, secure, programmable, and scalable blockchain platform. It's the blockchain of preference for companies and individuals. They are working to revolutionize a large range of sectors and our daily lives with products built on top of it.
This platform has built-in support for smart contracts, a key component of decentralized apps.
Smart contracts are a vital component of blockchain technology, which is used in many decentralized financial (DeFi) applications.
Many people believe that Ethereum is the network of the future. Web 3.0 refers to networks that are decentralized and user-powered, like Ethereum, as opposed to Web 2.0's centralized platforms. Like Apple's App Store. Technologies like DeFi,  DApps, and decentralized exchanges all stand to gain from the advancements made possible by this "next-generation web" (DEX).
How Does The Ethereum Ecosystem Work?
Ethereum was first introduced in a white paper published in 2014 by its credited creator, Vitalik Buterin. Founders of the blockchain firm ConsenSys, Joe Lubin, and Vitalik Buterin, released the Ethereum platform in 2015.
Ethereum's creators were ahead of their time considering blockchain's potential applications beyond merely facilitating a trustworthy digital currency payment system. Since Ethereum's debut, the value of Ether has skyrocketed, making it the second most valuable cryptocurrency. The only thing that beats it is Bitcoin.
A consensus mechanism is a type of algorithm used to obtain agreement. For example, Ethereum employs PoS mechanism, where a pool of people called validators develop new blocks and cooperate in validating the data they contain. Each block includes data on the blockchain, individual transactions, attestations, and more.
PoS Mechanism
In contrast to proof-of-work, which relies on energy-intensive computational activities like "mining" to verify block creation, PoS systems need to verify the ownership of a block's creator. Casper-FFG, a finalization protocol, and LMD Ghost, an algorithm, from Gasper. This consensus mechanism keeps an eye on things and specifies how validators are compensated for their efforts and punished for dishonesty.
Validation ability for a single validator requires staking 32 ETH. Users can risk lower quantities of ETH, but they must engage a validation team and split any profits. When a validator generates a new block, they check the information within it and testify to its integrity through a procedure known as attestation, which involves broadcasting the block to a group of other validators known as a committee.
Validators who act fraudulently are penalized under PoS. Validators who seek to attack the system are recognized by Gasper, which detects the blocks to approve and reject depending on the opinions of the validators.
False validators are kicked off the network and have their ETH burned as punishment. The term "burning" describes removing cryptocurrency from circulation by sending it to a wallet without keys.
What Are the Top Coins In The Ethereum Ecosystem?
🔹Ethereum (ETH)
The second largest crypto by market capitalization, Ether, must be included in any coin discussion based on the Ethereum platform. In 2021, ETH saw gains of about 500%, which is very successful. The average annualized housing cost for the year 2021 rose from $733 at the beginning to $4,8k by the end of the year. As was noted before, it grew faster than Bitcoin in every quarter of 2017.
The biggest altcoin can expand, even though it presently trades below $3,500. Compared to other coins, Ether's ties to DeFi and the metaverse will help enhance its value in 2022.
🔹Polygon (MATIC)
The MATIC token is the native currency of the Diamond Layer2 scaling solution Polygon, co-founded by Indian cryptocurrency billionaires Jaynti Kanani, Sandeep Nailwal, and Anurag Arjun. As a result, the high gas costs can be mitigated, and Ethereum's blockchain can communicate with other networks thanks to this multi-chain ecosystem.
Over a year, MATIC's value increased by over 11,026%, placing it among the best-performing cryptocurrencies of 2021. The cryptocurrency started the year at a value of 2 cents, and because of increased network activity, it has already risen to over $2 in less than six months.
🔹Uniswap (UNI)
Uniswap is an Ethereum-based decentralized exchange for exchanging ERC-20 tokens. Without an order book, cryptocurrency swaps can be executed through an automated market maker.
Within this framework, the tokens used by liquidity providers are stored within smart contracts. As a result, the providers can earn 0.3% of trade fees by having the liquidity pool calculate the price quote mechanically.
Is an Ethereum a Good Investment?
The answer to that question, like the success of any investment, is contingent on the investor's specific circumstances. There is a risk of loss due to ETH's volatility. Although the various current and emerging creative technologies that utilize Ethereum may play more prominent roles in our lives, it is used as an investment.
Conclusion
Ethereum's blockchain has become increasingly popular in recent months due to the proliferation of decentralized financial projects, and NFTs built on top of it by programmers. Advocates claim that the advent of these new applications — one of the first to execute on a blockchain network — has already produced a massive network effect. The increasing activity drives a growing number of developers to Ethereum.