Notifi Sponsorship of Mayhem League Launch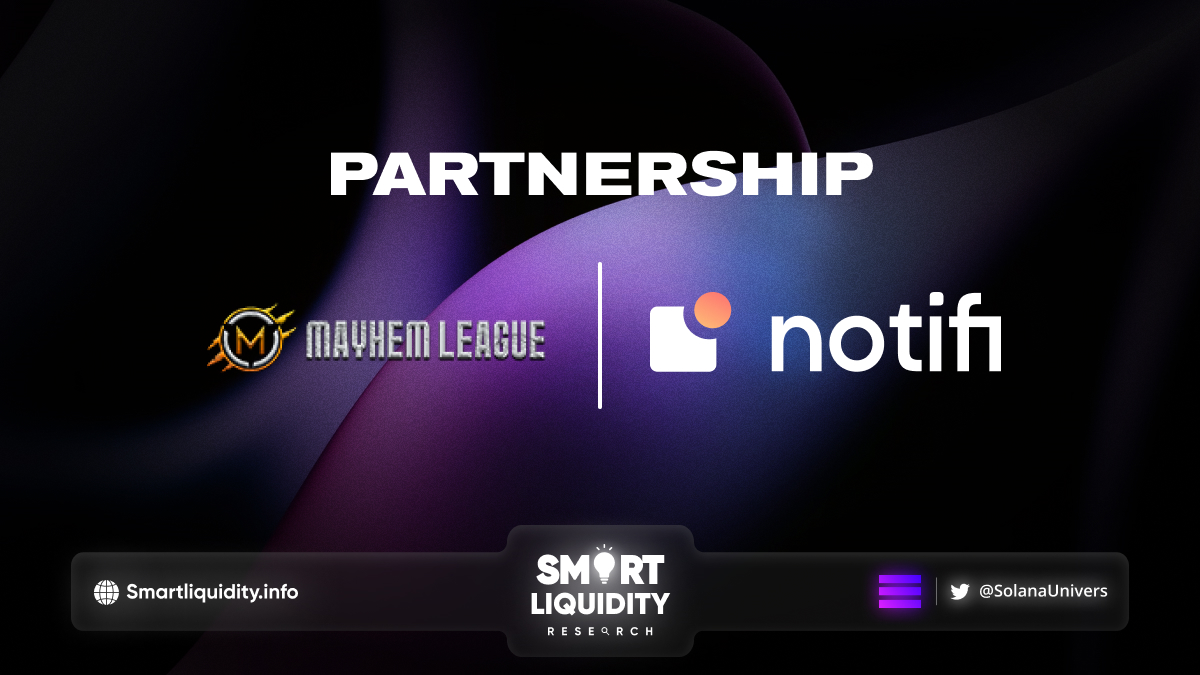 Notifi which is shaping the future of web3 communications announced its sponsorship of the  Mayhem League launch in Lisbon. Mayhem League is a first-of-its-kind cross-IP Web3 game that is wreaking mayhem in the static web3 gaming industry.
The sponsorship of Notifi was only the beginning of their partnership with Mayhem League, launch in Lisbon foray into the game-fi space, and will demonstrate a new channel of communication for important alerts throughout the competition.
Introduction
It is an honor for Notifi to support the launch of Mayhem League, a groundbreaking cross-IP Web3 game that is upsetting the status quo in the static web3 gaming sector. The goal of the OpenDive Gaming Studio initiative is to facilitate Esports competitions between communities and IPs that already exist. The 20,000 supply Degenerate Trash Panda NFT Collection holders can currently play Mayhem League using their exact NFTs as avatars because it is the first game to use Raindrops Protocol.
Mayhem League made its competition and gameplay debuts at the Solana Breakpoint Hacker House and Games Day. For beta testing, this was a huge success because it allowed 400+ new players to check out the game at Breakpoint and stoked interest in the upcoming Global Remote Tournament. No FOMO is necessary; anyone can participate, wherever they are.
Prizes from prestigious NFT collections, including DeGods, Solana Monkey Business, Degenerate Trash Pandas, and others, will be offered during the Global Remote Tournament. Follow @MayhemLeagueBB on Twitter for updates, tournament announcements, and ways to participate. Create your player profile by linking your Twitter account at https://www.mayhemleague.io/preregister.
Lisbon Launch
Mayhem League was developed covertly prior to Breakpoint, Lisbon 2022, and the Hacker House and Solana Games Day was the ideal debut for their soft-launch. The Mayhem League Esports booth, which was displayed in the main area. Had 12 gaming stations with everything players needed to try the game and compete there for NFT prizes.
Participants could play the game using their personal Degenerate Trash Pandas and watch it live on the big screens by copying in their Solana wallet address. Even Anatoly Yakovenko, CEO and Co-Founder of Solana Labs, stopped by to play a few rounds after hearing about the Tournament spreading throughout the conference.
Partnership Highlights
The partnership with Mayhem League and Notifi's entry into the game-fi market didn't end with this sponsorship. They look forward to continuing to support the Mayhem League. By providing a new communication channel for important alerts throughout the competition in addition to event sponsorship.
Below is a list of some of the major alerts that Mayhem League will be launching:
General Announcements: Marketing and tournament details
In-game Stats: Leaderboard messages to gamers and sponsors
Mayhem League xMS Chat: Chat embedded in the Mayhem League experience for player-to-player, clan group chats and more to better connect gamers
Reward Reminders: Alerts to gamers near a new reward or new tournament starts
About Mayhem League
The producers of Mayhem League, Open Dive, are a next generation Gaming Studio with experience in both the traditional and Web3 gaming spaces. In their world, interoperability is of paramount importance because it enables inclusivity like never before. Imagine a game that any NFT project or gaming brand can not only join. But also sponsor a competitive organization and grow their own Esports team and brand from the ground up.
About Notifi
Notifi is the Twilio for Web3. Notifi simplifies communication across all Web3 messaging channels. The Notifi platform is designed with simple APIs for easy integration and customizable and advanced features for dApps and Web3 applications. Notifi empowers developers to better engage with their users via multichannel communications.
SOURCE
https://medium.com/notifi/mayhem-league-notifi-partner-in-lisbon-fcf15b9fc122