Forum3 Raises $10 Million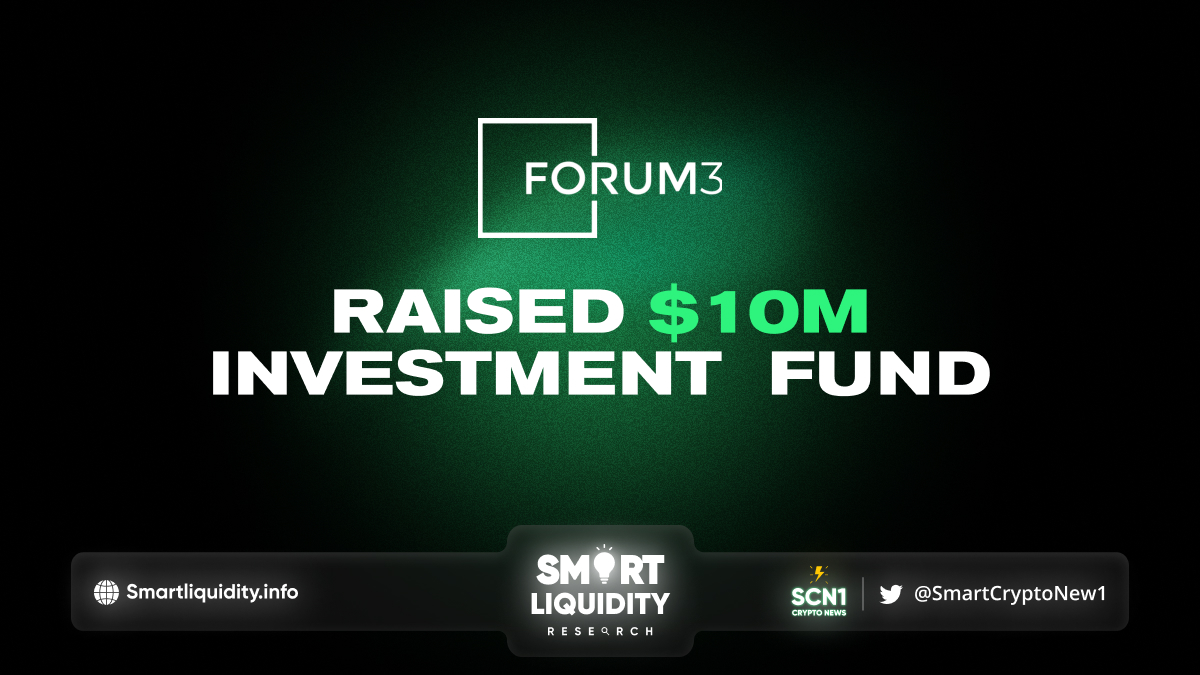 Forum3 raises $10 million to bring digital Collectibles to Brands' Loyalty Programs. Forum3's seed round accelerates its effort to build a platform and hub for customers and brands. Take advantage of the now fast-growing category of branded digital collectibles and experiential loyalty.
The event was led by Decasonic. It also includes participation by Bloccelerate, Liberty City Ventures, and Arca. Along with strategic investments from Polygon Ventures as well as Valor Siren Ventures.
Forum3 is a pioneer in branded digital collectibles, which comprises the fastest-growing segment of the half-trillion-dollar global collectibles market. Forum3 has architected Web3-based loyalty and engagement solutions using branded digital collectibles. For a roster of customers that includes Starbucks, The Boston Globe, and New York Times Bestselling Writer Ben Mezrich.
Today's funding announcement comes on the heels of Forum3's partner Starbucks. Launching its new Odyssey beta experience for a select group of waitlist members. Furthermore, the Starbucks Odyssey experience is an extension of Starbucks Rewards. It is powered by Web3 technology, that unlocks access to exciting new benefits and experiences for members.
The experience allows members to participate in a series of entertaining, interactive activities called 'Journeys". Once a Journey is complete, members will earn collectible 'Journey Stamps' (NFTs) and Odyssey Points. It will also open access to new benefits and immersive coffee experiences that they cannot get anywhere else.
The experience was developed in collaboration with Forum3 and will also allow Starbucks to enhance its industry-leading rewards ecosystem. Be at the forefront of innovation in customer experiences. Moreover, starting today, Starbucks Rewards Members who are invited to join Starbucks Odyssey will be able to earn Stamps for playing interactive games. They can also take part in challenges, and will soon be able to purchase limited edition stamps (NFTs) including Odyssey Points. In addition, holding stamps gives users the ability to access experiences such as online classes and exclusive events. They can also obtain early access to select merchandise.
FORUM3 Leaders
Forum3 is led by the co-CEOs Adam Brotman and Andy Sack. Brotman was the former Chief Digital Officer at Starbucks and is best known as the architect of the industry-leading Starbucks mobile app. Sack is an accomplished and experienced venture capitalist and entrepreneur who consulted for Satya Nadella and the executive leadership team at Microsoft on innovation and digital transformation. He has a long history of investing in early-stage ventures through Keen.capital, Techstars Seattle, and Founders co-op.
"I'm passionate about the use of storytelling and digital collectibles as an entirely new form of loyalty, that we call experiential loyalty, To be a part of Starbucks adding to its digital flywheel by innovating on customer engagement and loyalty once again has been thrilling."— Adam Brotman, co-founder of Forum3
Message From Investors
By working with big brands like Starbucks, Forum3 is removing the friction that prevents users from accessing Web3 opportunities such as digital collectibles. For example, no special wallet will be required to participate. Starbucks Rewards members simply use their credentials to receive their unique stamps in the form of NFTs and access to virtual experiences.
"At Starbucks, we are committed to a never-ending pursuit of innovation that will surprise and delight our customers and enable us to form more deeply connected relationships. Our customers have shown us that connecting with Starbucks and the community is rewarding, and that engaging in gamified experiences or finding collectible aspects of Starbucks are part of the elevated experience. Our partnership with Forum3 has been instrumental in shaping the design and implementation of Starbucks Odyssey, our next innovation with Starbucks Rewards, powered by Web3 technologies. Starbucks Odyssey will offer a combination of unique experiences, benefits, gamification, and digital collectibles for customers and we intend to collaborate with our customers and partners on the path ahead."— Brady Brewer, Starbucks CMO.

"Most consumer brands are struggling to put together a cohesive strategy for building digital experiences that delight their customers. Given Adam's and my professional backgrounds, Forum3 is uniquely positioned as one of the leading companies in the world to help consumer brands assemble the right digital strategy and delight their customers digitally, like the approach Starbucks is taking with Starbucks Odyssey."— Andy Sack, co-founder of Forum3
Furthermore, Forum3 is uniquely positioned as one of the leading companies in the world to assist consumer brands. Taking the best of Web3 and bringing it to Web2 companies and customers.
Forum3 will use the new funding to further execute a number of initiatives, including:
Building its own platform designed to make it easy for brands to jump into the space. Create their own digital collectible and customer engagement strategy.
Creating a set of community and content tools focused on consumer brand collectibles and digital community.
Scaling its strategic digital advisory services offerings. Expand its customer roster to brands and other companies in the US and across the world.
Furthermore, Forum3's fundraising confirms there is strong interest from venture capitalists and investors in exploring the utility potential of digital collectibles. It will also allow Forum3 to make the necessary investments to work with more brands and keep supporting existing partners.
ABOUT Forum3
Forum3 is building the first-ever Web3-powered universal loyalty platform for consumers and brands.
RESOURCES