Evil Kongs Integrates Chainlink Automation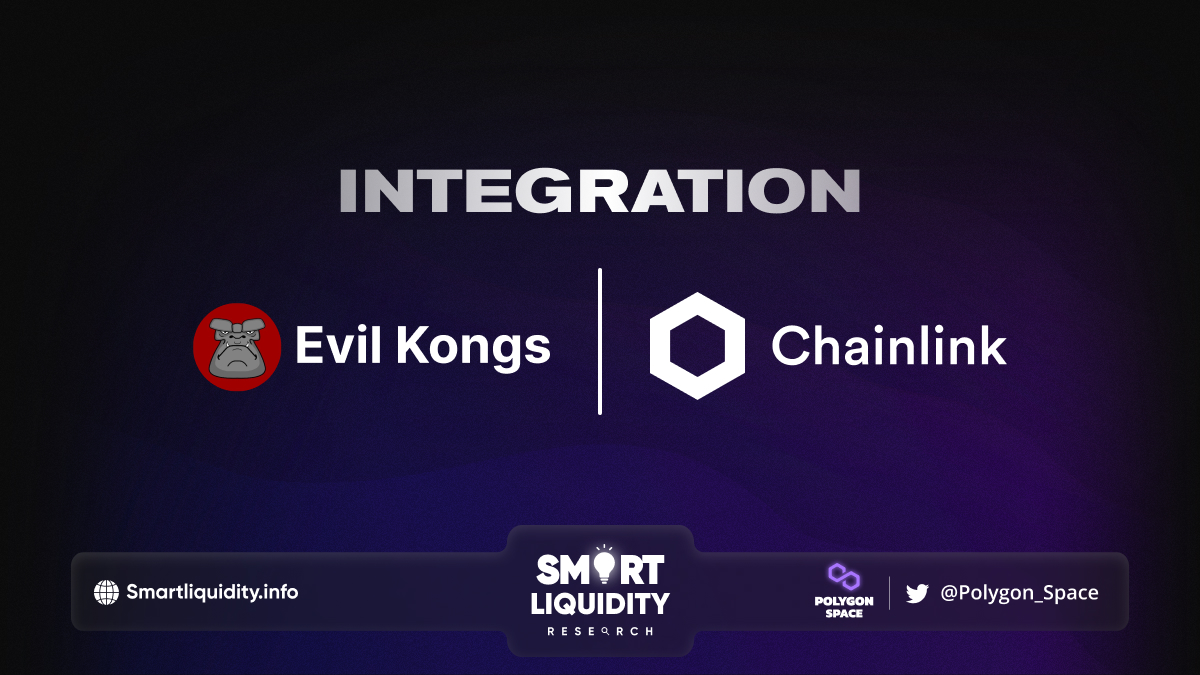 Evil Kongs is excited to announce that they have integrated Chainlink Automation on Polygon mainnet to automate staking reward distributions to Evil Kongs NFT holders.
Chainlink Automation is a decentralized network of nodes with a proven history of reliability and security. Also removing centralized points of failure and unlocking optimal management of staking reward distributions.
Evil Kongs  decided to decentralize Evil Kongs staking rewards distribution functions using Chainlink Automation because it is operated by the same pool of time-tested, provably reliable node operators that currently help secure tens of billions of dollars in DeFi, even during record levels of network congestion and extreme volatility. The proven infrastructure of Chainlink helps ensure that every smart contract execution is executed on-time in a trust-minimized manner.
Understanding Evil Kongs
Evil Kongs is an NFT collection that conveys the values of strength, courage, bravery, passion. And creativity to a worldwide audience. Created by a team of NFT digital artists and collectors and to bring something unique and original to the NFT community. The original collection consists of 10,000 2D wicked artworks ready to be flown to the Ethereum blockchain as ERC-721A tokens. Each artwork is unique and designed with various combinations of a wide variety of esoteric traits among others.
Evil Kongs is building a staking DDAP within the blockchain that is accompanied by rewards for the Evil Kongs collection that will grow and evolve along with the project itself.
"Many of the members of the Evil Kongs community are new to the Web3 space, so it's important that we make their first experiences as smooth and enjoyable as possible. The proven reliability of Chainlink Automation will help us in our mission to bring new opportunities to millions of people in the Web3 community." — Brandon Arellano (Pixelart Soldier), Founder of Evil Kongs.
About Chainlink
Chainlink is the industry-standard Web3 services platform that has enabled trillions of dollars in transaction volume. Chainlink enables developers to build feature-rich Web3 applications with seamless access to real-world data and off-chain computation across any blockchain. And provides global enterprises with a universal gateway to all blockchains.
About Evil Kongs
Evil Kongs is a community-driven collectibles and utility project. This is its first collection of evil kongs that comes in a grim range of styles. Over 366 traits and 9 different colors with a collection size of 10,000 unique NFTs that live on Ethereum Blockchain as ERC721.
Evil Kongs is an NFT staking project that provides holders with unique ways to earn rewards.
We offer the highest transparency in our platform and good communication with users so that they can feel confident.
SOURCE:
https://medium.com/@evilkongs/evil-kongs-integrates-chainlink-automation-to-distribute-staking-rewards-e91360ca9e29