Blockdaemon Introduces Solana Staking API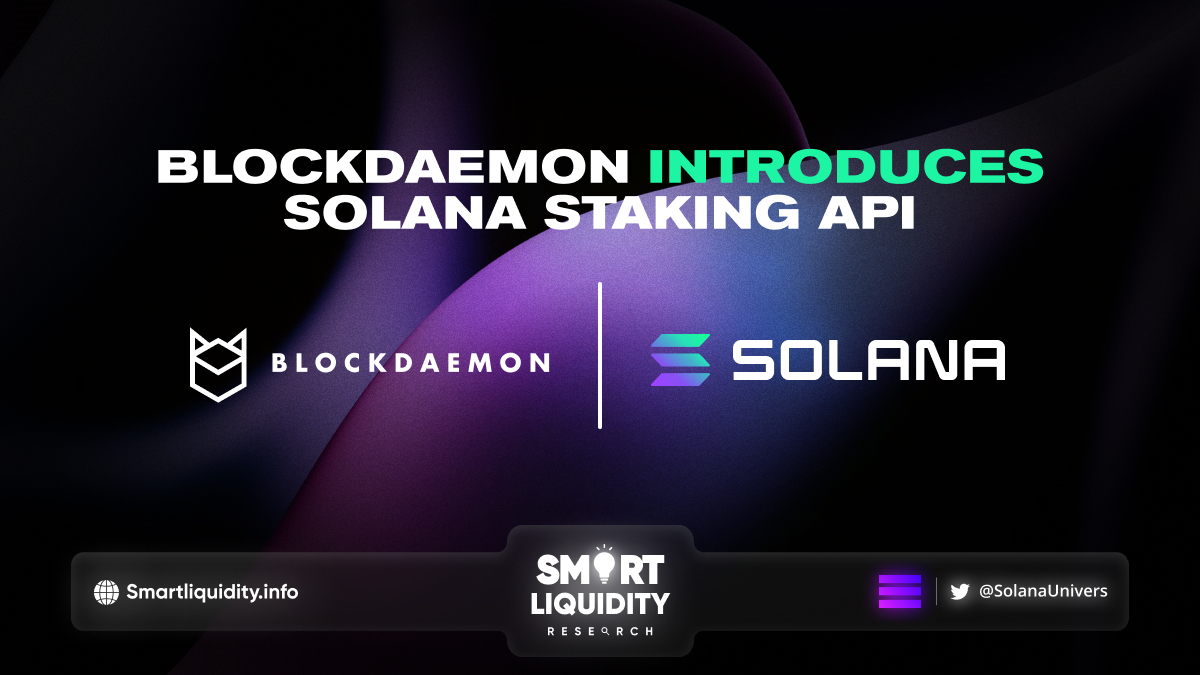 Blockdaemon, the leading independent blockchain node infrastructure, introduces the Solana Staking API, one API to simplify your Solana staking deployment. 
Blockdaemon introduces Solana staking API  to use this to connect institutions to the blockchain economy with a single integration.
This innovative Staking API provides institutions like custodians, exchanges, and asset managers with a secure and scalable Solana staking integration. It eliminates many of the barriers that institutions face today in gaining access to Solana staking.
Customers can now easily and seamlessly add Solana staking and reporting functionality to their offerings using Blockdaemon.
What is the Solana Staking API from Blockdaemon?
This API simplifies validator provisioning, which speeds up the Solana staking process.
The Solana Staking API reduces staking to a single call and indefinitely extends the signing time.
The API generates a single unsigned transaction that the customer must sign and broadcast to the network. This enables agnostic transaction signing, allowing the customer to use whichever custodian they prefer.
How Does the Blockdaemon Solana Staking API Work?
The Solana Staking API is extremely simple to use, and operates in the following way:
The Solana Staking API creates your stake account
One total transaction is created
Sign when you're ready; no need to sign during specific signing windows
To unstake SOL, the Solana Staking API automatically deactivates Stake Accounts based on the amount of SOL to be unstaked.
Streamlining Institutional Solana Staking
Their newest Staking API lets customers start staking Solana, securely and reliably.
Traditionally, Solana staking requires a lot of manual setup and maintenance time.
If a company chooses to run their own validator infrastructure in-house, they will need to handle the following three, non-trivial issues:
Solana Requires High-Specification Validator Nodes: Solana validator nodes need high-quality hardware. Running on substandard machines has no chance of reaching the necessary level of performance to get staking rewards. If you can't keep up with the rest of the network, you will lose out. If you are running a mission-critical staking operation, you can't afford to miss out on rewards
Node Maintenance is Time Consuming: Solana validator nodes also require constant monitoring and uptime. These responsibilities grow exponentially as a company scales their staking services
Avoiding Solana Slashing: Solana staking is subject to slashing. If this occurs, a company may be subject to a potential loss of earnings, users, or a damaged reputation
Outsourcing Solana staking infrastructure allows teams to be efficient and focused on their core business platform. As a business, you can also save developer time that would otherwise be spent on managing node engineering resources.
By using the Solana Staking API, you immediately benefit from the following: 
Zero Validator Node Maintenance: Blockdaemon engineers handle all validator node maintenance and updates on your behalf, to provide you with a reliable, expert service
Secure Staking: Benefit from Solana staking that is secure by default. Get a 100% slashing insurance guarantee, backed by ISO 27001 Certification. Our team of expert engineers ensure your validators are monitored 24/7
Faster speed-to-market: Increase your speed to market with Blockdaemon generated transactions. Accelerate access to staking rewards for both you and your clients
Rather than having to worry about infrastructure challenges, Blockdaemon lets you access Solana staking as a single API service.
Solana Staking Reporting API
To complement the Solana Staking API, Blockdaemon also offers a Solana Staking Reporting API. This API is here to serve your data analysis requirements.
The Staking Reporting API removes many of the obstacles you face in accessing staking reward information from the Solana protocol.
Importantly, you get on-demand Solana staking data. The API queries data from all Solana validators on a network. You can get the current or historical stake & rewards allocated to given delegator and validator addresses and other data.
Blockdaemon's Staking Reporting API is aligned with your financial reporting goals.
Their goal is to simplify staking and staking reporting. This helps institutions spend less time managing infrastructure and more time focusing on what they do best.
About Blockdaemon
Blockdaemon, empowers businesses to quickly deploy and iterate innovative blockchain applications. We aim to reduce the complexity of working with blockchains through quick and easy configuration, monitoring for high availability and quality of service with enterprise-grade security.
SOURCE
https://blockdaemon.com/blog/introducing-blockdaemons-solana-staking-api/