Avocado DAO Partners with PlayOne Games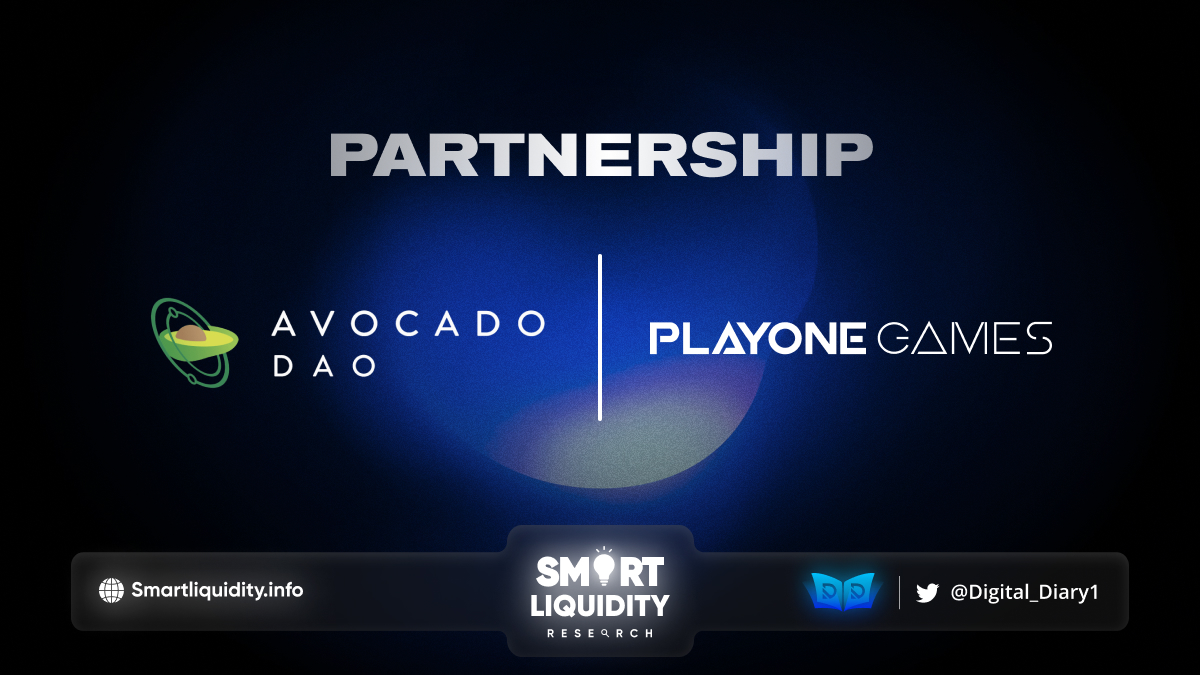 Avocado DAO is delighted to partner with PlayOne Games, the first blockchain game protocol in the Klaytn Ecosystem. The project is focused on supporting the growing crypto gaming industry, and centers around the game ecosystem among various crypto projects. PlayOne Games seeks to bridge the gap between developers and users by becoming an integrated platform for blockchain gamers.
Avocado DAO x PlayOne Games
In a growing blockchain ecosystem, Avocado DAO is excited to partner with PlayOne Games to widen the exposure for new game developers by providing a user-centric platform that facilitates access to early information about game releases and NFT drops.
PlayOne Games has already garnered a strong roster of partnerships which includes Chainlink Labs among others. With a wealth of knowledge of game developers and providing value to their community, Avocado DAO is well-placed to collaborate with PlayOne Games to expand the reach and exposure to their community and also enhance user experience by bringing them a wider range of offers and opportunities for rewards.
Avocado DAO looks forward to collaborating with PlayOne Games, to work together to offer solutions to further the growth of the blockchain gaming sector, foster wider adoption of the technologies, and unlock the benefits of crypto gaming.
About PlayOne Games
PlayOne Games is more than just a launchpad for Initial Coin Offerings (ICOs) and Initial Game Offerings (IGOs). The company aims to create a comprehensive platform for both game users and developers. By adding further features such as an airdrop function, game aggregator, and NFT pre-sales in addition to the launchpad. PlayOne Games seeks to address three main issues facing the player-to-everything (P2E) game ecosystem. Fragmented information channels, a lack of initial sales channels for game assets, and also a lack of channels for game promotion. By addressing these issues, PlayOne Games hopes to contribute to the growth of the game ecosystem. And provide a more user-friendly platform for both game users and developers.
More About PlayOne for MBX
PlayOne Games also provides exclusive Initial NFT Offering (INO) services to Marblex, a blockchain powered by Korean gaming company Netmarble. Marblex has a strong track record of development and a large IP portfolio, and its first game, King of Fighters Arena, was recently released.
About Avocado DAO
Avocado DAO is a collection of contributors that believe in the benefits of blockchain technologies and the metaverse. They will focus on investing in current and future NFT (Non-Fungible Token) assets within games. And emerging metaverses and lend the NFTs back to their guild members to optimize yield. The goal is to share the profits of the DAO with the guild members and also the owners of the Avocado Guild ($AVG) token and maximize the utility of all the NFT assets owned by Avocado DAO.
SOURCE: MEDIUM