Kingdom Story: Heroes War Quick Overview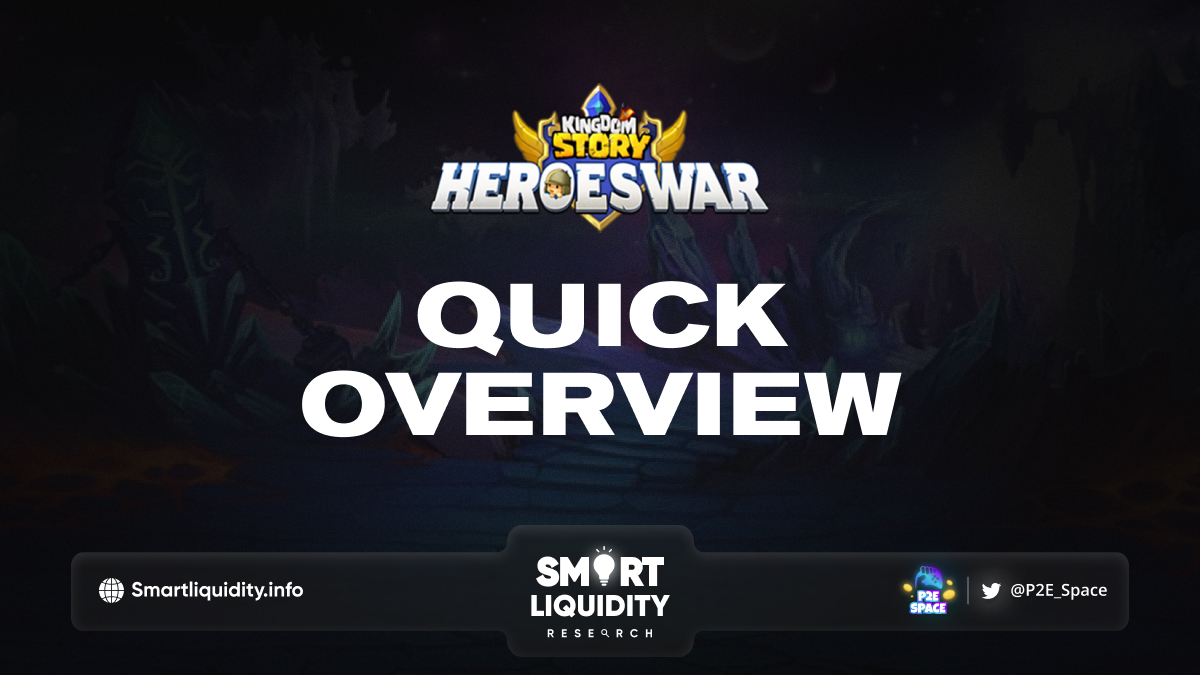 Introducing Kingdom Story: Heroes War, a paradigm-shifting Free-2-play Strategic Development NFT game. Possessing an intricate system built atop a rich narrative. KS: HW seeks to redefine P2E and birth a new era of P2E+.
Initially released in 2016, Kingdom Story has been an extremely successful game with over 5 million downloads. Created by a team of industry veterans with a steadfast commitment to creating player-centric games that are enjoyable, accessible, and easy to pick up and play. For over 20 years, they have been at the forefront of technological innovations, integrating blockchain mechanics to enhance gameplay and provide their players with an experience only possible through Web3.
A Steadfast Commitment to Game Design
At Kingdom Story: Heroes War, believe video games are the best and most immersive storytelling medium. They're passionate about video games, both as a technology and as an art.
They created the Gaming Maxims to be a beacon during their game development process to ensure a complete player experience. As long as they have upheld these maxims, they have created unique and unforgettable experiences.
The three maxims of gaming are:
Games are a door to exploration, imagination, discovery, and, most of all, enjoyment. That's why games should be, above all else, fun. A game that isn't fun is just another form of digital bondage.
Technology shouldn't just be used to make a game; it should push the boundaries of gaming as a field. Be it through inventive game mechanics or monetization strategies; all technological innovations should aim to enhance every player's experience more than that which already exists.
Players should have the freedom to make their own choices. In games like these, the player isn't just a spectator but a creator of their own. Game developers and players should ideally form an equation that allows everyone to play as they want.
P2E+ and the Player-driven Utility Economy
Following on from their Gaming Maxims, they spent a lot of time considering the best implementation of blockchain mechanics that maintain the existing framework, playing for fun. This birthed P2E+.
P2E+ combines the core components of gaming (Enjoyment, Exploration, Escapism) with the limitless potential of blockchain technology (Trading, Owning, Governing).
P2E+ = Play-2-(Enjoy| Explore| Escape) + Trade, Own, Govern
The consolidation of the two provides a fun player-focused game with greater control for the players.
It's well-known that many Web3 games focus too much on earning often neglecting the Fun aspect of gaming. They believe that for Web3 games to succeed, they must pivot and expand. Focusing simultaneously on gaming as play and blockchain as play. At the intersection of gaming and Web3, we can create experiences that are more personal and unique.
As gaming evolves from Web2 to Web3, it's only fitting that the Gamer identity evolves along with it. P2E+ is a gaming experience designed for the next generation of Gamer2.0.
A cornerstone of P2E+ is the Player-driven Utility Economy.
How does it work?
Holders of their Kingdom NFTs can vote on the partnerships they want.
Through this decision, they aim to:
Give greater perks to long-term holders
Create holding power for their NFTs
Achieve greater engagement with their community
Create an extended reality metaverse ripe for inter-contextuality and inter-operability
Perks
They identified that one of the biggest issues with NFTs is the lack of utility. Benchmarking blue-chip PFP projects, they found that a lot of success comes from the disruption caused by the utility given to their NFT holders.
BAYC — Copyright over the apes they own, meaning holders were able to create their own content
Doodle — IRL Events
Orange DAO — Grants and Investment opportunities
However, you find that many utilities need to be improved in gaming NFTs. The earning potential is seen as sufficient. Unfortunately, this means that games can only maintain an audience for a short period, often dying out from over-inflation or token price crashing.
Therefore, in addition to designing a strong core game loop and a scalable economy, it's also necessary to provide long-term utility to encourage long-term holding within and outside the game. Games engage more with their communities as they constantly interact with the product. This calls for the necessity of additional utility to their NFTs.
2. Holding Power
They've already addressed the requirement for creating extra utility, and it's common knowledge that buying pressure is necessary to maintain a healthy token price. However, this can't be done through artificial means. Artificial means, in this case, means wash-trading, planned obsolescence, and so forth.
So, they want players to be part of the building process. People feel a greater connection to things that they helped create. Rather than simply deciding what benefits to give or who to partner with, allowing players the choice means that they will have a greater connection to their assets. This also creates an additional meta in the marketplace, as there is greater value to what's being sold outside the game.
3. Community Engagement
Web3 is built on strong communities. And there are only so many communities someone can be a part of before becoming overwhelmed. To be considered a top community, they will ensure that their space is a worthy investment of time. They will listen to their community. They will value their input. A player-driven utility economy enables them to achieve that.
4. An Extended-Reality Metaverse
Blurring the boundaries between physical and digital, their metaverse is not a single place. It's an ecosystem that bridges together online and offline existence. The main driver of this will be inter-operability and inter-contextuality. Using assets within other spaces and receiving benefits from outside the Kingdom Story: Heroes War universe.
Cross-chain staking
Inter-project NFT Breeding
Ever-evolving Dynamic NFTs
These are a few of the potentialities that exist in the XR Metaverse Realm.
You can find out more about Kingdom Story: Heroes War here:
Twitter | Website | Discord | LinkedIn
SOURCE: Kingdom Story: Heroes War