Beginner's Guide To Crypto Faucet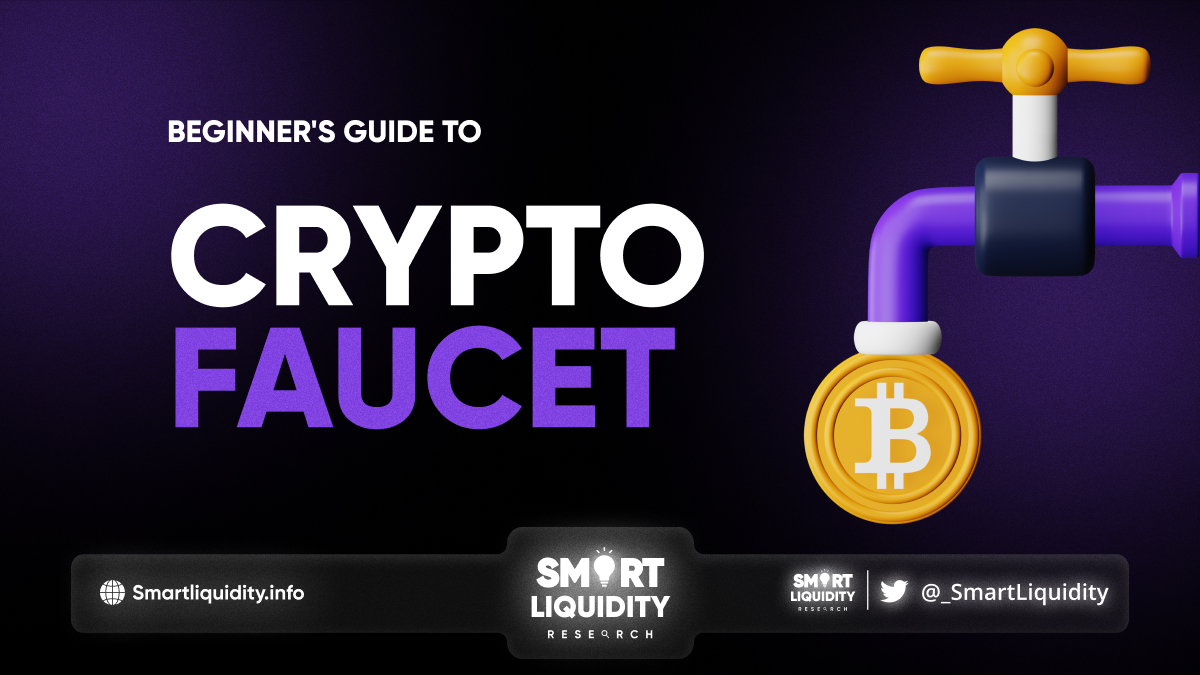 Free cryptography seems like a win-win to me. Faucets have been used to spread the word about cryptocurrency since its inception. The first Bitcoin faucet would dispense 5 BTC for simple tasks like solving a captcha or viewing an advertisement. That's worth almost $200,000 at today's Bitcoin values.
Faucets, in which one trades one's time for cryptocurrency, are only one of several current methods of acquiring cryptocurrency at no cost. Everything has stayed the same from the initial motivation for the cryptocurrency: you do promotional chores to earn the cryptocurrency. In most cases, this involves engaging with the project in some way, such as by following its social media profiles, playing a game, or seeing advertisements.
What Is a Crypto Faucet?
Free cryptocurrency may be obtained through "faucets" on the Internet. There is just a few satoshis worth of free crypto you can get. Remember that the current exchange rate for one bitcoin is one hundred million satoshis. As a result, you should not expect to become wealthy by using a cryptocurrency faucet.
Depending on the size of the work, you may get the bitcoin for free. It might be anything from playing a little game to seeing brief advertising. Bitcoin Core contributor Gavin Andresen developed the first BTC faucet. A simple captcha solution back then would get you five bitcoins, which would be worth about $200,000 today. However, let's be honest: you probably would have sold them long before they were worth thousands.
There are a few ways for crypto newbies to get the coins they need. If you truly believe in the potential of cryptocurrencies, you may spend a substantial sum to acquire a small number of tokens. Popular options like Bitcoin and Ethereum have reached six-digit prices, making it difficult for beginners on tight budgets to get started with cryptocurrency.
Trading or staking might also be options for novices looking to increase their cryptocurrency holdings. They may get more coins as a result of trading them for profit. Just as mining rewards may help increase one's holdings of bitcoin, staking rewards can assist one's cryptocurrency holdings. In any instance, the situation would indicate that bitcoins should be purchased before trading or staking.
How Does Crypto Faucet Work?
Cryptocurrency faucets reward users for doing relatively easy activities. Time is an investment that pays you in the form of cryptocurrency rewards. One of the benefits of using a crypto faucet is the ease with which you may begin earning free cryptocurrency. Still, you should know that the incentives you may expect to obtain from crypto faucets are enormous.
Contrarily, some Bitcoin faucets give out Satoshis as prizes. A Satoshi is equivalent to approximately 1/100 million Bitcoin. Thus far, anything that has been said about how cryptocurrency faucets function has been on very basic chores and very few payouts. Cryptocurrency "faucets," as you understand them, are like dripping faucets that slowly release little quantities of free cryptocurrency. However, it would be best if you went into the topic to grasp how cryptocurrency faucets function.
The fact that they are not widely used is one of the numerous advantages of crypto faucets that stands out. There is the issue of poor payments, on top of the fact that many cryptocurrency faucet sites use fraudulent methods to scam users out of their money. The primary purpose of a cryptocurrency faucet is to educate users about the existence of new coins. Cryptocurrency "faucets" have become more than a way to get "free crypto." The current business strategy of cryptocurrency faucets is based on arbitrage rather than giving out free cryptocurrency.
Is Crypto Faucets Safe?
The advantages of bitcoin faucets are clear from the straightforward methods they use. By doing something as easy as clicking a CAPTCHA button, you may earn the right to use and benefit from cryptocurrency. Time spent on a crypto faucet's site is directly proportional to the amount of cryptocurrency you get as a reward. Therefore, newcomers may improve their odds of amassing crypto deposits by doing routine daily actions.
However, you should be aware of hazards associated with using a crypto faucet, such as the potential for harmful links inside jobs. It would be best to exercise caution with fake cryptocurrency faucet sites since they may include viruses. Furthermore, certain cryptocurrency faucets may withhold payouts if they receive reports of suspicious activity.
Popular Crypto Faucets
🔸Cointiply
It's possible to get tokens every hour on Cointiply. There is a 1:10 000 exchange rate between coins and U.S. dollars. Assuming you've already signed up with your mail and name, the hourly jackpots range from 18 to 100,000 coins. Additionally, you may win a multiplier bonus or coin jackpot. One legitimate way to earn bitcoin is to take part in online surveys for a fixed payment in the cryptocurrency of your choice. Earned money may be transferred to a Bitcoin, Dash, DOGE, or Litecoin wallet.
🔸Bitcoinker
Every 120 minutes, you may collect seven free satoshis from Bitcoinker. 20,000 satoshi is the lowest amount that may be withdrawn to a personal Bitcoin wallet. When you've earned enough satoshis to withdraw, you must enter your address and answer the Captcha.
🔸Freeitco.in
When you play the lottery at Freeitco.in, the number you roll determines how many satoshis you win. Free satoshis are available for claim once each hour, with payments made following the prize and won amounts shown. There is a potential maximum hourly payout of $200.
🔸Faucetcrypto
Up to twenty distinct cryptocurrencies are available for mining on Faucetcrypto. Every quarter of an hour, you can participate in surveys, watch movies, or earn cryptocurrencies. When you withdraw, the coins you've earned on Faucetcrypto are transformed into cryptocurrency. Thus their value remains fixed.
Conclusion
Knowing what a crypto faucet is and how it works gives you an important leg up when trying to find new ways to make cryptocurrency. Coins may be "dripped" from a "faucet" like water can be earned by doing chores. These cryptocurrency faucets generate income by rewarding users for doing microtasks.