Shadow Storage V2 Uses Lit Protocol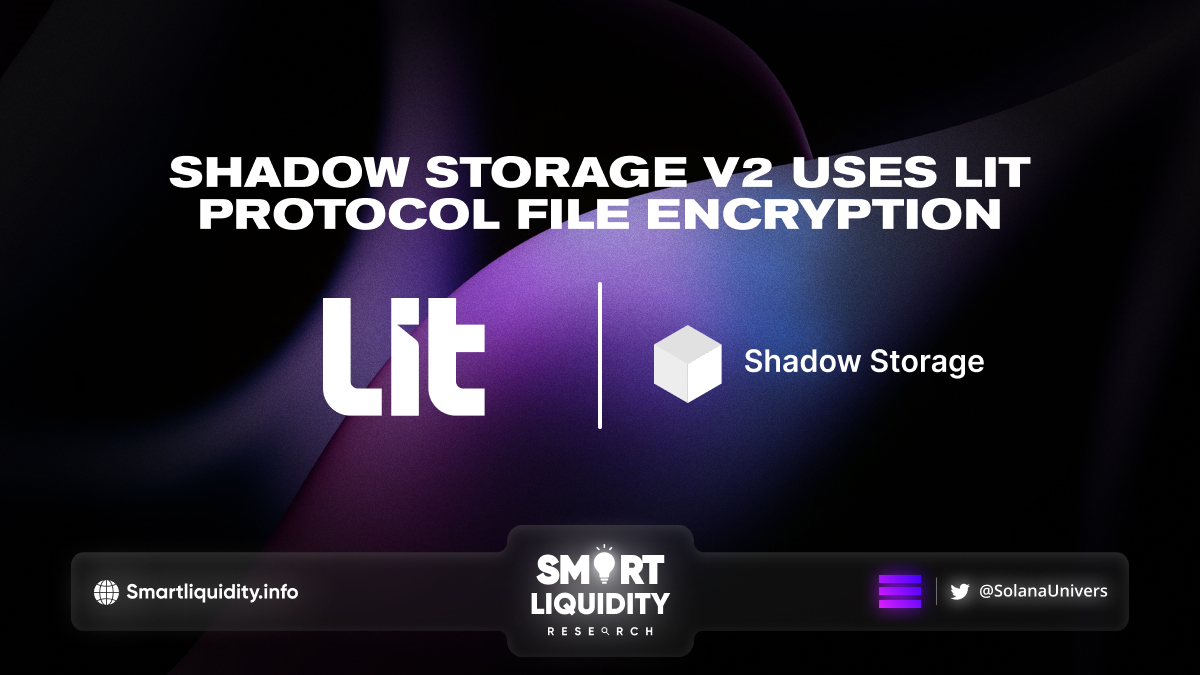 Shadow Storage, a decentralized On-Chain Storage powered by Shadow Drive on Solana, announced its Shadow Storage v2 which uses Lit Protocol file encryption.
Shadow Storage v2 uses the Lit Protocol to encrypt files and store the encrypted keys directly in your space, so you can always get access to the keys to decrypt your data.
Introducing Shadow Storage v2
Both GenesysGo and LitProtocol use decentralized infrastructure, so users can be confident that their data will be available even if they go offline. Experience a web2 experience in a web3 world.
The platform also introduced a new system called Shadow Credits, which requires one credit for each encryption/decryption. Every new account comes with 20 credits, which you can always replenish in the Shadow Shop.
Users can now start uploading private files decentralized. It's a great alternative to Google Drive and Dropbox.
Shadow Storage Features
File Management
Upload anything, we store all your data in the Shadow Drive, a decentralized storage solution by GenesysGo.
Private Notes
Write down your thoughts, ideas, and plans, and keep them private with Shadow Notes, no one will ever see your notes but you.
Real-Time Collaboration
Collaborate with your team in real-time, create, edit and publish documents, all in one place.
File Transfers & Sharing
Share files with your team, clients, and partners, and keep track of who has access to what, and when.
What is Lit Protocol
Lit Protocol is a decentralized key management network powered by threshold cryptography. A blockchain-agnostic middleware layer, Lit can be use to read and write data between blockchains and off-chain platforms, facilitating encryption, access control, and automation for the open web via programmatic signing.
Decentralized Cryptography
On a fundamental level, Lit is an attempt to decentralize public key cryptography. First introduced by three researchers at Stanford University in the 1970s, public key cryptography is the technology that underpins cryptocurrency and most of the security infrastructure on the Internet today.
Public key cryptography allows you to do two main things:
Encrypt information so that it can only be accessed by authorized parties (encryption and access control).
Sign (write) data to blockchains, databases, storage networks, and other state machines (digital signatures).
Core Functionality
As a protocol, Lit can be harnessed to build applications that leverage public key cryptography at their core, powering two main "buckets" of functionality:
Encryption and Access Control
Lit Protocol's main feature is a decentralized access control protocol compatible with most EVM chains, Cosmos and Solana. With Lit, you can harness on-chain access control conditions to do 4 main things:
Encrypt and lock static content (images, videos, music, etc) behind an on-chain condition (for example, ownership of an NFT).
Decrypt static content that was lock behind an on-chain condition.
Authorize network signatures that provide access to dynamic content (for example, a server or network resource) behind an on-chain condition.
Request a network-signed JWT that provisions access and authorization to dynamic content behind an on-chain condition.
With this functionality, Lit Protocol enables the storage of private data on the open web, facilitating interoperability and portability between previously disconnected users, applications and ecosystems.
About Shadow Storage
Shadow Storage is the gateway to decentralization, where users can upload photos, files, and videos to the decentralized web powered by Shadow Drive on Solana.
About Lit Protocol
Lit is open source, decentralized cryptography for access control, compute, and encryption.
SOURCE
Introducing Shadow Storage v2

Featuring file encryption using @LitProtocol 🔥

Encrypt your data 🔐 in a #decentralized way.

All you need is a @solana wallet.

— Shadow Storage 💾 (@shadow_storage) January 3, 2023