CoinShares Announces Block Transactions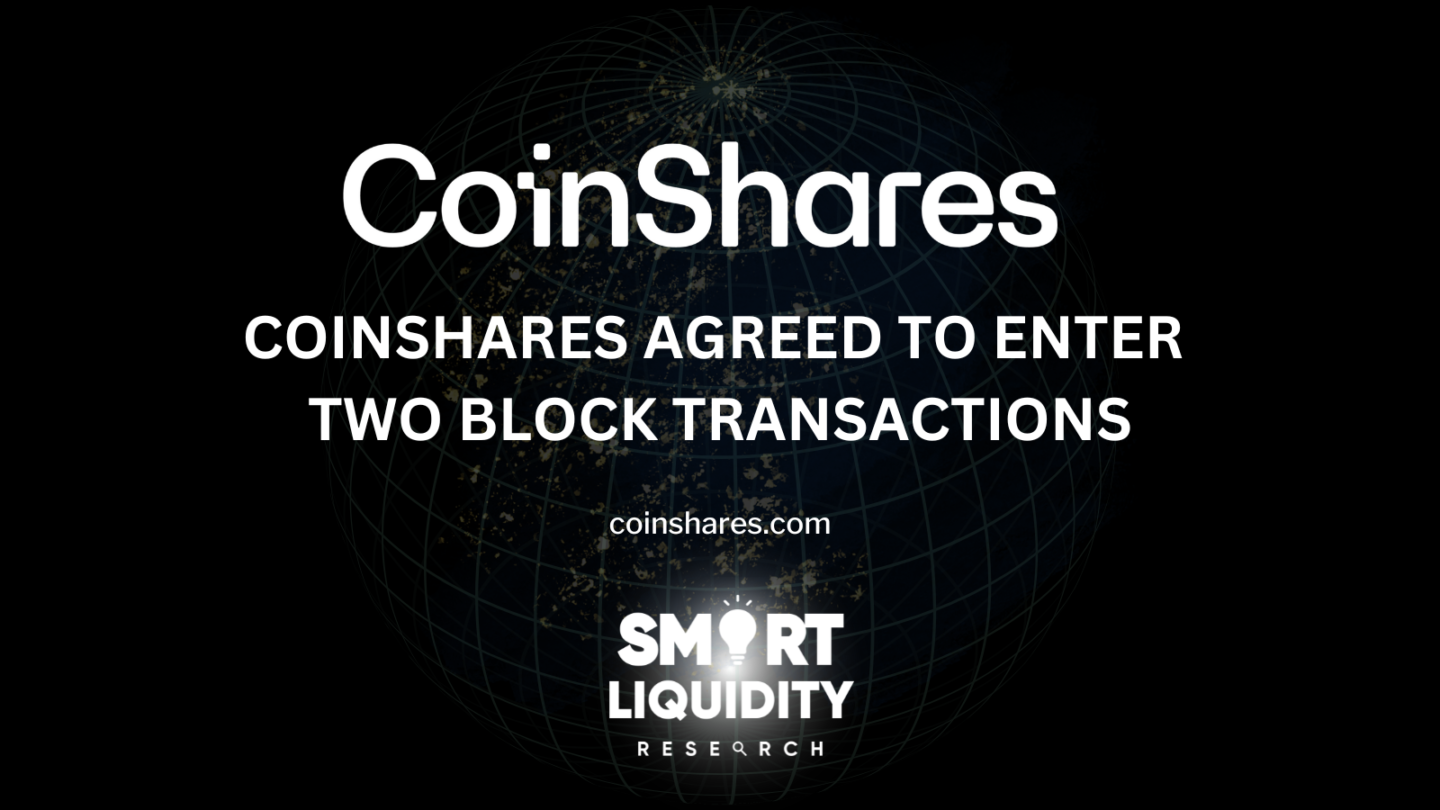 CoinShares, Europe's largest and most successful digital asset investment and trading group, announced that it has agreed to enter into two block transactions with two shareholders to acquire 196,654 ordinary shares in the Company's capital.
Subject to the completion of the Coinshares block transactions. The Company will repurchase 196,654 ordinary shares from the selling shareholders at a price of SEK 24 per share, for a total consideration of SEK 4,719,696. (approximately GBP 372,856).
About Coinshares Block Transactions
The Company expects the block transactions to settle via cash and to complete before 20 January 2023.
CoinShares' decision to repurchase its shares is consistent with the Board's stated intent regarding the buyback program and for the purposes of reducing the capital of the Company. Jean-Marie Mognetti, CoinShares' Chief Executive Officer, stated:
"We are pleased to announce the repurchase of a meaningful amount of our own shares in-line with CoinShares' capital allocation strategy.".
The total number of shares in CoinShares is at the date of this press release 68,213,821. At the time of this press release the Company holds 82,886 own shares.
About CoinShares
CoinShares is Europe's largest and leading digital asset investment and trading group, managing billions of assets on behalf of a global client base.  With their trusted, regulated, best-in-class product suite, their mission is to increase investment in digital assets. This provides investors with trust and transparency when accessing cryptocurrencies.
They believe that Bitcoin and blockchain networks are landmark innovations that will fundamentally reshape the global financial system. The way we interact digitally, and investors should be able to participate in this transformation. CoinShares, publicly listed on the Nasdaq Stockholm under ticker CS and the OTCQX under the ticker CNSRF. CoinShares has multiple touchpoints with financial regulatory bodies around the world, including the AMF, JFSC and FINRA.
SOURCE
https://www.prnewswire.com/news-releases/coinshares-announces-block-transaction-by-shareholder-and-share-buyback-301718025.html