SOLA-X Partnership with Lithium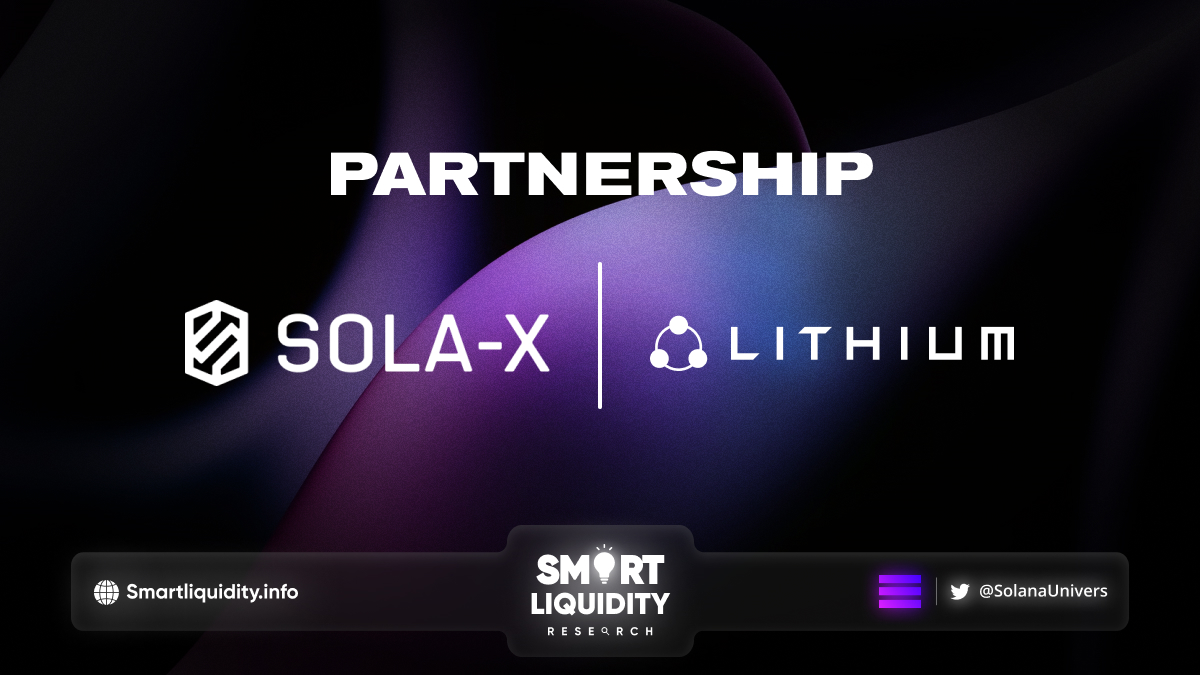 Lithium, the web3 community platform, built on Polygon, has announced its partnership with  SOLA-X,  the new and improved AMM on Solana.
Lithium latest partnership with SOLA-X  is to provide assistance with community management and growth.
Introduction
Most of you have heard of Automated Market Makers (AMMs), which have become an essential component of the De-Fi ecosystem. AMMs enable peerless swaps and on-chain liquidity. Since the rise of Uniswap, DEXs have vastly improved, offering traders and LPs additional functionality and staking options while also bootstrapping liquidity for projects within their ecosystems. Sola-X is taking the DEX game on Solana to the next level of innovation.
SOLA-X will offer:
Smart liquidity staking pool — providers only allocate capital into a single liquidity pool rather than specifically for trading pairs
Deeper Liquidity for Traders
High APYs for Liquidity Providers
Instant Liquidity for Projects
Staking Rewards for their native $SAX token holders
Background
SOLA-X has a proven track record and an experienced team. To name a few of their accomplishments, the founding team has launched a successful startup in the space with a $80 million valuation, built a DeFi protocol with $1.8 billion in TVL, and exited on the Stuttgart Stock Exchange.
Furthermore, the SOLA-X team has assembled an outstanding support team, ranging from advisory to investment to technical integrations. On the advisory front, the Frankfurt School Blockchain Centre and Munich-based Moonrock Capital are assisting the SOLA-X team with strategic decisions to ensure the project's success. With early stage investment from active fund vt3 Ventures, SOLA-X has already achieved a working testnet product, demonstrating the team's capabilities and vision for the Solana ecosystem.
Even though the mainnet product is not yet available, the team has received recognition from a prominent German business publication. The SOLA-X team, winners of the Handelsblatt Innovation Award 2022 in Finance and Commerce, are revealing their capabilities and vision long before they hit the market.
Partnership Highlights
Lithium has partnered with SOLA-X to provide assistance with community management and growth. SOLA-X will be able to incentivize users by unlocking allocation in their upcoming Community Raise and earning $USDC and $SAX rewards by completing missions on their platform by using Lithium.
With the raise just a few months away, the collaboration will begin to drive SOLA-X engagement, education, and hype.
About SOLA-X
SOLA-X is changing the way AMMs are designed within the Solana ecosystem. SOLA-X has developed flexible and dynamic liquidity pools that enable multiple assets per pool, unilateral liquidity provisioning, and features such as protocol-managed liquidity or smart liquidity routing.
About Lithium Ventures
Lithium is a community-focused ecosystem allowing investors to participate in early-stage investment rounds of selected projects. Our platform is designed to bring maximum value to our investors by providing frequent, high-quality investment opportunities.
SOURCE
https://medium.com/future-venture/sola-x-partnership-7b3eda3e1910