Amulet Unveils its 2023 Roadmap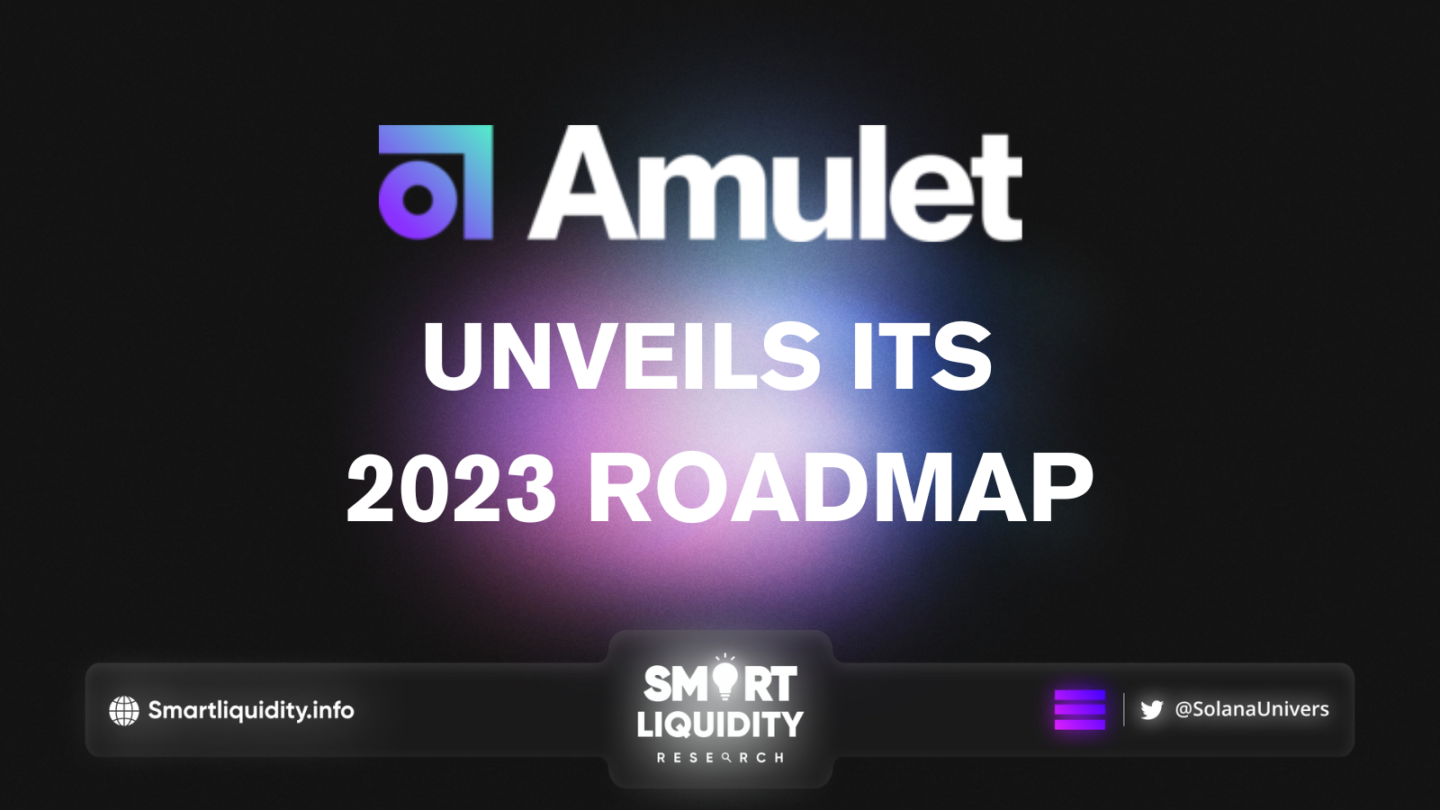 Amulet is a simple, reliable cover for everyone in Web3, built on and backed by Solana. has unveiled its 2023 Roadmap. They are approaching 2023 in a strong position and are excited to share their future plans!
Amulet is thrilled to introduce its 2023 Roadmap. Despite two major crises rocking #web3, they accomplished a lot in 2022.
Overview
Amulet was first announced as a project at DevCon in Amsterdam on April 20th, 2022. We've grown at an incredible rate since then. Within a few weeks of announcing our seed funding news, our community (the AmuNation) began to grow. Amulet has seen consistent month-on-month success following the successful launch of our AmuNation app loyalty program, TestNet with incredible feedback, and eventual migration to the MainNet on September 29th 2022.
All of this comes at a difficult time for the industry as a whole. Within days of introducing Amulet's simple, dependable cover for everyone in web3, the Luna/Terra crisis erupted and UST depegged, sending shockwaves throughout the industry.
Amulet launched with a bang and has steadily grown organically across the crypto landscape. The UST situation added weight to our BUIDL by highlighting issues within the risk protection industry and the quandaries that current cover providers were about to face. Payout and annoy stakers, or don't pay out and lose credibility – a question Amulet would never be asked because of our novel PCR (Protocol Controlled Reserves).
Highlights
When they launched on the MainNet at the end of September, they were 580% ahead of competitors at the time of their launch. This added to the excitement as we prepared for Solana Breakpoint in Portugal.
Then the second crisis penetrated the crypto industry. While at Breakpoint, rumors of potential issues at major exchange FTX were spreading on Twitter. As they launched the Solana chain, we understood the implications this could have on the whole market but, in particular, on Solana.
FTX's collapse and bankruptcy have been in all international mainstream news. Amulet has always been cautious – (our solution is literally to protect DeFi users!) and we were fortunate to face 0 exposure to the crisis. That being said, we acted fast to pause immediate sales and our TVL was drastically reduced.
Sales have now resumed and Amulet ended the year with continued social and community growth. Smashing through 30k Discord members and 40k Twitter Followers KPIs that had been set previously. On Twitter, Amulet has the biggest following against every other major cover protocol in web3.
2023 Roadmap
Q1:
Amulet Analytics – Public data page for transparency
Amulet Personal Dashboard – Improvements to user experience
Increase on AMA with Partners – To encourage sales and increase on capacities
Ongoing Social Development – Major successes in 2022, how can it be emulated
Introduction of Monthly Newsletter – Updates direct to your mailbox
Increase on Community Development – Work on creating the best experience for the AmuNation
Ambassador Program Testing & Implementation – Much awaited Ambassador program testing and release.
MetaBear NFT Airdrop Phase 2 – The second phase of our MetaBear airdrop to the AmuNation.
Q2:
Amulet Personalized Notification – Individual notifications to improve user experience
Amulet Next Chain – Launch of the second chain that we BUIDL on
Amulet Audit Cover – Unique cover product to protect Audits
Latest for Launch of Ambassador Program – Q2 will be the absolute latest date we launch our Ambassador program.
Mid-Year Iteration – Reviewing the year so far internally and iterating where necessary
AmuNation Model Update – Improvements and major changes to the AmuNation app
Safety Introduction Community AMA – With an expected increase in users, introduction on safety AMAs
Q3:
Amulet Next Chain: Launch of third chain and increasing our crediblity as a multi-chain solution
UI v2 – Second iteration of the UI for our app
Ongoing Community and Partnership Development – Increase on community and partnership activities including cross-marketing activity
MetaBear NFT Airdrop Phase 3: The third phase of our MetaBear airdrop to the AmuNation
Q4:
Audtior Portal – Area for auditors to access Amulet with a different interface
Community Incentives based on Year – Release of additional incentives based on the success of the year
End of Year Community Report – A review of 2023 from a community perspective
End of Year Review/Partner Reviews – Internal and public reviews of 2023 and our partnerships.
About Amulet
Amulet is a decentralized cover protocol built for the Rust-based ecosystem, starting with the Solana blockchain. Amulet has designed an innovative and open cover model, which not only effectively addresses the common challenges of existing decentralized cover protocols, but also creates a new paradigm shift for the whole cover offering sector.
SOURCE
https://amulet.org/blog/introducing-amulets-2023-roadmap/