How to Create Your Own Cryptocurrency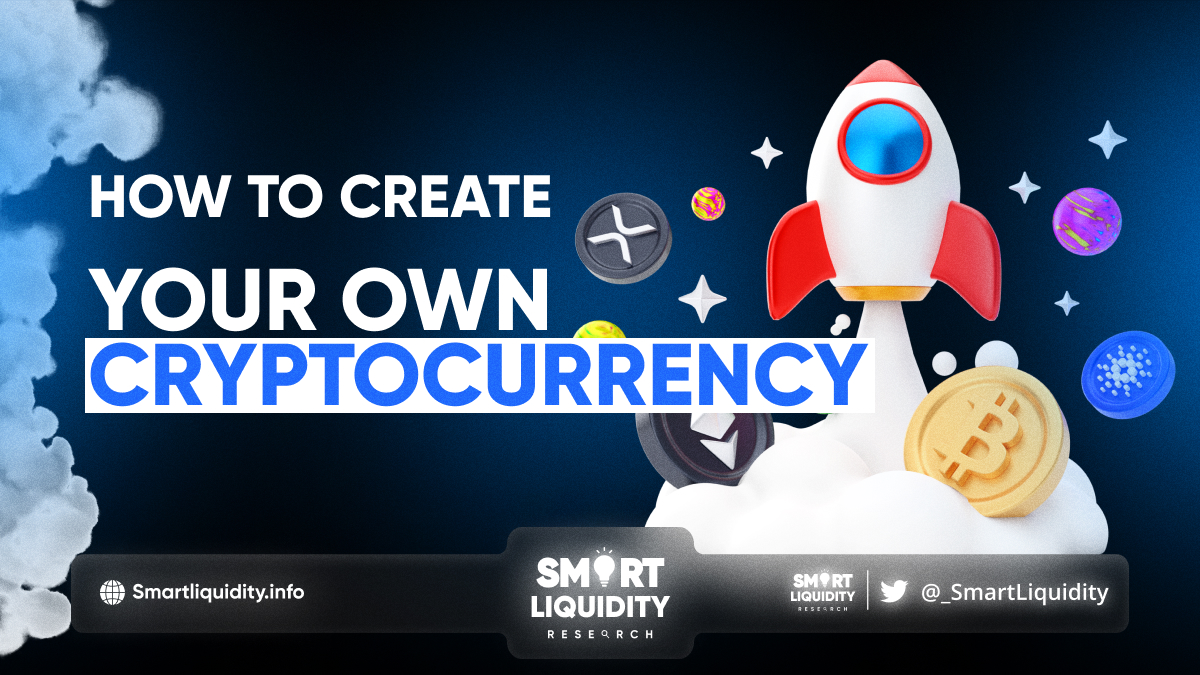 Many crypto enthusiasts find the prospect of developing their digital currency, applications, and user base to be quite appealing. But where would you recommend I begin? Coins and tokens can be made in a variety of ways. The intricacy of your project will determine the range of expenses and the breadth of knowledge required. This article gives you a foundational understanding of the fundamentals of cryptocurrency development to help you get started if that's something you're interested in doing.
What Is a Cryptocurrency?
The term "cryptocurrency" refers to a digital asset that facilitates the direct exchange of money between users without the intervention of a central bank or other governing body. One of the things that set cryptocurrency apart and attracts people like yourself is the fact that it is decentralized.
By utilizing blockchain technology, digital currencies provide a cheaper and more efficient alternative to more conventional payment methods like banks, particularly for cross-border transactions. The fact that cryptocurrency transactions may be recorded in a public ledger provides a layer of transparency that many find appealing. Blockchain, a distributed, peer-to-peer (P2P) ledger of blocks of data, is essential to every cryptocurrency. These blocks evaluate newly generated blocks and record transaction data in chronological order, all following a predetermined internode communication protocol.
The most well-known cryptocurrency is undoubtedly Bitcoin. The most basic use is making international money transfers between individuals directly. All transactions are recorded in an immutable public ledger called a blockchain, which also provides security and keeps the network running smoothly.
Difference Between Crypto Tokens And Coins
Coins and tokens are the two main types of cryptocurrencies. The contrast between the two is clear. All coins, including Bitcoin, use the blockchain protocol, but theirs is unique. The Ethereum blockchain underpins Ether (ETH). For example, coins may be used to pay for network-wide transaction fees, the stake for network rewards, or vote in network elections.
Existing blockchains are used as the foundation for tokens. Tokens may serve comparable functions to currencies, but their value lies mostly within the context of their projects. One such use case is PancakeSwap's CAKE token, which runs on the BNB Smart Chain. It may also be used to purchase entries into the PancakeSwap lottery and mint Non-Fungible Tokens. CAKE can't be utilized in all BSC applications because it doesn't have its blockchain. The hundreds of ERC-20 tokens created on the Ethereum network follow the same pattern. Various projects, and hence distinct tokens, have different purposes.
Creating Crypto Coins Vs. Tokens
It's been said that making a token is significantly easier than making a coin. To create a currency, you must first create and reliably operate a blockchain. You could "fork" (duplicate) an already-existing chain, but it wouldn't help you locate enough people to "validate" your transactions and keep the network alive. However, the chances of success with a new coin may be greater than with merely creating a token. In brief, here are the two possibilities:
🔸Creating a Coin
Developing your blockchain for a new coin might be a time-consuming process. However, you may quickly launch a new cryptocurrency by forking off of an existing blockchain. One such forked project is Bitcoin Cash (BCH). Still, an expert understanding of blockchain technology and coding is required for this. Acquiring new users for your blockchain network is crucial for the success of your project.
🔸Creating a Token
By establishing a token on an established blockchain, you may take advantage of the network's trustworthiness and safety. There is a lot of room for personalization, but you won't be able to decide on every detail of your token. Especially on BSC and Ethereum, you may use a wide range of websites and tools to develop your token.
How To Create Your Own Crypto
🔹Decide On a Reliable Blockchain Service
You must decide which blockchain to mint your token's cryptocurrency on. Popular choices are BSC and Ethereum, although sidechains also have their uses. If you want to launch your cryptocurrency, you should consider building or commissioning a blockchain from scratch.
🔹Pick a Consensus Mechanism
If you're building your blockchain or trying to decide which token blockchain to use, deciding on a consensus method is an important first step. Mechanisms like this are what govern how members in a network verify and authenticate financial transactions.
🔹Plan The Infrastructure Of Your Blockchain
Unless you're not making a coin, you may skip this. In certain blockchains, only the network's administrators may verify transactions and operate nodes. Important consideration should be given to whether to implement a private, permissioned, public, or permissionless blockchain.
🔹Begin Blockchain Development
Unless you have in-depth expertise in the realm of growth, you should seek assistance from others. After a blockchain has been deployed in a production setting, it is very difficult to make significant changes to the underlying ideas and protocols. Use a test network to make sure everything is functioning as expected, and work together with a large development group if possible to create your blockchain.
🔹Perform a Code And Crypto Audit
Certik and other auditing firms may verify the blockchain and cryptocurrency's source code for security flaws. The results of the audit can be made public, and the recommendations it contains can be implemented. This procedure ensures the creator's and the public's (and investors') security.
🔹Double-Check Legal Aspects
Now that your blockchain is up and running and you're ready to mint your crypto, it's a good idea to consult with a lawyer to see if you need to submit any paperwork to get started. It's important to note that this phase, too, is challenging to do without assistance.
🔹Mint Your Crypto
Minting the cryptocurrency is a necessary step in establishing any kind of token or coin. Tokenomics will determine the specifics of the procedure. In the case of tokens with a finite quantity, for instance, the minting process is often handled in one fell swoop by a smart contract. Cryptocurrencies like Bitcoin are "mined" as needed when miners verify successive blocks of transactions.
Cost Of Creating Crypto
How much it will cost depends on the tools and infrastructure you use. To create a coin and blockchain, you'll probably have to pay a large team of people for several months. It's also possible to spend close to $20,000 on a professional code audit (USD). A basic token on BSC may be created for as little as $50. Taken as a whole, this suggests that thousands of dollars will be needed to design, advertise, and grow a cryptocurrency with any possibility of success.
Closing thoughts
Please don't try to copy our work verbatim if you decide to create your coin. It's a deep issue that takes a long time to comprehend thoroughly. After completing the development of the token or currency, you'll want to give some thought to how best to ensure its continued success. Finding success with your cryptocurrency might be aided by learning from the trials and tribulations of others.