Alantica Market Is Live | A Vision of the Future, Built for Now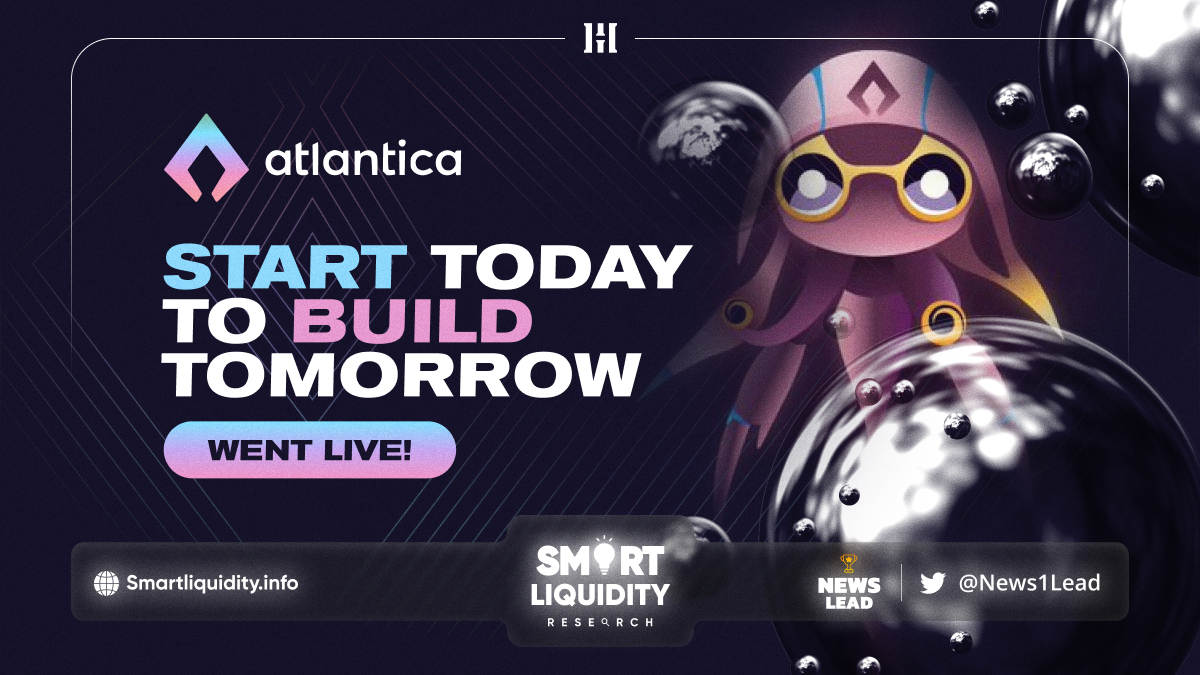 Atlantica, a revolutionary NFT marketplace on Fantom, was launched by Hector Network.
INTRODUCING ATLANTICA
Atlantica is a user-friendly protocol designed for creators of all backgrounds. Its purpose is to foster the creation and exchange of non-fungible tokens (NFTs) across a variety of mediums, not just digital art. The platform comprises three distinct sub-projects, each with its own unique focus, all aimed at advancing the NFT ecosystem.
Through the team efforts, the project has reached a significant milestone: the successful initial public release and fine-tuning schedule of their various sub-projects.
These developments are to position Atlantica as dependable servicer in the NFT Industry, and Hector Network (learn more about Hector Network, its ecosystem and roadmap is well-positioned to continue growing and expanding out Atlantica.
The protocol is confident in its ability to deliver on its promises and bring the wonders of NFTs to a wider audience. It's innovative approaches and understanding of the NFT Market dynamics, sets it apart from the competition, making it an up-and-coming project to keep an eye on.

🔹NFT Marketplace
Two components of Atlantica's Marketplace are its cross-chain compatibility working alongside NFT solutions, essentially making it the one-stop shop with all the advantages each blockchain provides. Initially, the platform will feature well-established brands from the Fantom Network NFT space.
🔹NFT Launchpad
The Atlantica NFT Launchpad will be dedicated to onboarding creators, both emerging and established, who meet the highest quality standards our users expect. They offer a range of business-to-creator solutions that empower NFT Creators in monetizing their work effectively, giving them the tools and support they need to succeed in the platform. They are committed to following through with the creators to ensure their success on Atlantica and in their communities.
🔹Fully-Owned NFT Collection(s)
Atlantica's fully-owned NFT collection(s) are utility-focused ecosystem cards that offer unique benefits within and outside of the crypto world. These collections feature premium perk unlocks that enhance the user's experience and engagement within the ecosystem. These platform-representing NFTs provide more than just the opportunity to collect digital items; they also offer access to exclusive virtual events, discounts, and special deals, opening up a whole new realm of possibilities.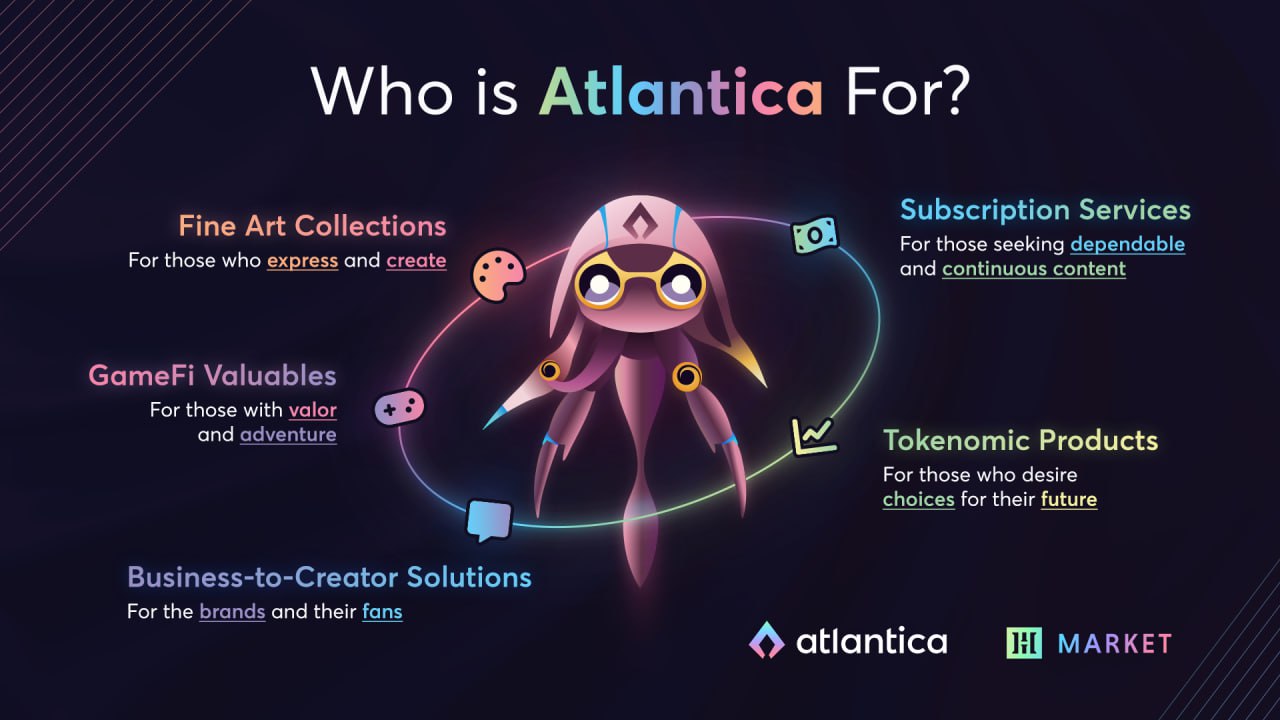 ATLANTICA PRODUCTS & SERVICES
Atlantica will host and list collections of any form while keeping a close eye to digital assets with high utility such as NFTs for Play-and-Earn games, Collectible items/Trading cards, NFTs with IRL use cases, music and media, Virtual fashion, real-world assets, domain names and digital artworks from the best artists and projects.
Here is a recap shared by the team of the features that are live as of Jan 19th:

Features in Marketplace Jan 19th, 2023

User Profile Creation

Facilitation of ERC-721 and ERC-1155 NFTs

Buy / Sell / Auction / Make Offer

Publish NFT Collection(s) and NFT(s)

Favorite / Follow System
Many upgrades are due in the next weeks and months, including possible new utility for the $HEC token and $TOR, both issued by Hector Network, to make Atlantica the Marketplace that everyone, users and creators, always dreamed of.
🔸 Fine Art Collections
The Atlantica Marketplace will offer a selection of fine art collections that cater to those who seek out unique and diverse forms of beauty. By providing a platform for artists to showcase their work to a wider audience, Atlantica will become a destination for those who appreciate and support the creative process.
🔸 GameFi Valuables
GameFi Valuables are designed for gamers who appreciate the intersection of gaming and digital ownership. These NFTs enhance the digital experience by allowing players to collect, exchange, and own unique assets that can be used across different games and platforms. Atlantica's GameFi Valuables will provide an immersive and interactive experience, one that is tailored to the specific game it belongs to, making it ideal for gamers who value adventure, interconnection, and the ability to possess a piece of their favourite games wherever they go.
🔸Subscription Services
Subscription NFTs are a great choice for audiences seeking consistent and dependable content. These NFTs provide access to exclusive and regularly updated digital content such as comics, videos, and music. With the subscription NFT, users have the ability to take control of their content choices, they can pass on their subscriptions to others for a limited time or even rent it out entirely. This type of NFTs will allow for a flexible and customizable way for users to access and enjoy the content they desire.
🔸Tokenomic Products
Preparing for the future can be a challenging task, but with the right tools and resources, it can be made simpler. Atlantica aims to provide a convenient platform that simplifies the process of planning for the future. The marketplace will focus on showcasing products that seamlessly integrate tokenomics with the technology behind NFTs, while also facilitating the liquidity required for smooth operation. By providing a comprehensive selection of future-oriented products, Atlantica will empower users to take control of their future and make informed decisions.
🔸Business-to-Creator Solutions
Achieving public success often requires teamwork and support. At Atlantica, they believe that by fostering a community of creators and businesses, both established and emerging, we can provide a foundation for success for all NFT Brands. Launchpad services will offer creators the tools and guidance they need to launch their brand, reach new audiences, and explore new styles and forms of expression – coding especially. With their support, creators can depend on Atlantica to not only make their initial impact strong but also to continue to grow and evolve as they reach new heights in their journey.
An effective NFT facilitator plays a crucial role in displaying a wide range of options and matching the right products with the appropriate users. The success of these purposes relies heavily on the specific NFTs that the protocol chooses to offer. In the case of Atlantica, its target audiences are those that find value in the variety of collections and projects showcased, which are known for their quality and user confidence in mind. By providing a comprehensive and curated selection of NFTs, Atlantica will enable users to easily find and access the digital assets they desire.
ATLANTICA MARKET SOCIALS
Website| Discord | Twitter | Medium | Reddit| Youtube | Instagram
HECTOR NETWORK SOCIALS
Website| Discord | Twitter | Github | Reddit| Youtube | Instagram