Bountie Hunter and Fabwelt Collaboration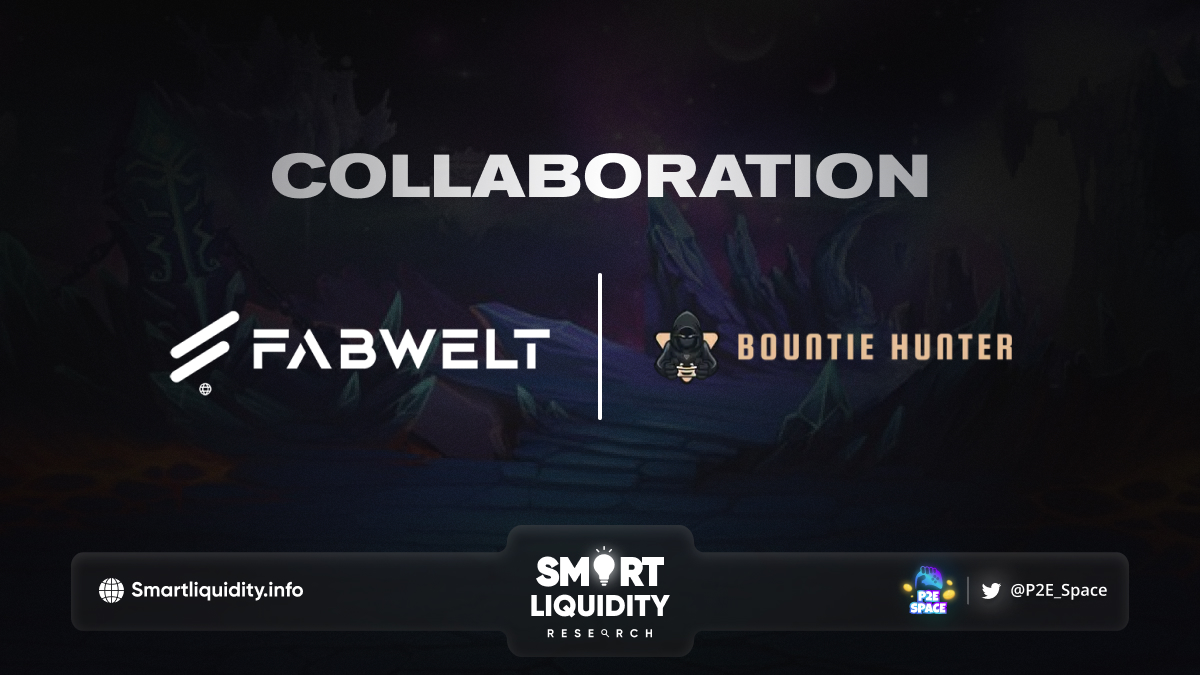 Bountie Hunter is thrilled to announce its collaboration with Fabwelt, two innovative companies in the gaming and blockchain industries.
In short, Fabwelt is a blockchain-based gaming platform that combines NFTs, Play-and-Earn, and DeFi to offer innovative gaming experiences. The platform combines high-quality games with the latest blockchain technology to create unique and profitable gaming experiences for players.
Fabwelt In A Glance
Fabwelt is a blockchain-based gaming platform that integrates NFTs, Play-and-Earn, and DeFi into the gaming metaverse industry. The platform aims to bring together the worlds of high-quality games and the latest blockchain technology to create unique gaming experiences. By combining the latest blockchain technology with high-quality games of all types and genres, Fabwelt is able to provide a gaming experience that is both entertaining and profitable.
With its focus on innovation, Fabwelt develops high-quality games that incorporate in-game NFT technology, Play-and-Earn, and DeFi. This integration not only adds to the overall gaming experience but also provides players with new ways to earn income through their play. For example, in-game NFTs serve not only as collectibles but also as strategic utilities, Play-and-Earn can be taken to a whole new level, and DeFi options like staking and in-game farming can be added to the mix. Overall, Fabwelt is positioning itself as a leader in the blockchain-gaming space by providing unique experiences that combine gaming and blockchain technology.
The Integration of Blockchain Technology and Gaming
The integration of NFTs into the gaming world creates a new level of excitement and strategic advantage for gamers. These NFTs can be bought, traded, rented, and earned on the Fabwelt NFT market, creating a circular ecosystem that sustains the platform. The inclusion of ultra-rare NFTs provides gamers with the opportunity to enhance their gameplay and potentially earn profits by selling their NFTs on the market.
Play-and-Earn, Play-to-Own, & Pay-to-Play
Fabwelt introduces Play-and-Earn & Play-to-Own where players earn points for rewards, and "Pay to Play" where players must pay in $WELT to access certain levels or participate in tournaments. The platform also includes a gamer's platform to view game stats, NFT collections, and rewards with a ranking system and contests with prize pools for top players.
Fabwelt also offers passive income through staking and farming $WELT and partner tokens on its DeFi portal. Fabwelt games offer a staking tier system, and future utilities for the portal will include earning rare NFTs. The staking and farming options will be accessible to all players, regardless of their DeFi experience, and will add value to the Fabwelt ecosystem, creating a sustainable income stream for $WELT holders.
Fabwelt Games
Arsenal is a 3D First Person Shooter multiplayer game with a realistic battlefield-style look optimized for both desktop and mobile devices. The game uses blockchain technology and incorporates NFTs as in-game assets, collectibles, and utilities. These NFTs enhance gameplay, provide benefits, and serve as valuable commodities outside the game, such as collateral, staking, gifting, or inheritance. The game offers a combination of Pay to Play and Play to Earn options and features various maps for different gameplay styles.
Fanwelt is a digital gaming platform that lets fantasy sports gamers play with cryptocurrencies. It aims to provide better earnings and accessibility to fans worldwide. The platform is powered by blockchain, reducing counterparty risk and offering tax-free transactions. Fanwelt will feature NFTs as in-game utilities and offer many other benefits, such as a leaderboard, chat rooms, and reward systems. With intentions to offer at least four other sports by the end of 2022, Fanwelt will first debut with football and cricket.
About Bountie Hunter
Bountie Hunter is where gamers discover crypto games and earn cryptocurrencies. They strive to build a platform for their community of gamers to participate, play and earn through Quests (tournaments or events)!
Its mission is to be the de-facto platform for gamers to discover and invest in crypto gaming and metaverse projects.
About Fabwelt
Fabwelt is a ground-breaking concept that integrates blockchain technology into the heart of high-quality games of all types and genres. With in-game NFTs, Play to Earn, and Defi, they create a high-end gaming ecosystem and enhance the fun. A multi-genre gaming ecosystem that includes genres such as 3D First Person Shooter, Action-Adventure, Simulation, Strategy, Fantasy, and many others. In-game NFTs as assets, collectibles, and also strategic utilities resurrect the fun of Blockchain gaming.
SOURCE: MEDIUM