Cedro Finance Raised $1.5M Pre-Seed Round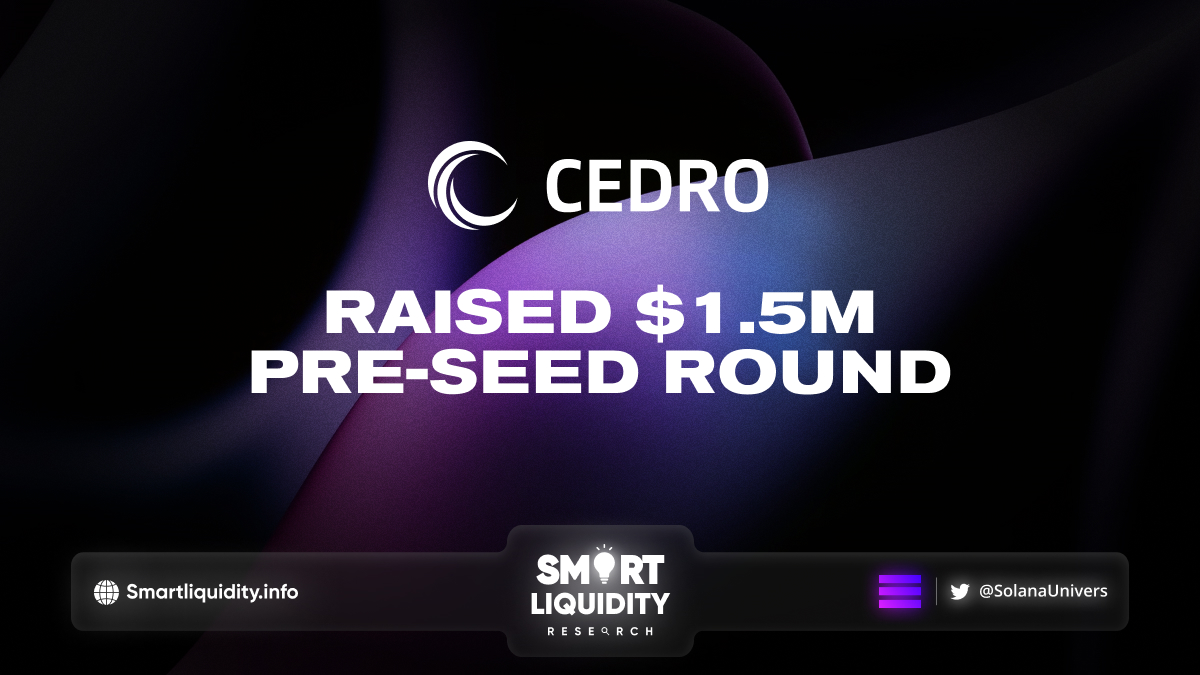 Cedro Finance, a cross-chain lending and borrowing platform that connects fragmented liquidity, has raised a $1.5M pre-seed round to build an Omnichain Future.
Cedro Finance has raised its $1.5M Pre-seed round, led by Shimacapital to build an Omnichain future!
Introduction
Cedro Finance, which is an Omnichain Liquidity Platform that lets users lend and borrow across chains seamlessly, raised the fund in a round led by Shima Capital. Infinity Ventures Crypto and Mask Network also participated in the round.
According to the founder, Rachin Kalakheti, the funds obtained will be utilized to grow and sustain Cedro's development efforts.
Management Quote
"Right now, the cross chain lending and borrowing process is tedious, dangerous, and expensive. A user needs to use multiple dApps and ~50 clicks just to deposit in a cross-chain manner," said Kalakheti referring to the UX of current cross-chain bridges.

"Last year, protocols were offering insane yields. I wanted to take advantage of a yield program in Solana, but I had my fund in Ethereum. The hassle while collateralizing my funds in Ethereum to borrow in Solana didn't feel right to me. I knew we could do better," he explained the origin of Cedro Finance.

"Our goal is to provide a seamless user experience for this process without compromising on security. For the same action that took ~50 clicks, you can do it in ~5 clicks. We are starting out as an omnichain lending and borrowing protocol, but eventually, we aim to become an omnichain financial hub with other products currently in development," he continued explaining the vision and the future of Cedro Finance.
About Cedro Finance
Cedro Finance is a cross-chain decentralized liquidity protocol where users can lend and borrow the listed assets across multiple chains with affordable transaction fees. Lenders are able to deposit their assets to contribute to the liquidity of the platform and borrowers are able to borrow the liquidity in an overcollateralized manner.
About Shima Capital
Shima Capital is a leading early stage VC firm investing in disruptive blockchain companies. The fund is deeply focus on taking a hands-on approach and working closely with its portfolio companies to provide the most sweat equity per dollar invested. As teams in Web3 push the frontier of innovation. Shima helps hire talent, build community, amplify narratives, and foster the acceleration of technical research and development. Shima is compose of seasoned investors, accomplished operators, and former founders. Who align on a mission to support all-star teams with building and scaling generational companies.
SOURCE
https://medium.com/@cedrolabs/cedro-finance-raises-1-5m-to-build-an-omnichain-future-825c85ed64d3