AirLyft Now Available On AstarNetwork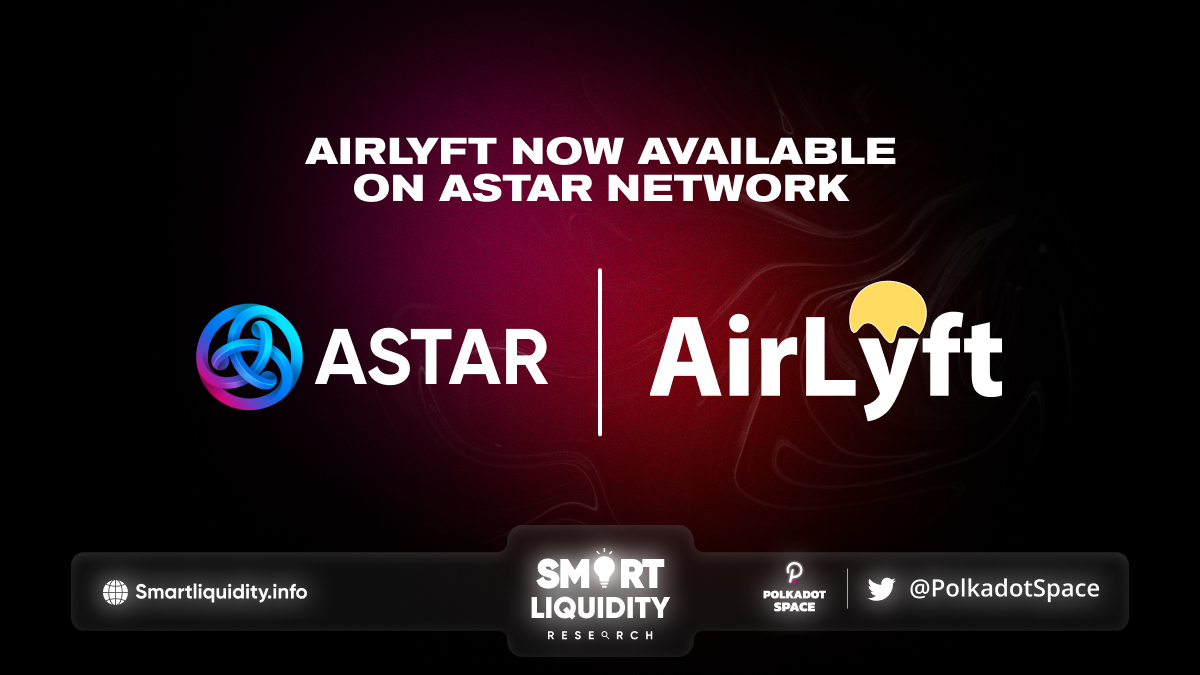 Decentralized Growth Solution AirLyft now available on Astar Network
The AirLyft now available on AstarNetwork. AirLyft is now successfully integrated on the Astar EVM Network which is a scalable decentralized blockchain for web 3 innovations and is offering developers true interoperability with cross consensus messaging (XCM) and a cross-virtual machine (XVM). They understood the level of automation in the blockchain industry being introduce into Astar by the builders & with that in mind. Team AirLyft has sleeve up to introduce growth automation that will have the capabilities not just for the Astar Foundation team but also for all the innovative projects on Astar ecosystem. To automate their growth experience and create a stable, secure, dynamic engagement with its communities. This integration is being focussed on the entire ecosystem level to achieve success together.
Integration Entails for Astar
Projects can host their HODL Contests, learn-to-earn campaigns, giveaways, decentralized campaigns, Quiz Competitions, Incentivized Surveys, and many more now directly on the Astar EVM Network.
Projects can create a mix of centralized and decentralized tasks or in simpler words create a hybrid campaign.
Projects can distribute rewards directly to the winners on-chain on the Astar EVM Network.
Projects can create multiple reward pools by locking their reward on the AirLyft smart contract.
Projects on Astar such as DEX, Defi, NFTs, Infrastructure Tools, and any can now make full use of our smart contract integration functionality to create on-chain decentralized actions with regards to Staking, Swapping, Liquidity Pool addition, minting, governance, and any, in just matter of seconds.

In addition to the above, cross-chain token transfer actions from and to Astar Ecosystem

can also now be easily achieved as a part of the campaign's task.

Projects, on AirLyft, can create their own ERC 721, and ERC 1155 tokens (AirTokens) directly on Astar EVM and broadcast them on the blockchain which can be used as rewards for their campaigns. For instance, the Astar Foundation team can create and distribute their Proof Of Attendance or On Chain identity tokens directly on the Astar EVM network.
Projects can make full use of indexing protocols supported by the Astar Network to achieve further engagement with the product and reward users for their on-chain actions.
The integration would also support the interaction of Astar Network with our certificate authority module that broadly takes care of bots and multiple participations.
Projects on Astar can use our REST API integration to create their query parameters and put conditions to verify DAPP-based tasks such as signups, subscriptions to newsletters, and many more.
Projects can distribute task-level rewards where they can incentivize users to complete certain tasks directly on Astar EVM Network.
Projects can distribute multiple rewards in the same campaign on the Astar Network now. For instance, they can distribute NFT, tokens in the same campaign, all on-chain.
Projects will have access to high-level analytics, track task-level conversion percentages, download a CSV export, and get a unified view of all their participation in just a single click.
What's Next?
While AirLyft supports the EVM-compatible integration of Astar currently. They would shortly start building our support for ASTAR WASM smart contract that would cover the ecosystem as a whole. The above-mentioned functionality will all be implement with growing time for WASM contracts & aim to provide the best possible support experience.
In addition to the above, with this integration, they aim to provide the best onboarding experience for any projects on the Astar Network & community members. They would constantly be in touch with the Astar team to reach as many projects possible on the ecosystem. Astar to use AirLyft for their growth hacking and achieving decentralized dynamic Learn 2 Earn engagement.
About Astar
Astar Network — The Future of Smart Contracts for Multichain. Supports the building of dApps with EVM and WASM smart contracts and offers developers true interoperability, with cross-consensus messaging (XCM).
About AirLyft
At Kyte.One, are developing AirLyft, the most complete decentralized, multichain, growth hacking platform ever created for projects to establish, expand, & engage their community. A feature-rich platform to incentivize on-chain/off-chain actions by the community. AirLyft automates the validation, reward creation as well as distribution, thereby saving hours of marketing & development effort. This platform supports 20+ blockchains and is ready for all projects including Defi, GameFi, NFT Projects, & Metaverses.