Mirror World Formed Partnership with Notifi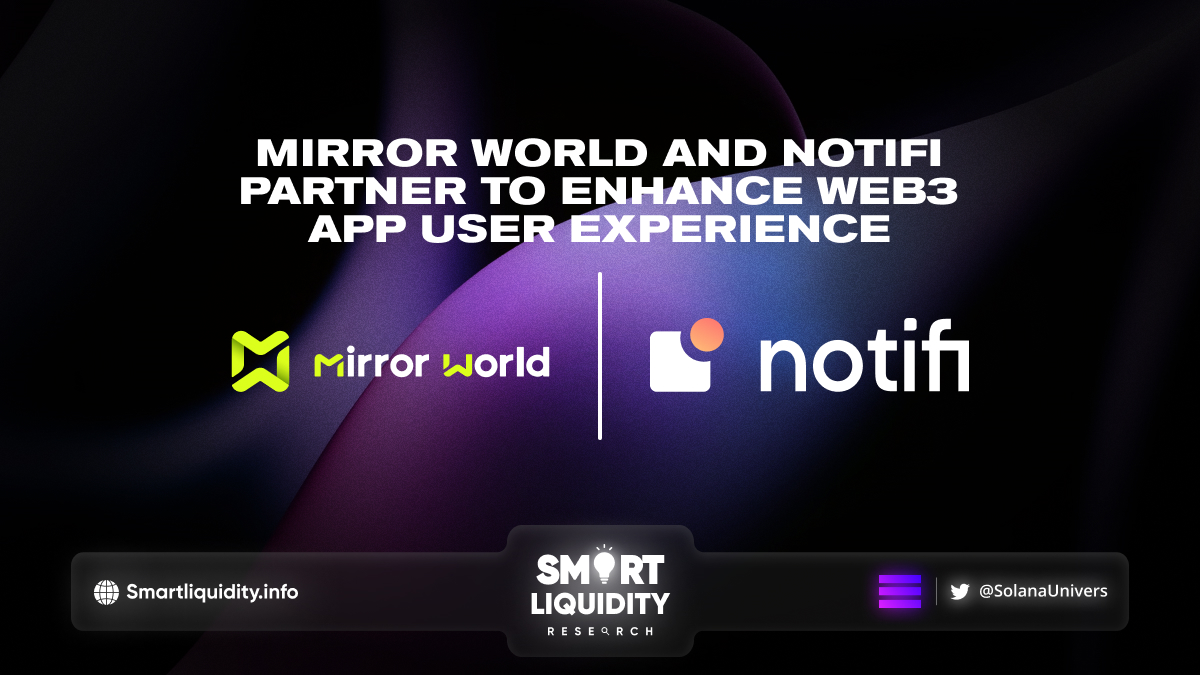 Mirror World, a blockchain-based platform focused on facilitating the creation and use of decentralized applications, has formed a partnership with Notifi, a leading provider of decentralized notification solutions. The goal of this collaboration is to enhance the user experience of Web3 applications.
Users of Web3 applications are expected to receive significant benefits from the partnership between Mirror World and Notifi.
Furthermore, Notifi's decentralized notification solutions provide real-time alerts and notifications for users, enabling them to stay informed about updates and changes in their decentralized applications. By integrating Notifi's solutions into Mirror World's platform, users will have access to a more seamless and streamlined experience when using decentralized applications.
Management Quote
Moreover, according to Mirror World's CEO, the partnership with Notifi is an important step towards building a more user-friendly and accessible Web3 ecosystem. "We hold the belief that creating applications that are not only secure and transparent, but also easy to use, is essential for the future of the internet, which we believe is decentralized," said the CEO. "Our partnership with Notifi is a major step towards achieving that goal, and we're excited to work together to deliver a better user experience for everyone in the Web3 community."

Notifi's CEO also expressed optimism about the partnership, noting that it would help to further the company's mission of bringing decentralized solutions to the mainstream. "At Notifi, we commit to making decentralized solutions accessible and user-friendly for everyone," said the CEO. "In addition, our partnership with Mirror World is an important step towards achieving that goal, and we're excited to work together to bring the benefits of decentralized notifications to users of Web3 applications."
Overall, we expect that the partnership between Mirror World and Notifi will significantly impact the Web3 ecosystem by providing users with a more streamlined and user-friendly experience when they interact with decentralized applications. As the use of blockchain technology continues to grow, partnerships such as this will play an increasingly important role in enabling users to access and benefit from decentralized solutions.
About Notifi 
Notifi is the Twilio for web3. Notifi simplifies communication across all web3 messaging channels. We designed the platform with simple APIs to facilitate easy integration and customizable and advanced features for dApps and web3 applications. Furthermore, it empowers developers to better engage with their users via multichannel communications.
About Smart Platform by Mirror World
Mirror World, the first all-in-one Web3 application development platform backed by Galaxy Interactive, Republic Crypto and more, debuted an all-in-one development platform for forward-thinking blockchain projects to reimagine app development.
Additionally, Smart Platform is the first all-in-one application development platform that helps developers deploy, grow and monetize their blockchain applications.
SOURCE
https://medium.com/notifi/mirror-world-and-notifi-announce-partnership-to-bring-enhanced-user-experience-to-web3-applications-1ba60439509c