ZetaChain: All on One Chain | Overview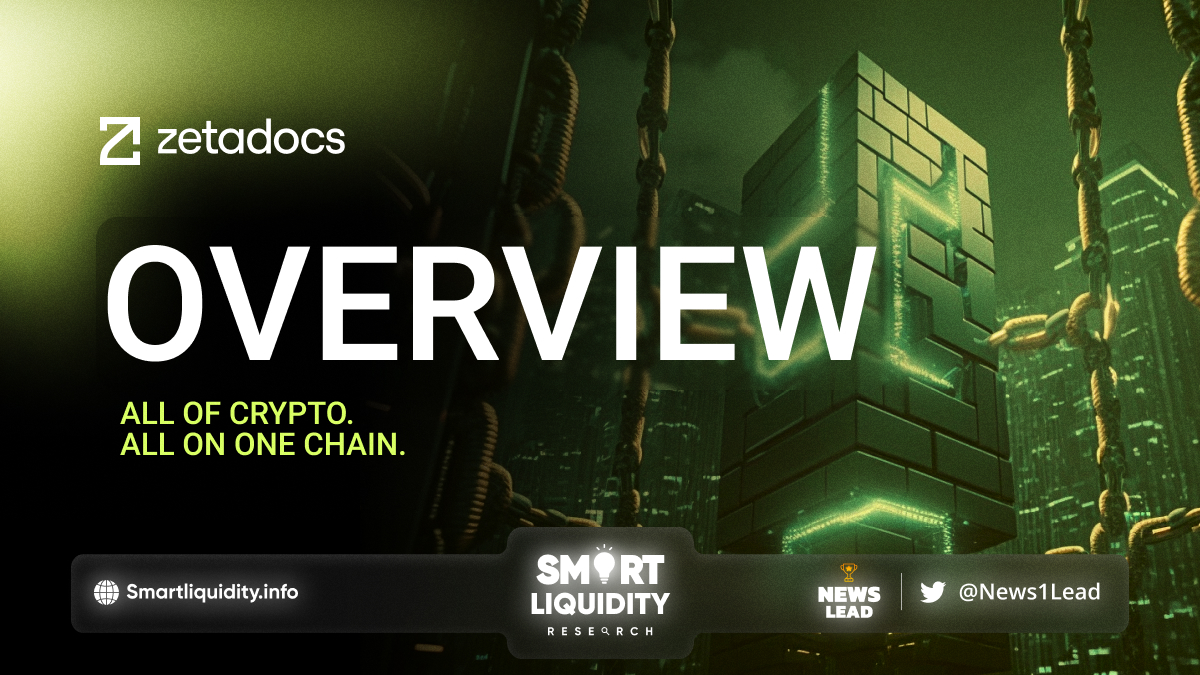 ZetaChain is the only decentralized blockchain and smart contract platform built for omnichain interoperability.
With its unique approach to consensus and security, Zetachain is quickly becoming a popular alternative to traditional centralized systems. ZetaChain supports a truly fluid, multi-chain crypto ecosystem, where users and developers can use and appreciate the benefits of any blockchain.
ZETACHAIN KEY FEATURES
🟢Decentralized and public
ZetaChain is a decentralized and public blockchain network. It is built on Cosmos SDK and Tendermint Consensus. While many cross-chain solutions like bridges have varying, often centralized trust models that have a track record for being susceptible to exploits and hacks, ZetaChain is a Proof-of-Stake blockchain, where all transactions and activity on the platform — even cross-chain transactions — are fully transparent, verifiable, and function in a trust-minimized manner.
🟢Hyper-connected nodes
ZetaChain's nodes have observers that monitor transactions on every connected chain. Through ZetaChain's TSS architecture, the network can sign and verify transactions on every connected chain as a wallet can. By being able to read and write to connected chains in a secure, decentralized manner, these hyper-connected nodes provide a seamless omnichain environment for developers to build novel and powerful cross-chain applications on top of.
🟢Omnichain message passing
A developer can pass messages (data + value) between chains and layers with simple function calls. Through message passing, a dApp developer can build powerful cross-chain applications by simply implementing a few functions within their existing smart contracts.
Learn how to build dApps using ZetaChain's Connector here.
🟢Omnichain smart contracts
Smart contracts can be deployed natively on ZetaChain that can read/write to connected chains. ZetaChain is the only public blockchain to support smart contracts with this capability, enabling a new paradigm of app development.
🟢Managed external assets
ZetaChain's network and dApps built on top of ZetaChain can manage assets and vaults of external connected chains. This allows assets on any chain to be managed just as a smart contract on a single chain can manage assets on its respective chain. A dApp on ZetaChain can thus orchestrate and bring smart contract logic to any connected chain. This property applies to all chains, including non-smart-contract chains, like Bitcoin and Dogecoin.
What is ZETA?
ZetaChain's coin ZETA is used to pay the gas fees for ZetaChain smart contracts and additionally used to secure the PoS ZetaChain blockchain by bonding/staking/slashing. ZETA is also at the core of ZetaChain's cross-chain transfer, swaps, message delivery, and security. ZETA is one of the first multi-chain coins that is natively issued across multiple chains and layers.
Users can directly move the ZETA coin from any chain A to chain B. The mechanism is a one way peg (i.e. burning X amount on chain A and then minting X amount on chain B).
Features of ZETA:
Unlike the more common two-way pegging, there is no wrapping and therefore no multiple representation of the same underlying asset.
The only (native) value that can go cross-chain is via the ZETA coin, which reduces attack surface substantially, resulting in an easier to understand audit and therefore higher security. For example, we can check total supply at the contract mint site.
Users can pay ZETA for the cross-chain service that ZetaChain provides, and for gas on the destination chain, in a single step/bundle.
ZETACHAIN TESTNET
Their goal at ZetaChain is to launch the 1st public, omnichain smart contract platform. After releasing the ZetaLabs testnet 180 days ago, they reported more than 1,000,000 users have joined and are actively performing omnichain swaps.
This Swap app is powered by the first ever Omnichain Smart Contract for native cross-chain value transfer across any chain — even the Bitcoin network — with no wrapping or locking tokens. It also provides real utility to developers, functioning as bridge for receiving and swapping free test assets.
As a public L1 blockchain with built-in cross-chain interoperability, ZetaChain provides a complete Omnichain toolkit to build omnichain dApps that can access assets, data, and liquidity on all chains, from a single chain. Let's review some key stats to date as ZetaChain advances closer to its highly awaited mainnet launch.
ZetaChain Top Highlights
With Free Testnet Bridge, ZetaChain provides a free, open marketplace to acquire and convert any test asset for your project development. For example, if you have Polygon Mumbai MATIC, or even test BTC on Bitcoin, you can swap it for any other test asset such as gETH, tBNB, tMATIC, tBTC, tKLAY, Etc. — all in a single step.
They launched Free Testnet Bridge in response to an an unfortunate trend this past week of new solutions that require users to pay real ETH for gETH. While such solutions offer a new way to get scarce testnet assets such as gETH, they also assign real-world value to gETH, thereby contradicting the definition of a testnet token.
They're proud to not only provide an alternative, free way for developers to get gETH, but also a powerful omnichain swap marketplace for testnet asset trading in general. Whether you're developing on ZetaChain or other chains such as Ethereum, go ahead and leverage Free Testnet Bridge now. The tool is also available to any developer in our public #🚰⼁zeta-faucet Discord channel.
ZETACHAIN SOCIALS
Website | Zetachain Testnet | Twitter | Discord | Zetachain's Blog | Telegram
FRIENDLY REMINDER:
We deliver these news articles based on our own thorough research. We want to preserve some important information regarding the project that is presented in our column. We value our readers' opinion and appreciate your valued respect to us. The article above is not financial advice and as we always say "Invest at your own risk and only invest what you can afford to lose".