Blockasset Integration with Chiliz Chain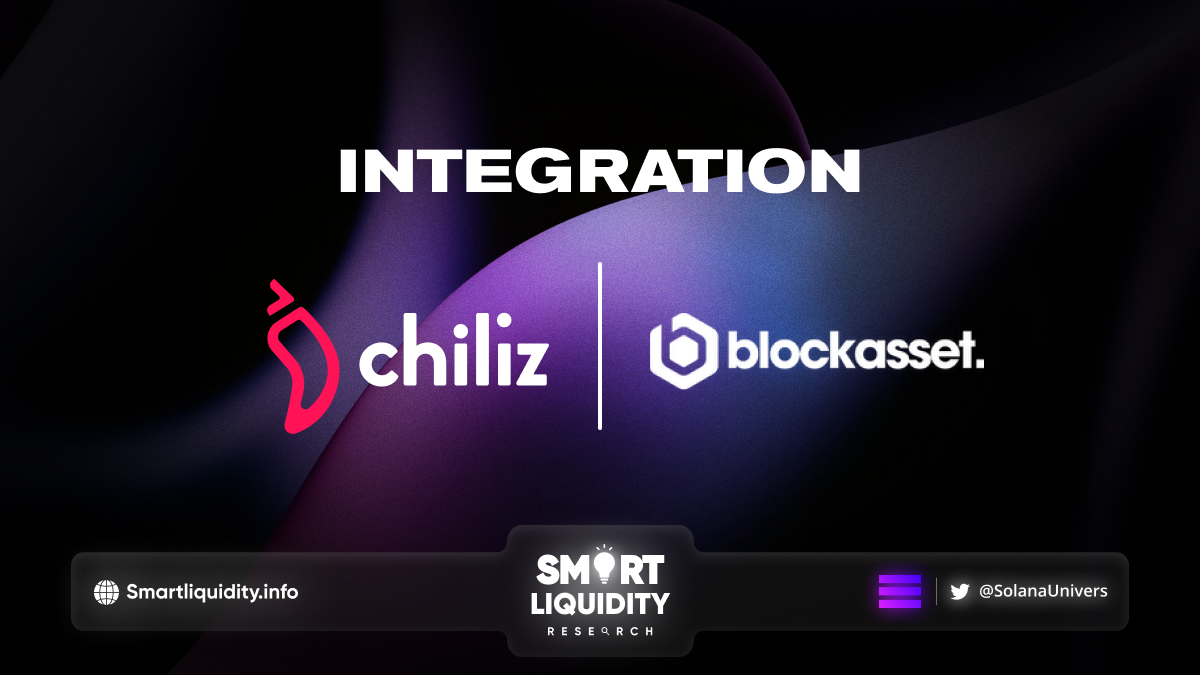 Chiliz has revealed that Blockasset, a platform for athlete-verified tokens, is the newest company to join and build on the Chiliz Chain.
Chiliz Labs, the blockchain venture accelerator and incubator launched on March 1st, has announced a partnership with Blockasset for integration with the new Chiliz Chain designed for sports and entertainment.
Blockasset, a renowned Web3 sports brand with millions of social media followers and multiple sold-out sports NFT drops, is introducing an athlete token ecosystem featuring over 40 top-tier athletes.
Introduction
Chiliz, a prominent blockchain company in the Web3 sports and entertainment industry, has announced that Blockasset, a sports token firm, has committed to constructing on the new Chiliz Blockchain. Chiliz has invested equity into Blockasset as part of the partnership, with other partners such as Wayne Rooney and Michael Bisping also joining.
Although Blockasset is a platform for athlete-verified tokens, it enables fans, athletes, and brands to connect via innovative Web3 social technology. As the next phase of token development, Blockasset plans to shift from Solana, where $BLOCK saw impressive growth, to the Chiliz Chain, the fastest-growing layer-1 chain for sports and entertainment.
Blockasset will be the latest innovative project to benefit from Chiliz Labs, a $50 million incubator and accelerator program launched on March 1 by Chiliz and Jump Crypto. Chiliz is the company behind Fan Tokens and the Socios.com app, which has over 1.8 million wallets and more than 170 global partners. Therefore, the company aims to create the biggest community of fans, brands, and developers in the sports and entertainment sector using a dedicated Web3 network. Furthermore, Chiliz Labs aims to provide a conducive environment for developers and entrepreneurs who focus on creating long-lasting and utility-driven projects.
Partnerships and Engagements
Blockasset has partnered with live streaming provider FanFest and fan engagement start-up LiveLike to develop Web3 products and services such as blockchain-backed collectibles for broadcasters and media partners that offer "watch to earn" features. Furthermore, Chiliz plans to add more enterprise-level projects in the coming months, including NFT ticketing pilots and Web3 infrastructure partners focused on sports and entertainment. By working with Chiliz Labs, Blockasset can take advantage of Chiliz and Socios.com's networks to provide utility and cross-activations for Fan Token and athlete token holders.
Blockasset has already released five sold-out NFT collections, one of which was the Blockasset Legends featuring athletes like Muhammad Ali, Wayne Rooney, and Michael Bisping, which became the world's highest-grossing verified sports collection. Blockasset is now launching a new fan token platform for athletes that will feature official tokens from its world-class roster of more than 40 athletes, including UFC superstars like Jorge Masvidal, Khamzat Chimaev, and Gilbert Burns. Fans can subscribe to the initial athlete token listings through Blockasset's platform.
Additionally, Chiliz, which recently celebrated its fifth anniversary, boasts a global workforce of over 300 employees spread across nine locations around the world. With the upcoming public launch of its new blockchain, Chiliz is poised to solidify its position as a leader in the adoption of blockchain technology in the sports and entertainment industries. In this blockchain, Chiliz's native token $CHZ will be the network enabler of an open, multi-vertical ecosystem where top brands from sports and entertainment can create NFTs and Fan Tokens, DeFi products and Play2Earn games, and establish event, loyalty and merchandising programs, with all fees payable in $CHZ.
About Chiliz
Chiliz is a global blockchain company that focuses on sports and entertainment. Its platform, Socios.com, allows sports and entertainment organizations to create fan tokens that fans can use for various activities and decision-making processes. Chiliz also offers a blockchain-based voting platform for club decisions. The company is headquartered in Malta and has over 300 employees in nine locations worldwide. Chiliz recently launched its own blockchain, Chiliz Chain, which is dedicated to sports and entertainment and enables the creation of NFTs, fan tokens, DeFi products, and Play2Earn games.
About Blockasset
Blockasset is an athlete-verified NFT platform and ecosystem, connecting fans to their favorite athletes like never before. Harnessing the power of exclusive athlete content, real-world NFT utility and community governance, Blockasset is creating the go-to platform for athletes and sports fans alike.
SOURCE
https://medium.com/chiliz/chiliz-announces-athlete-verified-token-platform-blockasset-as-latest-company-to-build-on-the-new-2f2ba759e6b9