Galaxy Arena Partners with Cryptomeda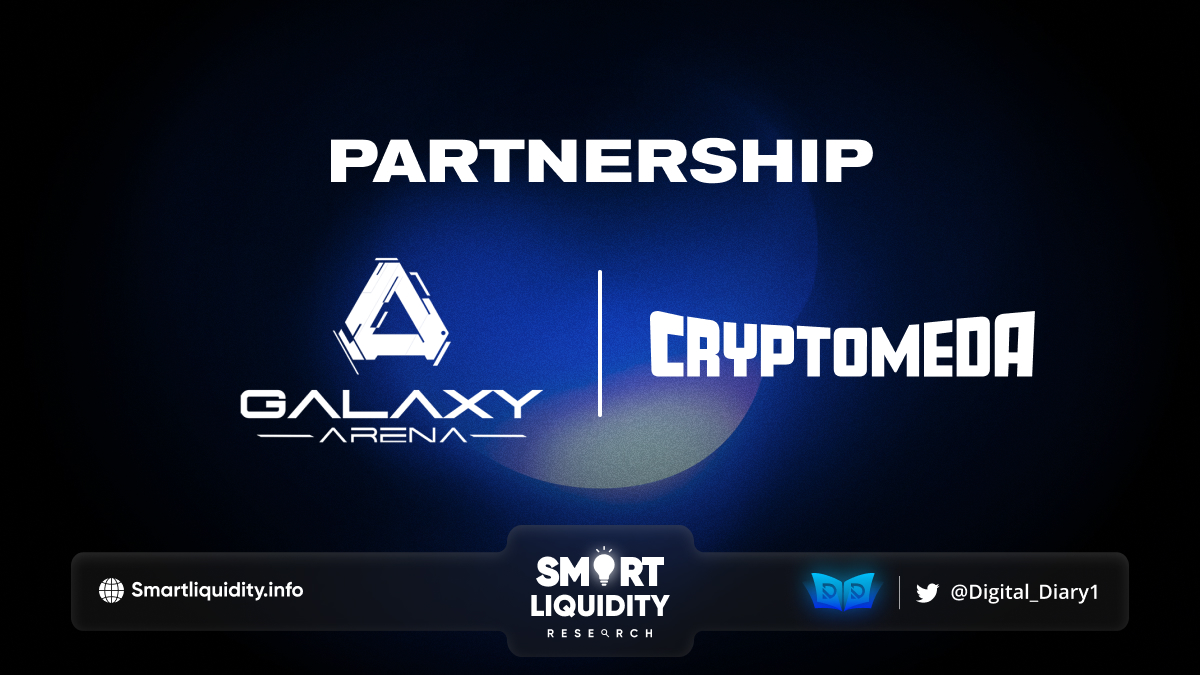 Galaxy Arena build its partnership with Cryptomeda, a Web3 gaming platform that aims to revolutionize the gaming industry by offering NFT collectibles, DeFi mechanics, and competitive games. This partnership will create an opportunity for both platforms to expand their markets, reach new users, and provide a unique gaming experience for Galaxians.
Cryptomeda's platform offers NFT collectibles that represent remarkable events and characters from the crypto space. These NFTs are interoperable and upgradable digital gaming assets that can be utilized in Cryptomeda's games. The platform is designed to provide an easy experience for web2 players to play games and use NFTs without requiring extensive blockchain knowledge.
Partnership Key Points:
Expansion of new markets and reach new users.
Galaxians can own one-of-a-kind, animated digital gaming assets in the form of NFT collectibles, which showcase remarkable events and characters from the crypto space, providing a unique ownership experience.
Galaxians can trade their NFT collectibles within the Cryptomeda ecosystem, which provides a decentralized marketplace for buying and selling digital assets.
Galaxians can connect with a community of like-minded individuals who are passionate about blockchain, crypto, and NFTs. This can provide a platform to exchange ideas, collaborate on projects. And also build their professional network within the broader crypto ecosystem.
The partnership between Galaxy Arena and Cryptomeda is an excellent opportunity for Galaxians to experience a unique gaming experience. By owning and trading NFT collectibles while also connecting with a community of like-minded individuals. This collaboration is a significant step forward in the gaming industry. And it will be exciting to see how both companies will continue to innovate and grow in the future.
About Galaxy Arena
Galaxy Arena is a decentralized Metaverse VR experience backed by top-tier industry partnerships and powered by the Polygon Network. This is the first Move-to-Earn game in VR where everyone can play, move, learn, dance, sing and also participate to earn under one roof!
Galaxy Arena is positioning itself to become the premier destination for entertainment, e-commerce, cryptocurrency exchange, e-sports, VR fitness, unique VR events, and metaverse experiences. Watch live fights broadcasted straight from Earth to the Arena with the help of cutting-edge technologies. And also visit a variety of shops and professionals who offer their services in the Arena.
About Cryptomeda
Cryptomeda is a complete NFT ecosystem that aims to revolutionize the NFT gaming sector with cross-game NFTs. Connected to the enriching DeFi mechanics, traded on its marketplace, and utilized in its own and also other gaming platforms. One unified token – TECH tokens, facilitates all economic activity within the platform by enabling trade, commerce, and Gamefi.
SOURCE: MEDIUM