How to use QuickSwap?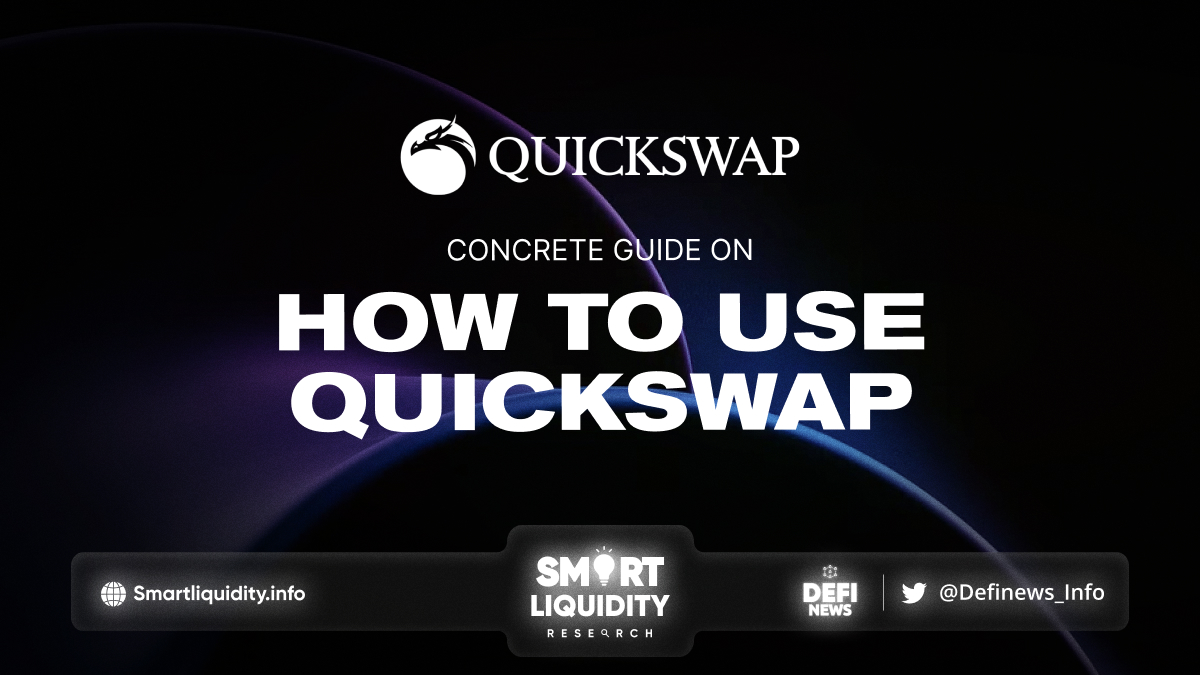 How to use QuickSwap? QuickSwap is a decentralized exchange (DEX) built on the Polygon network (formerly Matic Network) that allows users to trade cryptocurrencies without the need for intermediaries like traditional exchanges. QuickSwap uses automated market-making (AMM) algorithms to facilitate trading, and it offers users the ability to earn rewards by staking their tokens in liquidity pools.
Furthermore, QuickSwap offers fast transaction times and low fees thanks to its integration with the Polygon network, which is designed to provide fast and cheap transactions on Ethereum-based networks. The exchange also offers a user-friendly interface and supports a wide range of ERC-20 tokens, making it a popular choice for traders looking to access a variety of cryptocurrencies.
Here are some of the key features of QuickSwap
Decentralized
QuickSwap is a decentralized exchange, which means that it operates without any central authority or intermediary. This makes it more secure and less susceptible to hacking or other types of attacks.
Automated Market Making
QuickSwap uses an automated market-making algorithm to determine the price of tokens on the exchange. This also allows users to trade without the need for a counterparty and ensures that liquidity is always available for popular tokens.

Low fees


QuickSwap is built on the Polygon network, which allows for fast and cheap transactions compared to other Ethereum-based networks. This means that users can trade with low fees and avoid the high gas fees associated with using traditional exchanges.
Liquidity pools
QuickSwap offers liquidity pools, which allow users to earn rewards by staking their tokens. These rewards are paid out in the form of QuickSwap's native token, QUICK.
Wide range of tokens
QuickSwap supports a wide range of ERC-20 tokens, which allows users to trade a variety of cryptocurrencies on the platform.
User-friendly interface
QuickSwap has a user-friendly interface that makes it easy for users to navigate the platform and make trades. The platform also offers advanced trading features, such as limit orders and stop-loss orders, for more experienced traders.
Here's a general guide on how to use QuickSwap
Connect your wallet
QuickSwap is a decentralized exchange that operates on the Polygon network. To use QuickSwap, you'll need to connect your Polygon-compatible wallets such as MetaMask or WalletConnect.
Add funds to your wallet
Once your wallet is connected, you'll need to add funds to it. You can do this by sending funds from another wallet or exchange that supports the Polygon network.
Navigate to QuickSwap
Go to the QuickSwap website and click "Connect Wallet" in the top right corner. Choose your wallet and connect it to the platform.
Choose a trading pair
Once you're logged in, select the trading pair you want to trade on QuickSwap. You can choose from a wide range of ERC-20 tokens.
Make your trade
Once you've selected your trading pair, you can input the amount you want to buy or sell. QuickSwap will automatically calculate the price based on the current market conditions. Review the details of the trade and confirm it.
Confirm the transaction
You'll need to confirm the transaction on your wallet. Once confirmed, the trade will be executed, and the tokens will be exchanged.
Manage your portfolio
You can view your portfolio and transaction history on the QuickSwap platform. You can also manage your liquidity pool stakes and rewards.
Keep in mind that QuickSwap is a decentralized exchange, so it's important to be familiar with the risks and precautions associated with using decentralized exchanges. Always be careful when trading cryptocurrencies and do your research before making any trades.
KEEP IN TOUCH WITH QUICKSWAP