Jito Labs Partnership with Latitude.sh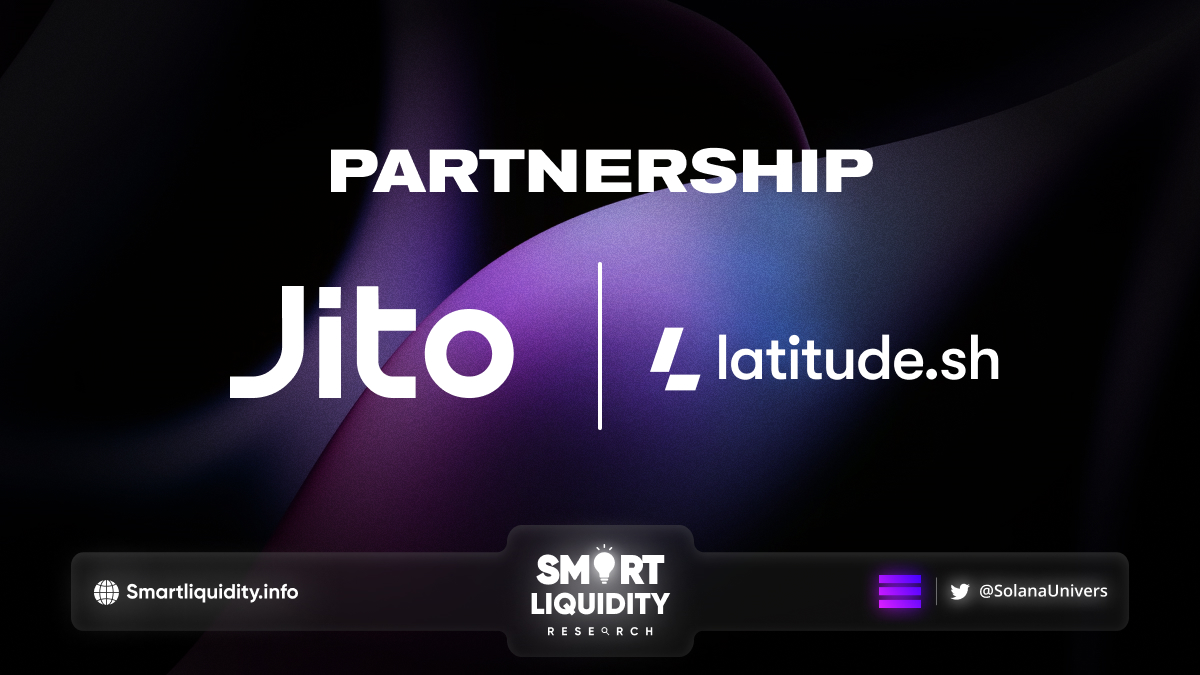 Jito Labs announced its partnership with Latitude.sh to offer a new infrastructure package for Solana validators.
Jito Labs partnership with Latitude.sh, aims to provide Solana validators with a high-performance and cost-effective infrastructure solution.
With MEV-enabled validator client running on Latitude.sh's powerful Metal platform, Solana validators can expect to receive a seamless and efficient setup experience.
The automated script tailored for the server's hardware further simplifies the validator setup, making it easier for validators to get started quickly. At a competitive price of $247 per month, all-inclusive, Solana validators can access a reliable and top-notch infrastructure that can help enhance their operations.
Latitude.sh Platform
The platform is optimized to provide high-performance server solutions, which can be especially beneficial for Solana validators. With its low-latency network, validators can experience seamless connectivity to the Jito block engine within 1ms, which can enhance the efficiency and performance of their operations.
This optimized network infrastructure is particularly important for processing MEV rewards on the Solana blockchain, as it can help validators achieve maximum efficiency and performance. Overall, the Latitude.sh platform offers a reliable and high-performance infrastructure solution that can benefit Solana validators and other users alike.
Jito Labs, a technology company focused on building decentralized infrastructure, will be providing the technical expertise required for the development of the MEV Validator Server Program. They will be working with Latitude.sh, a leading provider of blockchain infrastructure services, to ensure that the program meets the highest standards of security, reliability, and performance.
The Solana MEV Validator Server Program
The program will enable validators to maximize their MEV extraction capabilities while minimizing the risks associated with traditional MEV extraction techniques. Validators can avoid the costly infrastructure investments and technical complexities that typically require participation in MEV extraction by using the program.
The program will also provide users with real-time monitoring and analytics, enabling them to optimize their MEV extraction strategies and stay ahead of the competition.
In summary, the Jito Labs and Latitude.sh partnership on the Solana MEV Validator Server Program is a significant step towards democratizing MEV extraction on the Solana blockchain. By providing users with a streamlined and efficient MEV validation experience, this collaboration has the potential to unlock new opportunities for validators and drive further growth in the Solana ecosystem.
About Jito Labs
Jito Labs is the first MEV Infrastructure Company building high-performance systems to scale Solana and maximize validator rewards.
About Latitude.sh
Latitude.sh helps you deploy dedicated servers globally through our bare metal cloud platform. With Latitude.sh, you can create servers from the dashboard or programmatically, then manage them using the same tools, wherever they are located.
SOURCE 
https://www.latitude.sh/blog/solana-mev-validator-server-program-jito-labs-and-latitude-sh-partnership